It's easy to buy house cleaning products at the supermarket. But did you know that it's also easy to make some of them in the comfort of your own home?
Before you go to the nearest store to buy expensive bottled cleaners, check out the following safe and effective natural homemade products.
Slow Cooker Cleaner
The slow cooker is the perfect kitchen assistant - quietly cooking away whilst you are taking care of other much needed requirements.
But what if you've accidentally overcooked a meal and are left with stuck on burnt food that just won't shift?
Your first option should be to soak it in warm soapy water for a couple of hours.
If soaking it doesn't work, add 2 to 3 tablespoons of baking soda in with the water and washing up liquid and switch the slow cooker on low for 2 to 3 hours. Empty contents of slow cooker and clean again.
Homemade Air Freshener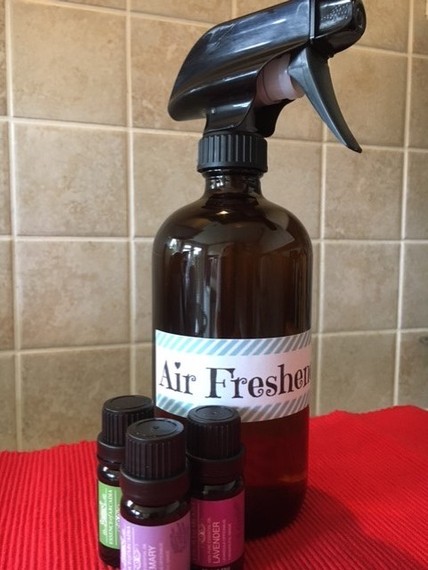 Photo Credit: Liana's Kitchen
Keep your air clean and fresh using an effective natural air freshener. The problem with most commercial air fresheners today is that most of them contain chemicals that coat nasal passages and can block your sense of smell. Here is a recipe for a more natural alternative:
Ingredients
8 drops lavender essential oil
8 drops lemon essential oil
8 drops rosemary essential oil
1 tbsp vanilla extract
Water
16oz Spray Bottle
Instructions
1. Add the essential oils and vanilla extract to the spray bottle and shake to mix together well.
2. Fill the bottle with water and shake again.
3. Shake before each use and spray into the air to freshen a room.
Homemade Dishwashing Liquid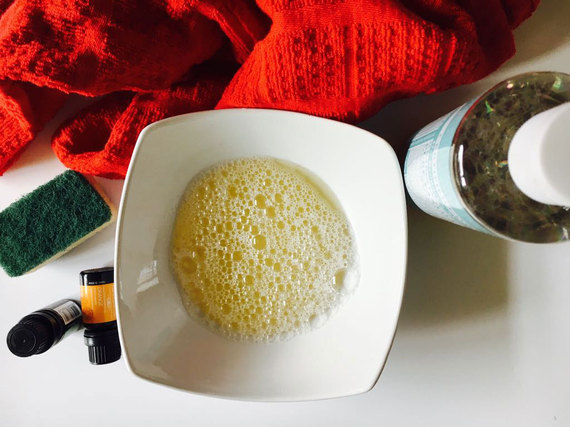 Photo Credit: Liana's Kitchen
Are your hands itching every time you do laundry and use detergent? You may be suffering from dishpan dermatitis which makes your skin sensitive whenever it's moist or soaked in water for long periods of time.
The problem comes when most commercial products aggravate this condition further. Fortunately, you can make a safer and better alternative;
Ingredients
250ml unscented natural liquid dishwashing soap
10 drops lemon essential oil
10 drops orange essential oil
Instructions
1. Add all the ingredients into to a mixing bowl.
2. Stir thoroughly until the mixture becomes a smooth liquid.
3. Store in a sealed jar and keep in a cool dry place. Use as and when needed to wash dishes.
Strawberry Hair Mask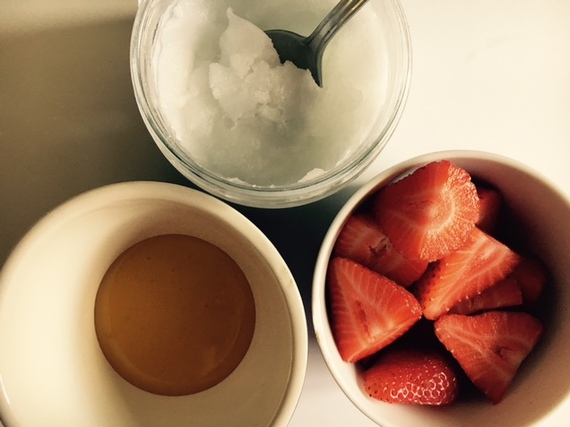 Photo Credit: Straight Hair Day
Our hair deserves some natural loving too. There are many natural hair recipes you can make from every day kitchen ingredients.
Strawberries gently remove excess oils whilst maintaining your natural Ph levels. The vitamin C found in strawberries help to nourish your locks and keep them healthy. Plus you'll smell fab!
Ingredients
A handful of fresh strawberries (ripe)
One tbsp. of honey
One tbsp. of coconut oil
Instructions
1. Blend ingredients until they form a smooth and creamy mixture.
2. Apply to wet hair and soak for 15 minutes.
3. Rinse with warm water.
Do you have any natural recipes you would recommend?