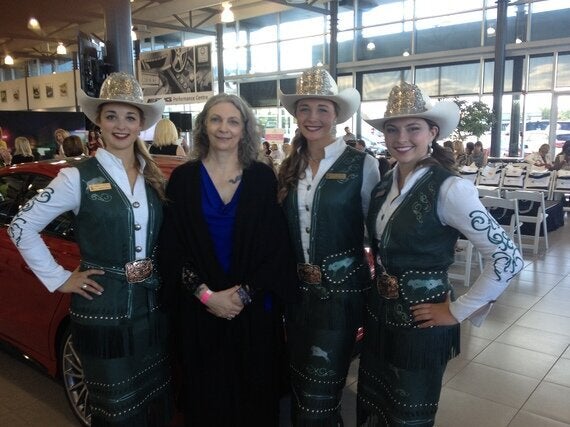 (Princess Kimberly Stewart, this author, Queen Mick Plemel, Princess Haley Peckham)
During my years in England, it seemed almost everyone had heard of the Calgary Stampede, Exhibition and Rodeo. "What's it like?" people would ask, wide-eyed and in hushed tones as if it were a magical event.
Touted as "The Greatest Outdoor Show on Earth", once again it is set to "wow" more than one million excited and curious visitors from all over the globe. On 3rd July, it will open with its world-famous parade, a two-hour extravaganza of our cowboy-themed Western heritage.
Not only will we get a good sampling of Royal Canadian Mounted Police, real-life cowboys, and First Nations members, we will also see our Stampede Queen and Princesses, three incredibly bright, accomplished "cowgirls" who will make an astonishing 175 appearances during the ten days of this city-wide party.
Many people are unaware of the important role that our Stampede Royalty plays, or that this role extends throughout the year - and even to other countries.
Recently, I had the great honour of meeting our current Stampede Royalty and to learn more about each of these lovely, well-spoken young women. And to clear up one of the biggest misconceptions about the Stampede Royalty program.
The striking Princess Haley Peckham summed it up in her direct and straightforward manner: "People think we're just pretty faces and that we sit on the horses and ride around, and we aren't real cowgirls, we don't have any brains in our heads." She acknowledges that they are very lucky to have wonderful sponsorship to do their hair, make-up and nails, so they "...look presentable in front of a camera."
"But," she adds, "you should see us on our days off. We look like average farm girls. I'm hauling my horse up to the ranch in a ball cap and dirty jeans. I drive a 3/4-ton truck and one of my favourite things is to go fishing with my dad. I'm a real cowgirl. I mean, I actually have cattle."
The effervescent Princess Kimberly Stewart explains, "There is no beauty or talent portion of this competition. The first portion consists of...writing a speech that you have to prepare and present to members from news stations, and reporters [who] judge you." There is also a mixing and mingling component during which the girls go into a room full of people and make conversation.
"Yes, we are all dressed up and sparkly and shiny, but we have to be able to talk to people from all walks of life. We have to have lots of intelligence," offers Princess Kimberly.
The third component is entirely about their skill with horses. Forget about a swimsuit competition; Stampede Royalty applicants have to be strong horsewomen.
As gracious as she is gorgeous, Queen Mickenzie ("Mick") Plemel got a job out of high school, working as a wrangler on a guest ranch. In charge of the horses, it was her job to feed them, turn them out, catch, saddle, and haul water for the horses, generally caring for them on a day-to-day basis. She was herd manager on pack trips, with a guide taking care of the people while she took care of the horses. "Some are hunting trips; some are pleasure trips. The wife of a hunter on a pack trip asked if I'd ever thought about doing rodeo royalty and I said no, I was never like that."
Adding, "I always wanted to be Daddy's little boy; I wasn't a girlie girl," Queen Mick was nothing short of shocked each time she made the cut to the next round of the competition.
The humble queen hastens to add, "The only reason a queen and two princesses are crowned is because of the history of the program. My role is no different; we are all equal. Sometimes I wear a different colour, and my crown has rubies and theirs have diamonds. It's a tradition thing. But we are all equal." With Calgary's "White Hat" tradition going back to 1946, Stampede Royalty crowns are beautifully adorned white cowboy hats.
Each year, the competition is held at the end of September, giving the young women plenty of time for the necessary training and experience required to manage their grueling schedule of 175 Stampede appearances. Throughout the year, they attend approximately 400 events, many of which involve traveling. The trio have enjoyed being ambassadors for the City of Calgary and for the Stampede - and for Canada - even going as far as Kentucky and Germany to spread our message of community spirit.
All of the girls are well-educated. Queen Mick is passionate about agriculture, and land and water resource management. With a Diploma in Land Reclamation and Environmental Stewardship, and Rural Land Use Planning, her "...passion is for agriculture and helping producers create the best management plans for their production process."
She is especially fond of what the Stampede is doing with a program for junior high students, teaching about agriculture all over the world. "A farmer in Kenya, a farmer in Kansas and a farmer in Alberta will all have different approaches."
Princess Kimberly works as a Health Technician Assistant at a veterinary clinic. She is a zoology major at the University of Calgary with plans to be a vet and work with large animals. "I came from English riding and always competed in show jumping. You don't need to come from a ranch to be Stampede Royalty."
Princess Haley graduated last spring from the U of C with a Business Degree in Finance. Originally planning to "get a big girl job" after passing down her crown, this year has opened up the world in ways that she now wishes to explore. "The next chapter is so up in the air, it's ridiculous!" she laughs.
Each of these down-to-earth, well-rounded, highly intelligent young women wants to make a difference in the world. And after getting to know their compassionate hearts and generous souls, I have no doubt that they will.