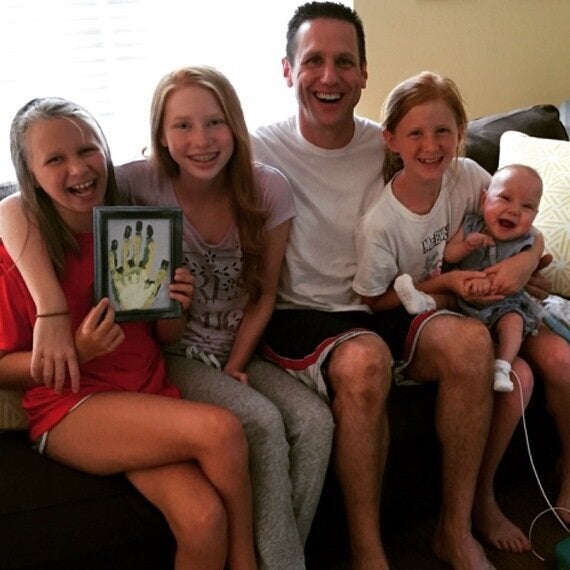 (All photos courtesy of Sam and Angela Crowley)
I suppose it's just part of the human condition to expect that things will always go as planned and that all the awfulness of life will only ever happen to "other people."
Take, for example, pregnancy. Typically, we're already picking names and booking prenatal classes within minutes of getting the happy "Yes-on-a-stick." People ask if there's a gender preference and however we respond, we'll usually add, "I don't care as long as it's healthy."
And it doesn't occur to us that there might be any other outcome.
Sam Crowley and his lovely wife, Angela, have had to deal with a few of those "other outcomes". Although they've been blessed with the perfect births of three healthy daughters, they've also been those "other people."
There was a miscarriage at 10 weeks. Not uncommon but still a sad shock when it happens.
Then a pregnancy that ended at 20 weeks with Angela delivering their tiny son, Matthew, who did not survive. "Not to minimize the other miscarriage - or any miscarriage," says Crowley softly, "but there's nothing like delivering and holding your baby at 20 weeks."
Fast forward several years. Proud parents of three girls between 13 and 8 years old, the 40-something Crowleys were surprised in spring 2014 to discover that another beautiful child would arrive in December.
In June, the family journeyed 500 miles to their vacation home in upstate New York where they planned to spend the summer. But just a few days later, trouble was brewing.
At only 18 weeks, Angela was bleeding heavily, and off they went to the hospital. An examination showed the baby was still okay so the doc sent them home, ordering Angela to bed.
In the following weeks, all too often Sam and Angela made yet another mad dash to the hospital. Neighbours and the children pitched in at home. Finally at just 24 weeks, little Susan insisted on leaving the safety of her mother's womb.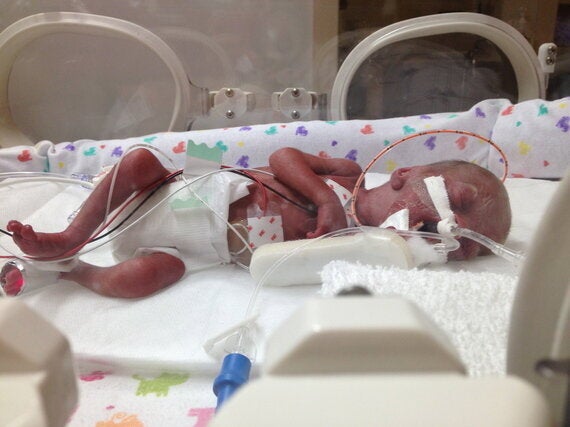 It was August 17, 2014 and Susan weighed just one pound. She was born so early, her eyes were still fused shut. Immediately, she was hooked up to all sorts of machines. Sam asked the docs how she was. "Not too good," was about all they would say, unable to give the bewildered father much hope. As he stood gazing at his precious daughter, he could only pray for her and will her to please just keep taking one more breath.
As medical staff offered congratulations, Sam couldn't help but look down at this tiny scrap of life and think, "I'm just not feelin' it." Not when they were living minute by minute, breath by breath.
On the second night, Angela was taken to say goodbye to her baby. Refusing to give up, she prayed for her sweet girl, urging her to keep taking one more breath, and telling her tiny daughter how much she was loved. Miraculously, Susan made it through the night. And many more just like it.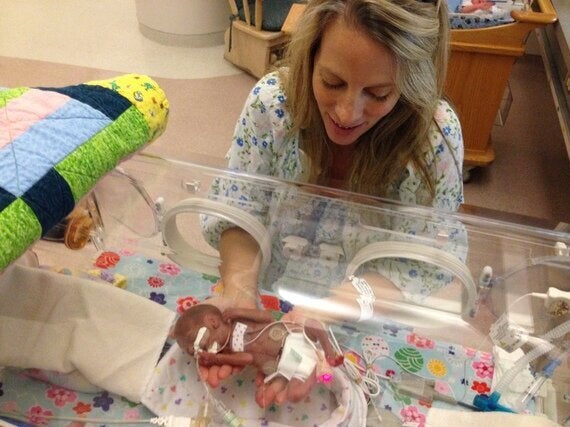 Along with a hole in her heart, several brain bleeds and various other complications, Susan was born with a blockage in her throat that made it difficult for her to breathe. In October, she had a tracheostomy and was on a ventilator full time. Sam was on a 16,000-mile tour of speaking engagements at the time. "I got home and...I just wept seeing my baby cut up, with a hole in her throat," he says, the emotion evident on his face all these months later.
During those roller coaster weeks of crises and fear, eventually Sam had a profound realisation. "I had no control about how this was going to turn out. I had to let go. God is in control. I had to get out of the way...and just pray a lot."
It seemed for every step forward, they took two steps back. Hopes for Susan being home at Christmas were dashed. January came and went. And so did February.
Finally, after 221 days in hospital, on March 26 Susan was allowed to join her family. "Our home turned into a medical equipment hotel," says Sam. "And no more medical personnel." There were just two nervous parents - and all those machines - to care for Susan. "The good news was that we brought her home. And the bad news was that we brought her home," says Sam, smiling wryly.
Already close at the beginning of this adventure, the family is closer than ever because of it. Susan and her sisters adore each other. Surrounded by so much love and support, she is now one year old and continues to make progress. Soon she will be crawling. She's off the ventilator during the day. Hopefully, the tracheostomy will be removed by her third birthday.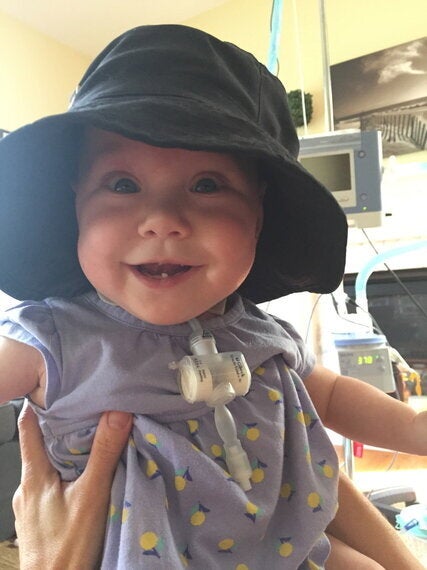 Sam credits Susan's progress - and in fact, her very survival - with her parents' ability to spend several hours with her every single day she was in hospital. "Ninety percent of the trach babies were alone without even one family member there. It breaks my heart," he admits.
"One part of our cause is to figure out how to make it possible for family members to visit their babies when they're out of State or can't afford it," Sam continues. The speaker, trainer and podcast host adds, "I'm an entrepreneur. I've got all the freedom in the world so I could be there for Susan." The Crowleys want to help others who aren't so lucky.
Since beginning this journey, they've shared it on social media and on Sam's podcast. They have been astonished by the outpouring of love and support from total strangers all over the world. "We're trying to be an example for people. We don't want them to feel sorry for us. We want them to draw inspiration from our situation so when they need one more breath, whether it's financially or spiritually or in a relationship, they think of Susan."
Yes. Think of Susan. If she could keep taking one more breath, so can you.