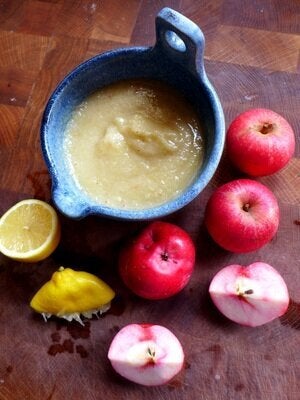 I've got enough cookery books to open a small shop and I love reading them and cooking from them. But much of my food is inspired by what's growing in the garden and by chatting to friends.
The lovely and multi-talented Emma Crowhurst (chef, writer, ex-Leith's head teacher) cooked a crumble at last weekend's Aldeburgh Food Festival with a beautiful red-fleshed apple she found while out walking.
I mentioned it to my friend Karon Sanders, who runs Stackyard Nursery, who promptly gave me a bag of Ida Reds, rescued at the last minute from her husband who was pressing every apple in sight in his annual cider-making extravaganza.
They are an eating apple, crisp, sweet and tart, and I wanted to make something that showcased their lovely red-flushed flesh.
You can, though, make this with any good eating apple - it is a version of a classic French apple tart, but using puff in place of sweet dessert pastry.
French Apple Tart (serves 4-6)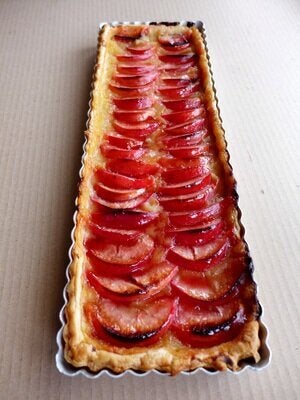 3 eating apples, ideally the same size
About 3 tbsp caster sugar
1 sheet of all-butter puff pastry
1 tbsp redcurrant or apricot jelly/jam (depending on colour of apples)
Peel, core and slice the cooking apples. Put them in a pan with 2 tbsp sugar and a small splash of water.
Cook gently, stirring occasionally, until they have broken down into a thick purée. It's important to keep it stiff as otherwise it'll make the crust soggy. Taste and add more sugar if necessary and allow to cool.
Lightly grease a six-portion flan tin with a removable base. Mine is 35 x 12 cm. Line it with the pastry (you may need to roll it out more), prick the base, trim the edges and put in the freezer for 20 minutes or until frozen. Heat the oven to 180C/35F/Gas Mark 4 and place a baking sheet in the centre to heat up.
Quarter the eating apples and core them but don't peel them, then slice thinly and toss them in a bowl with the lemon juice and remaining tablespoon of sugar. Fill the tart case with the apple purée and arrange the sliced apple in overlapping rows on top.
Place on the pre-heated baking sheet and cook for 20 minutes then turn the oven up to 200C/400F/Gas Mark 6 and bake for a further 20-25 minutes or until the pastry is risen and golden and the apples are tender.
Melt the jelly with a small splash of water and brush over the tart to glaze. Once it has cooled, refrigerate it and slice while still cold, but allow it to come back up to room temperature for 20 minutes before serving.