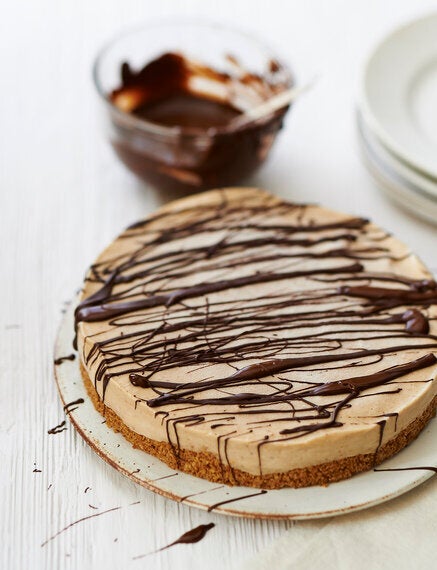 Both bananas and peanuts have positive health properties, so here's a way of having your cake and eating it too!
200g crunchy granola bars, crushed
2 tbsp coconut oil, melted
8 bananas, cut into 3cm pieces, and put into the freezer
4 tbsp crunchy peanut butter
50g dark chocolate, melted
Preparation time - 30 mins, freezing time - 6 to 8 hours or overnight
Remove bananas from skins, cut into 3cm cubes and freeze until hard.
Line a 9 inch (23cm) loose bottomed, round cake tin with parchment paper.
Place the granola bars in a food processor and pulse until sandy consistency.
Melt the coconut oil over a gentle heat, then add the crushed granola bars.
Place the biscuit mixture into the prepared tin, press firmly into the base and 3cm around the sides.
Place the banana slices in a food processor or powerful blender. Purée banana slices, scraping down the bowl as needed.
Purée until the mixture is creamy and smooth, then add the soya single cream.
Add the crunchy peanut butter and purée to combine, then pour the mixture into the cake tin and freeze for 6-8 hours or overnight.
30 minutes before you are ready to serve, remove ice cream cake from the freezer.
Melt the dark chocolate and drizzle over the cake. Smile.
LISA'S TIP - If you are looking for a new way to use up your ripe bananas, trythis Banana Peanut Butter Ice Cream cake. I always have loads of frozen banana chunks in my freezer, whether it's for a smoothie or this delicious cake. The recipe is super simple to make and no one will ever know there are only a few ingredients involved. This recipe really is magical, and healthy too!