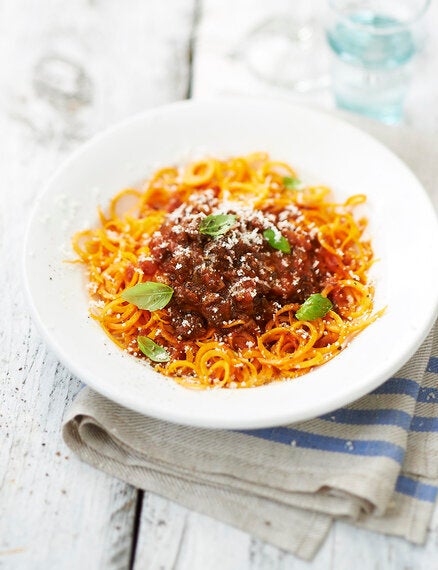 My version of 'spag bol', this meat and potatoes dish is deliciously filling and nutritionally balanced.
2 echalions shallots or white onions, finely chopped
120g button mushrooms, cut into small cubes
2 x 400g cans plum tomatoes, sieved (discard the pulp and pips)
Small handful of basil or dried mixed herbs
2 tsp Worcestershire sauce
Preparation time - 40 mins, cooking time - 45 to 60 mins
Heat a large non-stick saucepan or flame-proof casserole dish over a high heat, then add the oil together with the shallots or onions and sauté until soft and translucent approx. 3 mins.
Remove the pan from the heat. Add the crushed garlic and Worcestershire sauce. Coat the onions well then add the minced beef in several batches until the onions are blended into the meat.
Return to the heat and continue to stir over a medium/high heat until browned. Break up any lumps with the back of a wooden spoon. At this point, the mince will have changed colour from pink to grey, to golden brown.
Add the mushrooms and continue to stir for 3 minutes then add the tomato purée.
Make a well in the center and pour in the wine. Continue to stir for 3 minutes until the wine has evaporated.
Add the basil leaves, if using or add dried herbs then pour over the tomato sauce and then season with salt, black pepper, garlic granules and honey.
Partly cover the pan, then simmer on a low heat for 45-60 minutes until the mince is tender and surrounded with a rich thick sauce (stir every 10 minutes).
Taste to check seasoning. Add salt and pepper if necessary, and once cooked set aside.
Peel the sweet potatoes, and spiralise to get sweet potato pasta.
Place in a large wok/frying pan and sauté in a drizzle of olive oil for 3-4 minutes to lightly soften.
The spiralised pasta should have a bite to it so be sure not to overcook. When you're ready to serve, heat up the sauce.
Garnish with basil and a sprinkle of parmesan cheese.
This meat sauce is a good recipe to freeze up to three months. Defrost thoroughly, then return to a saucepan and reheat gently, bubble for 10 minutes and use in other recipes.