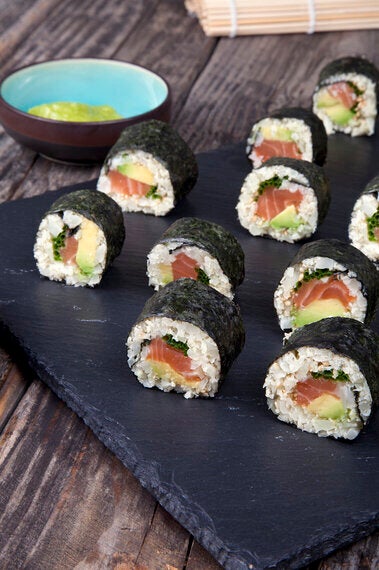 Grain free cauliflower sushi, great as starter or as a main meal. Light, delicate and a great way to incorporate your vegetables.
1 extra large cauliflower, florets (grounded into rough texture similar size to rice)
2 tbsp. agave nectar or honey
5 nori seaweed sheets, cut 2 inches off the top
200g salmon, sashimi grade, cut into strips
1 avocado, cut into strips
5 tsp. sesame seeds, toasted
tamari soy sauce, gluten free
Preparation time - 60 mins, cooking time - 10 mins
Place the cauliflower florets in a food processor and grind until you get a rough sandy texture. Add 1 tbsp. rapeseed oil to a large non-stick frying pan and gently sauté the cauliflower, continuously stirring for 10 minutes to prevent burning. Leave to cool.
Place the cauliflower in a clean tea towel or a muslin and squeeze out the excess moisture, then place on a large platter. In a mixing bowl add 2 tbsp. vinegar and 2 tbsp. of honey or agave nectar and season with sea salt, then pour the mixture over the cauliflower, mix in with a spoon, divide into 5 portions to ensure you have enough for each roll and leave to cool.
Cover a bamboo sushi-rolling mat in clingfilm and lay a nori seaweed sheet on the bamboo rolling mat with the shiny side facing down. Cover the seaweed with 1 portion of cauliflower rice, leaving a finger-tip amount around the edges free. Sprinkle with sesame seeds and on the edge nearest to you, half an inch away from the edge lay the avocado, chives and salmon across the cauliflower and roll away from you with you using your thumb and index finger massaging it out as you go to ensure its packed tightly.
Once you've rolled it twice, wet the edge of the seaweed sheet that has not yet been rolled with water using a fingertip and then roll over and tightly seal the seaweed sheet together.
Place on a dish and repeat with the remaining nori sheets.
Once the sushi has been rolled, take each roll and cut in half then slice each half in to 3 pieces, discarding the end pieces.
Serve on a large platter with a small bowl of tamari soy sauce, ginger and wasabi,
While the traditional sushi with rice is pretty straightforward, in my effort to reduce grains and maximizes nutrition in my diet I wanted to take a step further and create a sushi roll packed with a powerhouse of nutrition. The humble cauliflower is very rich in vitamins C, K, and the B family, helps our bodies to get rid of toxins, contains a broad spectrum of antioxidant components and is a powerful anti-inflammatory food thanks to vitamin K. I make sure that when buying my salmon for sushi from my local fishmonger, that I am given the middle part of the fish and not the tail end and I let them know that I will be eating the salmon raw.