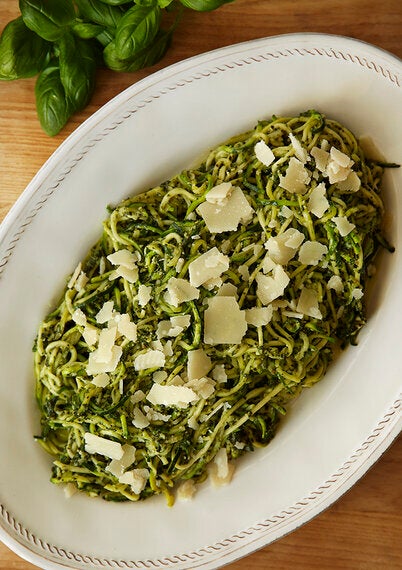 Fresh, homemade pesto is one of the greatest ingredients I like to have stored in my fridge. One would usually think of basil pesto, however I recently experimented with another beautiful green vegetable cavolo nero.
160g cavolo nero (black kale) cut away the stalk
85g parmesan cheese, grated
10 tbsp. olive oil (9 tbsp. olive oil when blending a save 1 tbsp. olive oil at the end)
parmesan cheese, shavings
Preparation time - 40 mins, cooking time - 10-12 mins
Cut the leaves away either side of the steam, and discard the stalk. Rinse the leaves under cold running water. Place the leaves in a steamer, I use a bamboo basket, lined with parchment paper placed over a saucepan of boiling water. Bring the water to the boil and steam the cavolo nero for 10 minutes. Remove from the heat, leave to cool. Place the cooled wilted leaves in the palm of your hand and squeeze out the excess moisture in to a bowl. Alternatively you can place in a clean tea towel and squeeze through, (discard the water)
In a food processor add the cavolo nero, parmesan, pine nuts, 9 tbsp. olive oil and garlic puree and blend, you will need to stop start occasionally and wipe down the sides. Season with sea salt and black pepper. The consistency should be quite coarse, although ensure the mixture is thoroughly combined (you can add extra oil if you prefer it loose).
Decant into a kilner jar and top with 1 tbsp. olive oil. Eat straight away! Or you can keep stored in the fridge for 1 week.
To make the pasta, spiralize the courgette using the shredder blade. Toss with a couple of pinches of salt and place in a colander, let the liquid drain from the courgette. Just before using squeeze through as much moisture as you can delicately, not to spoil the spaghetti.
In a large non-stick frying pan add 8-10 tbsp. from the pesto jar together with 2 tbsp. olive oil, heat over a medium/high heat stirring continuously, when the pesto is hot add the courgette and sauté just until the courgette is warm, about 30 seconds, do not over cook.
Divide the courgette spaghetti among individual pasta bowls. Garnish with parmesan shavings.
This courgette pasta is so delicious it can be eaten hot or cold.
I love cavolo nero pesto sauce, you could substitute with kale if you can't find cavolo nero, but cavolo nero has a sweeter taste. You can think of it as the elegant Italian cousin of kale. This pesto is not only delicious but is also packed full of vitamins and minerals, it contains viatmins K, C, A and calcium, iron plus b viatmins. I always have a jar in the fridge.
Here is a list of my favourite ways to enjoy avolo nero pesto sauce.
Added to a hot roasted sweet potato. Crisp bread served with hummus topped with a few teaspoons of pesto. Avocado salsa stir in a couple of teaspoons of the pesto.
Roasted salmon and last 2 minute top with the pesto and place back in the oven.
Steam a melody of green vegetables and stir in the sauce just before serving.
Pesto grilled sandwiches or wraps!