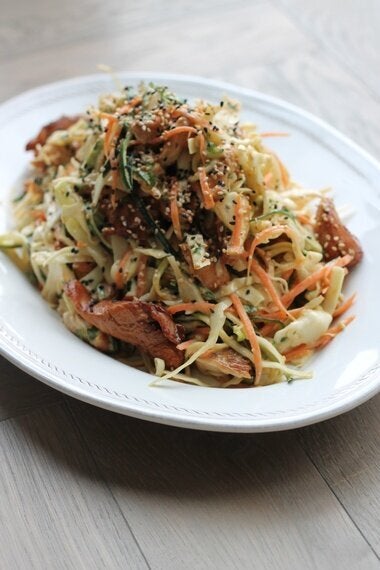 I put this salad together when I had some leftover cabbage and courgettes and the results were delicious. The dressing is creamy, nutritious and egg-free.
2 chicken breasts (supreme), cut into 1.5cm strips
2 tsp. Chinese five spice
2 tbsp. maple syrup or agave nectar
2 tbsp. orange juice, freshly squeezed
½ white cabbage, core, outer layer removed and shredded
4 carrots, peeled (spiralised or julienne)
2 courgettes, spiralised or julienne
1 large handful coriander, chopped
4 tbsp. orange juice, freshly squeezed
2 tbsp. maple syrup or agave nectar
3 tbsp. sushi seasoning vinegar
white and black sesame seeds, toasted
Preparation time - 30 mins, cooking time - 10 mins
Cut your chicken breast, across the grain, into 1.5cm strips and place in a bowl with the chinese 5 spice, sea salt, white pepper, sesame oil, tamari soy sauce, maple syrup, orange juice and mix together.
In a non-stick pan, cook the chicken in two batches on a medium heat until the chicken is cooked through and golden on the outside, should be about 5 minutes. Keep stirring the chicken to ensure the golden colour is all over. Transfer to a plate and sprinkle over some white sesame seeds. Before adding your next batch, wipe down the pan with kitchen paper to take away the sauce that has just cooked the first batch so it doesn't burn. When the chicken has cooked, transfer to a plate to cool.
Shred your cabbage and place in a bowl together with your carrots and courgettes, I julienne just the flesh of the courgette and not the seeds.
Place all your dressing ingredients except for the coriander into a bowl and whisk together until combined.
Pour your dressing over the vegetables add the coriander and wearing gloves mix together with your hands or a spoon.
Take ¾ of your chicken and break up into pieces into the salad and combine together. Use the rest of the chicken for garnish together with the coriander, toasted cashew nuts and sprinkle the white and black sesame seeds on top.
LISA'S TIP - This salad is full of protein from the chicken and cashew nuts. The chicken breasts are full of flavour, you can marinade the chicken the night before so the flavours intensify. If you are using a julienne you can graze on the middle of the carrots that are left over after grating. Shredded cabbage, spiralised courgettes and carrots are a lighter and lower carb alternative to noodles, if you are not on a gluten free diet, boil up some egg noodles to add to the salad. You can make the salad with the dressing the day before and leave in the fridge until you are ready to serve with the chicken. Also serve with chilli in oil if you like a little heat. This salad can also be served with turkey instead of chicken.