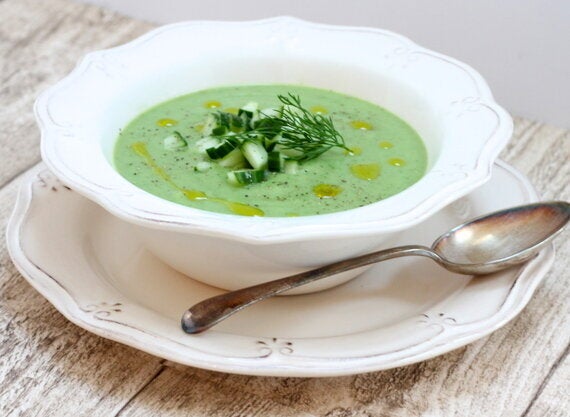 This creamy, satisfying soup is perfect for any summers day, not only will it help you cool off and hydrate, you will also gain from the healthy oils from the avocado and almond milk
3 large cucumbers, washed and deseeded (keep ¼ of 1 cucumber for garnish)
2 ripe avocadoes, skin and pip removed
2 echalion shallots, sliced
4 stalks of dill, remove stem
2 tbsp. apple cyder vinegar
sea salt or (herbamare -herb seasoning salt)
cucumber from above, deseeded and finely chopped
extra virgin olive oil to drizzle
Preparation time - 30 mins, cooking time - 0 mins (you can make this the day before serving)
Wash the cucumbers, keeping the skin on, cut down the length and then again through the length of each halve. Run a knife under the seeds, through to the other end and discard the seeds, then cut into 3 inch chunks and place in a large bowl.
Cut the avocadoes in half and remove the stone, scoop out the flesh into the same bowl as the cucumber, add the sliced shallots and dill.
Using a freestanding blender in batches, add some cucumber, avocado, dill, shallots and almond milk and blend until completely smooth, then pour into a large bowl. Continue blending (I usually do 2-3 batches).
Season generously with sea salt or herbamare and white pepper, add the mirin, honey mustard and apple cyder vinegar. Check for seasonings.
Refrigerate until needed, you can make this the soup the day before serving. Garnish with chopped cucumber, drizzle extra virgin olive oil and black pepper.
I've kept this soup dairy free. Although it's entirely up to you if you would like to serve with some crème fraiche or you can substitute the almond milk for soya milk if you have an allergy to nuts.
If you want to add a little bit more texture and colour to this refreshing soup, you could add a Mexican salsa of chopped tomato, avocado and sweet corn seasoned with sea salt and black pepper and extra virgin olive oil, then just add as a garnish! What ever catches your fancy, be adventurous or just keep it simple, as its pretty fantastic as it is.