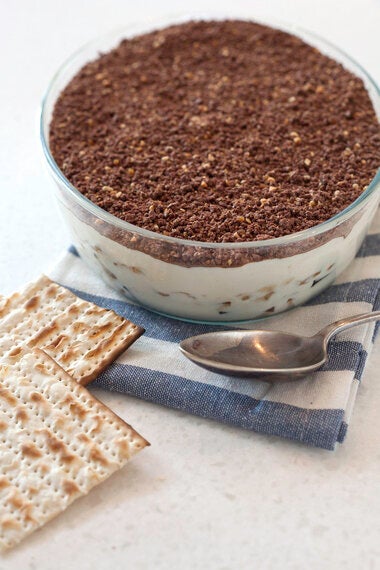 Who doesn't like a good Tiramisu? Tiramisu is one of my favourite desserts. It might have something to do with it being covered in chocolate and slathered with liquored mascarpone. Its is surprisingly easy to make at home. And if your looking to wow your guest over Pesach, then try this delicious version made with Matzo
4 heaped tsp coffee granules or powder
2/4 tbsp. marsala or amaretto liqueur
250g mascarpone or cream cheese
4 large eggs (fresh), separated
65g Xylitol or caster sugar
150ml (¼ pint) double or whipping cream
4 ½ whole slices of matzo, broken into small pieces (gluten -free if required)
100g chocolate broken into pieces or grated, (almond chocolate is a good option)
2 tbsp. cocoa powder or chocolate powder
Preparation time - 40 mins, chilling time - 3 hours (preferably overnight is best)
Dissolve the coffee granules or powder in the hot water, add the marsala or amaretto liqueur and leave until completely cold.
Spoon the mascarpone or cream cheese into a very large bowl and beat it lightly with a wooden spoon to soften the cheese (do not over beat).
In a separate bowl, whisk the egg yolks and sugar together until pale, very light and fluffy, use a hand held mixer/ kenwood for this it will take 4-5 minutes. Fold the egg yolk mixture into the cheese with a large metal spoon.
In a large grease free bowl and with scrupulously clean beaters, whisk the egg whites until they hold their shape. Fold the egg whites into the cheese mixture
Use the same bowl for whipping the cream until it holds its shape then fold this into the cheese mixture too.
In large dish with sides layer by layer, immerse 1 ½ sheets of matzo, broken into small pieces into the coffee mixture, leave to soak for 4-5 minutes, get turning over after every minute, then place them into your large oval/square serving dish. Spread 1/3 of the cheese mixture over the top.
Dip the remaining matzo sheets (broken into small pieces) into the coffee mixture and arrange them in the dish in a even layer. Spoon the remaining cheese mixture over the top and level the surface.
Then repeat the final stage of the layering.
Sprinkle the surface of the tiramisu with the cocoa powder/chocolate powder, then with the grated chocolate or curls, finish off with a few strawberries for garnish if you wish
Tiramisu is one of those dishes that benefits greatly from being allowed to rest so the flavours can really mingle together. The Coffee mix liquid moistens the matzo right through although you don't even have to tell anyone that there's matzo in it. And of course you don't even have to tell them you used gluten-free matzo.