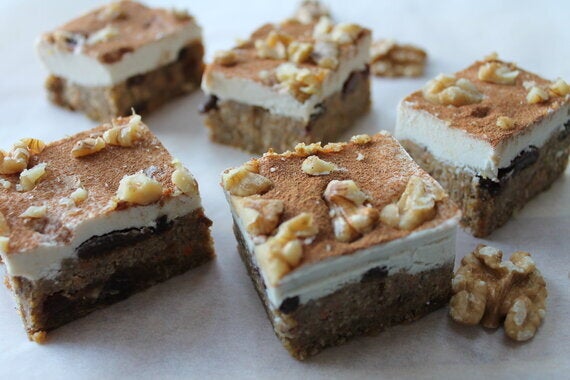 My all time favourite cake, I love that this cake is made naturally with raw ingredients. I am totally sold on raw desserts. And the cashew cream tastes just like frosting packed with protein and vitamins! Easy to make and taste so fresh
500g medijool dates, pitted
300g walnut halves, crushed
100g coconut, shredded or desiccated
200g raw cashew nuts (soaked overnight)
1 tsp. vanilla bean paste, extract or seeds
100ml coconut oil, (odorless), melted
50g walnuts halves, crumbled
Preparation time - 40 mins (plus overnight soaking of cashews) - freeze time - 3 -4 hours (depending on your freezer)
Place the cashew nuts in a bowl and cover with cold water, and leave to soak for 8 hours
Line a square 9 x 9 inch non-stick cake tin with parchment paper.
In a food processor add the walnuts and pulse until roughly chopped, with a slight sandy consistency, then remove from the food processor.
Add the pitted dates to the food processor, and blend until a ball is formed. Then add the chopped walnuts halves and blend together, scrap down the sides and add the coconut, grated carrot and spices and sea salt. You will have to scrap down the sides after every small bursts of blending.
Remove the blade from the food processor and scoop the mixture into the prepared tin, smooth the top. Scatter the sultanas evenly over the top, and then press firmly into the mixture. Ensure that that top is smooth again. Then place in the freezer for 30 minutes, whilst you make the topping.
To make the cashew cream, drain the cashews through a sieve under cold running water, and then leave on kitchen towel to dry. Gently melt the coconut oil, and leave to cool.
In a food processor, add the cashews, lemon juice, and vanilla and blend for 3 minutes, keep scraping down the side. When the coconut oil is cooled, add to the food processor with the almond milk and agave syrup. Continue to blend for about 5-8 minutes until very creamy and smooth occasionally scraping down the sides.
Remove the base from the freezer. Smooth the mixture evenly over the top. Pass the cinnamon through a sieve and lightly press the walnut pieces into the topping.
Place back in the freezer for 2 hours to set. Before serving I like to remove from the freezer and cut.
Let the carrot cake thaw for about 5 minutes, then cut 5 x5 so that you get 20 slices. This dessert needs to be kept in the freezer, although you can let it thaw out and place in the refrigerator just before serving.
Keep in the freezer so you can always have a healthy treat on hand when unexpected guests descend on you! Once set in the freezer, I like to cut into slices, so its ready to serve when needed. If you don't like sultanas you could add dried pineapple pieces.