When I was invited to review LaSource I was excited, very excited but also slightly worried. This sounds odd, I know. I realise how incredibly lucky I am, and believe me, I never take it for granted. But I'd been there before, a long time ago, I had memories, good ones, memories that I didn't want tarnished.
Prior to my previous visit I was suffering from anxiety, stress and panic attacks. Two days in and I'd never felt so relaxed. This is where my spa obsession began. This was the place that introduced me to yoga, meditation, massage and Pina Coladas. Things I would take with me and use for the rest of my life. Would it live up to my high expectations a second time?
LaSource is positioned on the south west coast of the bijou and unspoilt Caribbean island of Grenada, hidden amongst lush tropical gardens and perched on the idyllic Pin Gin Beach. A golf course, tennis courts and two swimming pools surround The Terrace, a Colonial Caribbean style super-hut which houses the main bar and social hub of the resort, where solo travellers, grown up families, (LaSource is adult only most of the year) and couples young and old, mingle. 100 guest rooms are situated along the beachfront.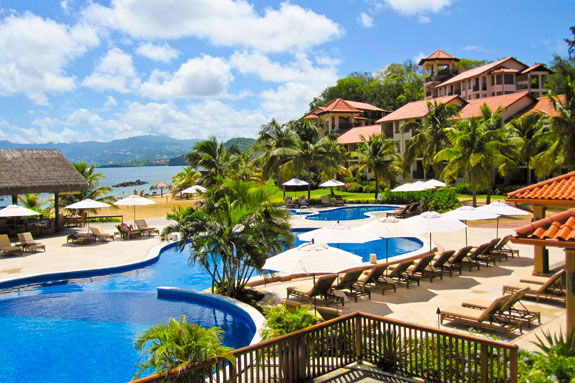 The Room: After a refreshing fruit cocktail and brief tour of the resort, my partner and I were shown to room 1201, a large colonial style room with a huge four poster bed, large seating area, and balcony with pool and ocean views. A chilled bottle of sparkling wine, exotic fruits and Grenadian snacks were waiting. A quick freshen up, a drink and a munch, then a stroll down to the beach, just in time for the infamous Pink Gin sunset, Pina Colada in hand.
Yoga: Up bright and early the next day and off to the 8am yoga class, which is taken in the outdoor Relaxation Pavilion overlooking a beautiful lake. I was a bit nervous about my first class as I hadn't practiced for a while, but there was no need. There were lots of newbies, and as soon as instructor Mimi started talking I was sent into a yoga trance by her hypnotic voice. The class combines Iyengar and Hatha yoga, concentrating on breathing, and using blocks and belts to achieve basic yoga poses, so suitable for everyone. Stretched, toned and relaxed, it set me up for the rest of the day and would become part of my daily routine.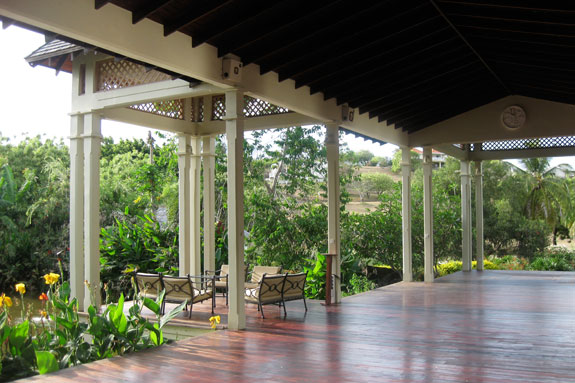 A leisurely alfresco breakfast, then off to the main event.
The Spa: The Oasis Spa is hidden amongst tranquil courtyard gardens in the middle of the resort. A Moroccan themed haven of calm, with 18 treatment rooms, 2 couples rooms, and indoor and outdoor candlelit relaxation areas. An Indonesian style triple treatment suite, perched at the top of the gardens, is used for outdoor treatments. Pevonia products, which are alcohol and lanolin free, and contain marine and fruit extracts, are used for all treatments.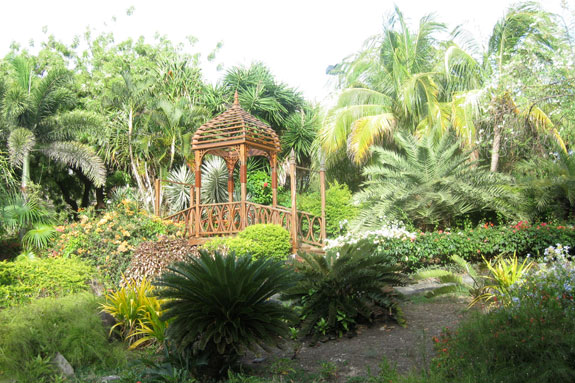 The Treatment: One 50 minute, complimentary treatment per day is included in the stay. First up on my spa schedule was the detoxifying Port Saline Wrap. A blend of seaweed, which is a great detox aid, and essential oils were brushed on, therapist Abbey then wrapped me in cling film and foil. For the next 20 minutes, while I cooked, I was given a face and scalp massage, which completely distracted me from any claustrophobic wrap thoughts. A shower, then an application of papaya body moisturiser completed the treatment. Despite the gorgeous aroma of the papaya cream I did smell like a fish for some time after, but my skin felt super smooth and silky and, although I wasn't allowed in the sun, (with any detox treatment you should stay out of the sun for at least three hours) prepped for tanning.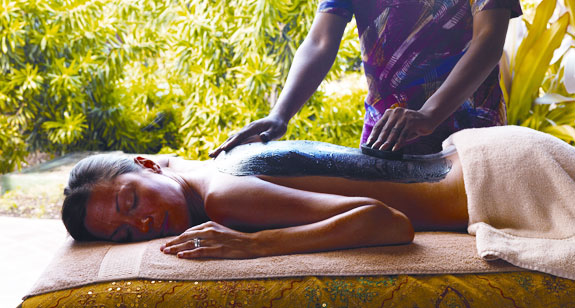 I tried all the complimentary treatments during my stay including: Restorative Facial, an anti-ageing and re-balancing facial with pressure point massage. Aromatherapy Massage, a holistic and relaxing light massage, with a choice of lavender, eucalyptus or grapefruit oils. Silk and Smooth, a gentle body exfoliation to remove dead skin cells followed by and an intense moisturising treatment, and LaSource Signature Back Massage, my favourite, a deep and vigorous massage of the back, neck and shoulders, using a blend of coconut oil, clove and nutmeg to work away stress, knots and ease muscle tension. All the treatments and therapists were of a high standard.
An extensive spa menu, with treatments including Aroma Stone Massage, which I would recommend, Reflexology and Acupuncture are available at an extra cost and all complimentary treatments can be upgraded.
Time for lunch.
The Food: A choice between The Great House, The Garden Restaurant, Café Deli or Oscars Beach Bar and Restaurant. We opted for beachside dining at Oscars, which offers a delicious Caribbean and International menu, using fresh local ingredients, for lunch, and local fish and seafood for dinner. Mesmerized by the ocean views and port of St George's in the distance it was difficult to move, but an afternoon of activities awaited.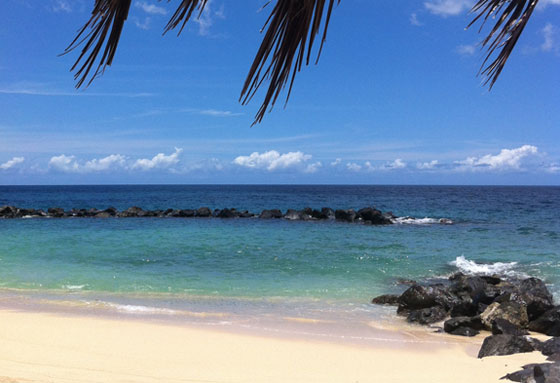 Activities: A host of land, and water sports are complimentary during the stay including: tai chi, beach volleyball, tennis, golf, scuba diving (for certified divers), kayaking, windsurfing and aqua aerobics. You can choose to do as much or little as you fancy. Tomorrow we would lie on the beach and do nothing. Today, I chose personal training. Am I mad? Yes. It was hardcore, but I felt great afterwards! My partner strolled off to beginner's archery.
A few hours later, after a swim and snorkel around the bay, we were back on Pink Gin Beach, reflecting the days events, Pina Colada in hand, just in time for the sunset...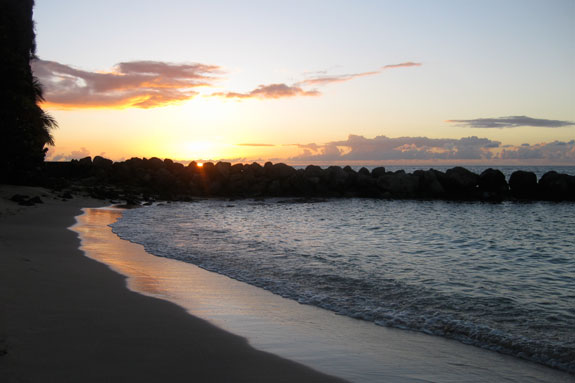 There was no need to worry. 10 years on from my first visit, I'm delighted to report that my skin and mind were once again clear, my back and shoulders tension free, and my arms and legs stretched and shaped. As we bid farewell to wonderful manager Mark, Shirley Ann, Sam, Lisa, Elvis, Karl, Mimi and the rest of team that had made our experience so unforgettable, little tears appeared under my sunglasses. I don't make a habit of this sort of show of emotion on my travels, but LaSource has a profound effect. To be honest I think the staff are used to this sort of reaction. Chatting to my fellow departing guests I saw a few glassy eyes, and I'm sure my partner had a lump in his throat.
LaSource have a motto, "Amazing things happen when you introduce your body to your mind". It does what it says on the tin, and more.
Don't Miss: Meditation and Stress Management at The Relaxation Pavillion.
A private Island tour of St George's, The Rainforest (where, if you're lucky, you'll get to see the Mona Monkeys) and The Belmont Estate. Manager Mark 'nothing's too much trouble' Grebby can organise this for you.
The Deal: Seven nights in Grenada with Virgin Holidays, including scheduled flights with Virgin Atlantic from London Gatwick direct to Grenada, accommodation at the 4V+ LaSource on an all inclusive basis with transfers included starts from £1745. Prices are per person based on 2 adults travelling and sharing a luxury room, price includes all applicable taxes and fuel surcharges which are subject to change. Prices are based on 28 June 2012. Start your holiday at the relaxing v-room at Gatwick. £20
Virgin Holidays is a member of ABTA and is ATOL protected
To book: www.virginholidays.co.uk , 0844 557 3859 or visit one of 90 stores located in Debenhams and House of Fraser stores nationwide.