I've been a gym bunny for well over a year now and I am amazed at how much my body has transformed through exercise. Along with eating healthily the majority of the time (apart from booze-fuelled holidays in Portugal and when I'm feeling sorry for myself during the time of the month), my mind and body are healthier thanks to my fun exercise regime.
Notice I use the word fun. A year ago you would have found me stuck on a tread mill or cross trainer for half an hour but now you will find me trying out all sorts of classes, including circuit training, weight training, and the classes I really love, Les Mills' Body Pump and Body Combat. And most importantly, I have a really supportive and encouraging group of 'gym buddies' who keep me going and keep it fun.
Having lost nearly up to eight stone over three years, my body has required plenty of toning and upkeep to ensure I don't fall off the bandwagon into a heap of sugary temptations and too much sofa time. It's a daily battle but once you find exercise that you enjoy, half the battle is done!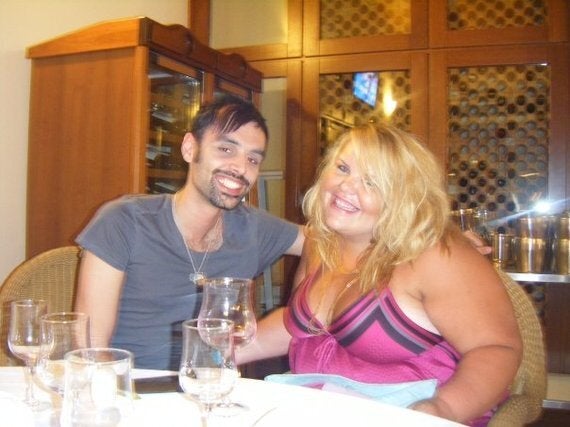 Me and my best friend Joe before I lost weight. He said he never saw me as anything other than Liz
My waist now goes in, the back fat has disappeared, and my thighs don't rub together anymore. I walk taller, feel stronger and I even think my brain power has improved. Most importantly, I am healthier on the inside and my mind is all the better for it. I get bouts of anxiety and exercise has helped me to keep me on a steadier track thanks to those wonderful things called endorphins.
So to celebrate my healthier body and mind, I wanted to share the 10 things I love about losing weight. I hope it inspires others who are thinking or wanting to make changes to their lifestyle. Honestly, if I can do it, you can...
1. I feel so much more confident. I would probably spend half of my day feeling insecure, and that isn't an exaggeration. I still have my insecurities that rise up the surface. The 'fat girl' thoughts remain with you even when the fat has melted away. If a guy used to look at me, I'd think he was looking and thinking, 'Ergh'. It's not about your dress size, its how you feel on the inside and how that carries through in everyday life.
2. I can wear jeans and a top. Muffin top, spare tyre... whatever you choose to call it, we all have the bits of our body we hate and mine is the tummy area. It's an area I continue to work on as any fat I have goes straight to that area. However, I now feel confident to wear jeans and a top. It might not sound that exciting to you but for someone who could never carry off jeans due to lumpy thighs and a over handing tummy, it feels like a real achievement. We all need our goals and this was one of mine.
3. I don't feel self conscious. Now I've shrunk to a smaller size, it's only now that I realise just how many missed opportunities there have been in my life from feeling too self conscious. This was a huge part of why I wanted to make changes to my lifestyle. I often think how my life would have panned out if I had grown up being a size 10. But then I wouldn't be the person I am today if I had. I now spend hardly any time worrying about my wobbly bits. I still have the shadow of the fat girl hang ups hanging over me but slowly they are going.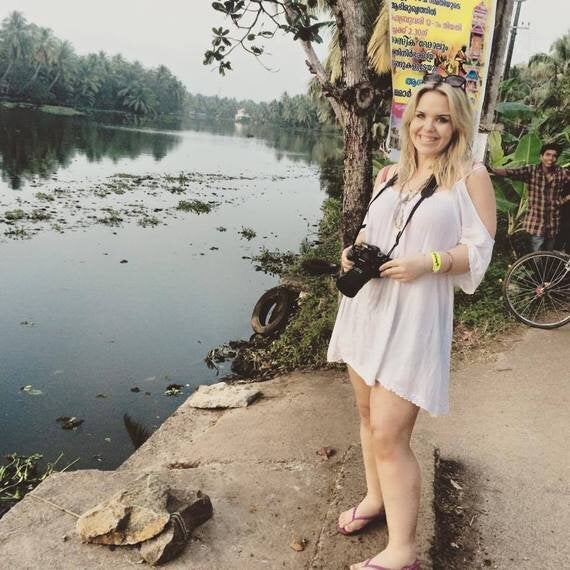 I travelled across India in January with 100 other people in the Dumball Rally, in aid of Teenage Cancer Trust. Something I would never have had the confidence to do before I adopted my healthy lifestyle and mindset.
4. No more name calling. If you're fat you're going to be called names. I've been called some truly vile things throughout my life, particularly at high school where I was actually scared to go to some lessons. You will also experience people voicing their opinion on your weight, and a lot of the time it is done without any sensitivity. If you're ready to hear it (I heard it from an ex-boyfriend), it can knock you into the reality that you do need to make changes. However, only do it if you're ready and do it for you and no one else. It just won't work if you're not doing it for yourself. People should love you for who you are, not what you look like. He's an ex for a reason.
5. I know what foods make me feel good. I know sliced bread doesn't agree with me, so I rarely eat it. I know red meat isn't my best friend so I eat chicken instead. I know dairy is pretty much the enemy so I have cut down on the cheddar. I know vegetables give me energy so I eat a variety every day. I know oily fish is amazing for your skin and mind so I make sure I eat plenty each week. It's just making the right decisions. Why would you constantly put something in your body that doesn't agree with you? Listen and watch how your body reacts, and just cut back. Just make sure you feed your cravings and don't deny yourself, you'll just want it even more. I swear by raw dark chocolate to curb my chocoholic tendencies.
6. I have a new happier lifestyle. I have never said I am on a diet. As soon as that word is mentioned, you instantly crave what you can't have. It's about making healthy changes to your lifestyle and sticking to it. I don't even think of going back to my old ways, my eating habits just feel normal now. I'm pretty good in the week, making sure I fuel my body for my now active lifestyle with tasty, healthy food. At the weekend I allow myself to indulge a little more. Life is for living after all.
7. Inspiring others. Friends and readers of my blog have said I've inspired them to make changes to their life too. It's such a wonderful feeling to help others get the most out of life and feel happier.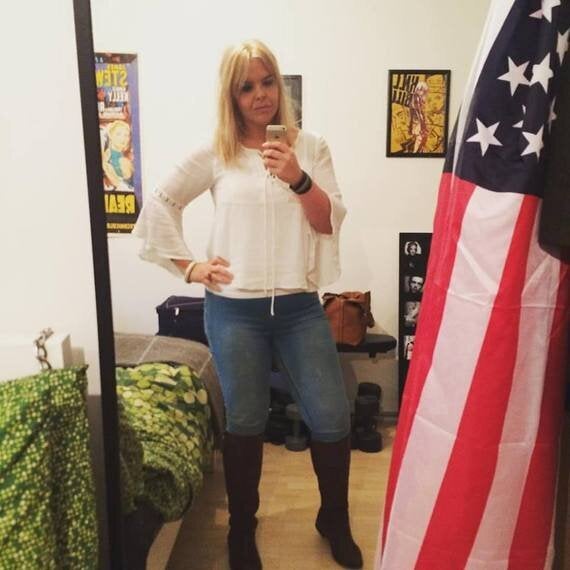 Wearing jeans and a top. Apologies for the selfie, it was a moment for me!
8. Fitting into a size 12. I know it's not just about your dress size but for me this was a proud moment! The choice is endless, which is bad for the bank balance!
9. Living life to the full!I've recently quit my 9-5 job I had for over three years to go freelance, something I had wanted to do for a long time but never had the balls to do. It's constantly bringing exciting opportunities that I am saying YES to!
10. Being more open with friends and family. I realise now I had never been able to open up to my friends and family about my weight until now, now I've done something about it. They have always loved me for me, no matter what my size, but now they see me happier and more confident than ever. I couldn't have done it without their support.