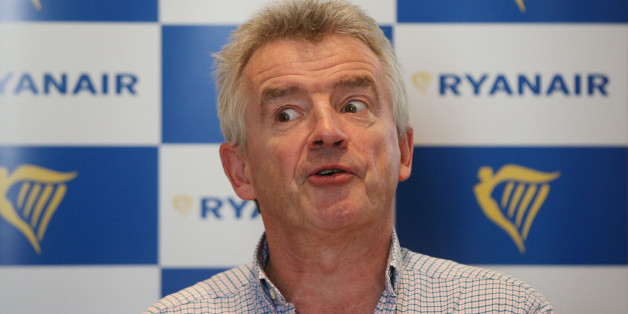 PA Wire/PA Images
Here we are Michael O'Leary, your first question:
The customer is always...
a) right
b) an inconvenience
c) the enemy
When future editions of marketing textbooks are being produced, researchers hunting for case studies to illustrate poor reputation and bad customer service will look no further than Ryanair.
Boss Michael O'Leary has provided a masterclass this week in how not to treat customers. Almost 400,000 passengers have had their flights cancelled, some as little as 45 minutes before they were due to board.
The cancellation of up to 50 flights a day for the next six weeks reveals not only an utter shambles in management, but also a wider problem about why the most financially beneficial outcome for Ryanair was to leave its passengers in the lurch. Make no mistake this was a calculated decision, and the calculation was that cancelling all these flights was worth the cost, to hell with those it affected.
The little financial compensation that is handed out will be scant comfort to passengers whose holiday dreams turned into a nightmare. Under EU law, Ryanair must offer a choice of reimbursement or a new flight on the next available service or an agreed date. Passengers are also entitled to up to 400 euros (£354) compensation.
But who compensates them for the cost of hotels they can't get to, all the wasted annual leave, and the stress they've incurred?
Not that Mr O'Leary would seem to care much about that. This is the man who once said "We don't want to hear your sob stories. What part of 'no refund' don't you understand?". (I think he may have chosen answer c).
O'Leary has always worn his indifference towards passengers like a badge of honour. Like a man poking a bear he can't help but jab his customers again and again to see how often he gets away with it. Charging people to use the toilet [Jab]... removing all the seats [Jab]... and now its 'hand us your money and you may fly, you may not' [Jab]. (Yep, c it is)
O'Leary should learn that eventually you poke the bear one too many times and you receive a mauling.
People's trust in brands and their loyalty towards them is already in decline across the board. The Daily Mirror's parent company Trinity Mirror partnered with IPSOS recently on a major study into people's trust in brands and advertising, and it revealed the significant challenges brands are facing to retain trust with people, particularly outside London.
The report showed that 42% of adults distrust brands and 69% distrust advertising. Added to that, 37% trust brands less than they used to and 43% trust advertising less than they used to. It makes it all the more harder for Ryanair to recover from this self inflicted wound.
People will take heed and vote with their wallets, but more robust compensation rules might have seen Ryanair chose a different path in the first place. Money talks, and they took the cheapest option, so let's look at the compensation rules to make sure next time the cheapest option is not to walk all over their passengers.
Lloyd Embley is editor-in-chief of the Daily Mirror, Sunday Mirror and Mirror.co.uk