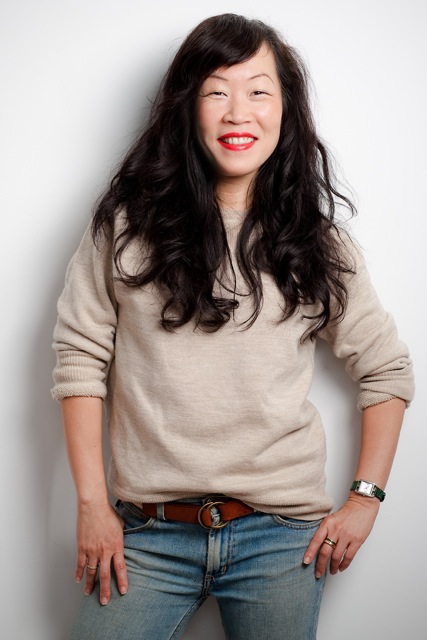 New York-based designer Lynne Hiriak took her love for cardigans and created her knitwear collection in 2008. Prior to launching her line, Hiriak designed for Michael Kors, Derek Lam and other global brands. We caught up with the designer to talk about inspiration, her first fashion memory and her desire to design airline uniforms.
What is your best all time fashion moment?
When I won the clash day award in High School. I went to Catholic school, so we unfortunately still had to wear our plaid kilt but yet, I still managed to win. It was absolutely ugly. Which was hard for me because I'm hardly a silly dresser. So it was a proud moment.
What inspires you?
Colours, smells, anything vibrant and happy! Upstate in the woods with a glass of wine, cheese and sausage in hand. I love it both in the summer and the fall. Anything that is near a river or beach is also inspiring. I love being near water, and hearing the sounds of water. It makes you really feel alive.
What is your first fashion memory?
Since my parents keptexcellent records in slides and photos, I've been fortunate to have lots of memories regarding my first fashion moments. I had an older sister, so unfortunately, my mother would buy us the same or similar outfits. When I would grow out of my one outfit, I would still have to repeat the outfit for another year until my sister outgrew hers. The best outfit that I wore forever was a yellow terrycloth crewneck and short set. I loved that one! I had to throw it out though when I think I wore it outside in the woods and baby spiders crawled out of the pocket because they had nested in it! I totally got grossed out and threw it away.
Person you would most like to collaborate with...
I have lofty aspirations to design airline uniforms. First choice, Richard Branson and Virgin Airlines.
If you weren't a designer, what would you do?
I would probably be aballet critic. Or a fashion critic. Or a food critic.
Something in Journalism. I'm not a particularly creative writer, so I would probably be good at something analytical.
Who is your style icon?
Jane Birkin, Bianca Jagger, Jackie O, Lee Radziwill. Lots of women from the 60s and 70s. For a long time, I totally thought I was born in the wrong time period. I thought I was either from the 1920s (J'adore Chanel's personal style - a real renegade for her times) or from the 60s. I went through a long period during my college years only wearing vintage clothing.
What is the best piece of fashion advice you've ever been given?
Wear color.
When you aren't designing, what do you like to do?
I am obsessed with watching ancient aliens on Netflix!
Name three things you can't live without.
Wine. Friends. Stripes.
Fashion should be more...
About one's own individual expression. Enough of this fast fashion to look like everyone else mass mentality. Looks for less.