Corruption isn't the exclusive preserve of governments and multinational corporations. It affects all of us. Transparency International estimates that 75 million Africans paid a bribe last year. And most surveyed believed corruption is on the rise.
The poor are worst affected, as those who rely on public services are twice as likely to have paid a bribe. Corruption also fuels exclusion and amplifies poverty, depriving millions of basic services like health, education and housing.
Uganda topped the Corruption Perceptions Index in East Africa. Its police were seen as the most corrupt in Africa, while 42% of Ugandan respondents also believed that most or all business executives are corrupt.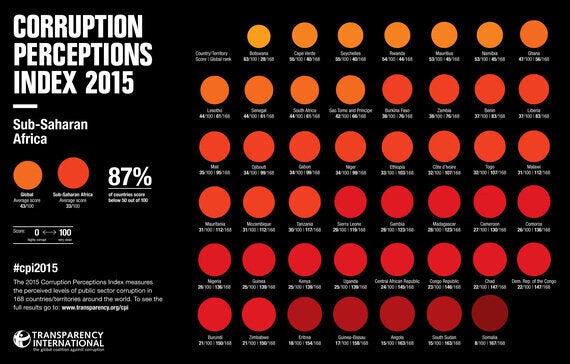 Infographic provided by Transparency International
But it's not all doom and gloom. Citizens across the country are joining forces to fight back. Half the population now have mobile phones, leading to a proliferation of services that let citizens report corruption, feedback on service delivery and demand better from their leaders.
In Northern Uganda, nearly two decades of conflict have left social infrastructure and services in complete disarray. The Women of Uganda Network (WOUGNET) has recently launched the m-Omulimisa platform which allows citizens to easily report service delivery issues via SMS, which are forwarded to the relevant local authority to resolve.
As Ms Grace Acheng, a local resident from Chegere Subcounty in Apac district explains, "Our districts face regular service delivery problems, such as impassable roads, bridges that have washed away, absentee school teachers, low quality building construction at schools, and lack of medicines at our health centres. m-Omulimisa gives us a way to report these problems and highlight corruption."
The platform, used in combination with coordinated offline pressure, has led to real changes on the ground. Community reports have resulted in the repair of poorly maintained borehole pipes at Awiri Parish, Apac district and the construction of new toilets at Amilo Primary School in IIbuje Subcounty, to name just two examples. Perhaps even more importantly, WOUGNET are changing perceptions, helping citizens realise they have the power to shape their communities.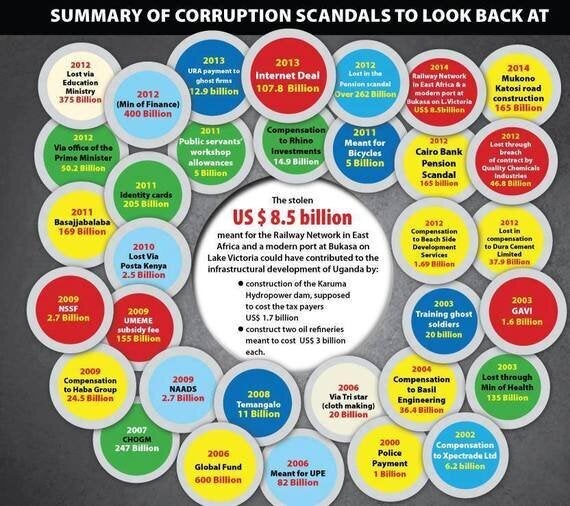 Infographic provided by Ekimeeza.com
The Anti-Corruption Coalition Uganda has created a similar platform which enables citizens to hold their leaders to account on service delivery. Roy Mukasa, their Network Officer can see a real need for such a platform. "Few people are aware of their rights; many people have paid or continue to pay bribes on a regular basis. For example, we have learned about school girls who have bribed to get good grades, and others who have bribed to get medical treatment - the list goes on and on."
The programme improved the quality of health service delivery and communication between service providers and citizens, reduced the solicitation of bribes and prevented drug stock-outs at clinics.
The platform has helped to highlight issues such as poor educational facilities, weak road networks and a lack of access to clean and safe water. The reports formed the basis of a wider accountability programme, drawing upon popular radio shows and neighbourhood assemblies to allow citizens to flag problems with authorities and work with them to effectively resolve them.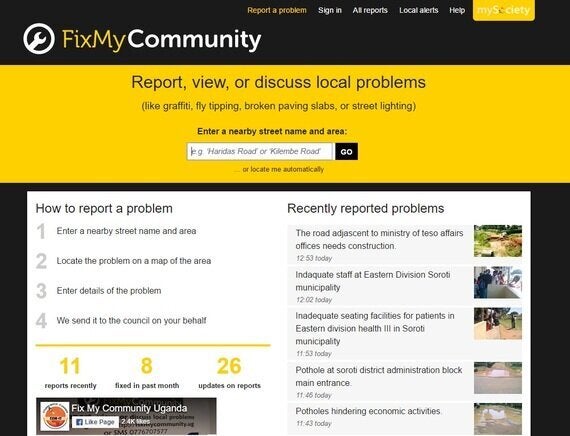 Image provided by Citizens Election Watch-IT, Uganda
Many of us are all too familiar with development projects that have gone badly wrong. Often at their root are solutions that have been parachuted in from the West, with a lack of deep consideration of the local context and nuances.
Furthermore, we may require more innovative approaches, which bring together a diverse set of people to solve problems in novel ways. Last year, Hive Colab, a technology innovation space in Uganda, worked in partnership with mySociety to bring together civic groups, local technologists and creatives to see if they could do just that. Through user-centred design, the group collectively identified a challenge close to their hearts and devised appropriate solutions.
Their brainchild, Yogera meaning "Speak Up" in Luganda enables residents in Kampala to report corruption and poor service delivery or to "Celebrate a Hero" who has denied a bribe in their community. The platform also informs people about their rights in creative, engaging ways. Reports are anonymous and can be made via the web, Facebook or Twitter. Again, reports are channelled to responsible leaders or authorities for resolution and progress is displayed online. The platform is currently being piloted by Anti-Corruption Coalition Uganda and the group is encouraging other social organisations to get involved.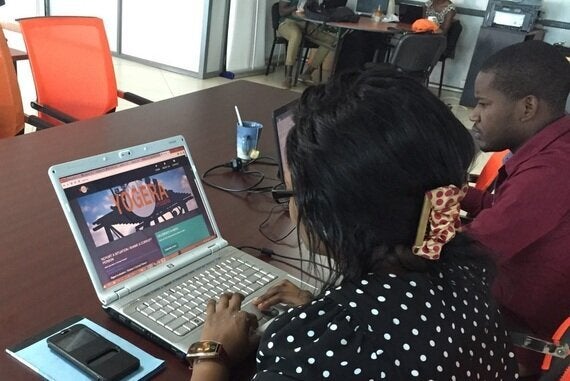 Image provided by Yogera team, Uganda
As Barbara Birungi, Director of Hive Colab explains, "Technology presents us with huge opportunities to foster a culture of transparency and accountability. In places where corruption is a social norm, citizens need to be empowered to work together to shift those norms. It is difficult for individuals to stand alone against corruption. Yogera provides an easy and safe way for them to do it together, and start to change norms".
There's a long way to go before corruption is stamped out in Uganda, or anywhere globally, but it's exciting to see how technology has the potential to shine a light on corruption hotspots and to amplify the voices of citizens, enabling them to demand better from their leaders.
Related