They say video killed the radio star but this is far from the truth. According to the UN, around 44,000 radio stations broadcast to at least five billion people-that's 70 percent of the population worldwide. Radio has continued to be the go-to place for listeners to catch up on breaking news, listen to their favourite tunes and hear varying opinions on the issues that shape the world around them.
Across Africa, 90% of citizens tune into the airwaves. In cities across the continent, there are hundreds of stations to choose from. Yet in some rural areas, options are often limited to a couple of stations, operating on shoestring budgets. Global media often focuses on national issues that can seem utterly detached from the realities of those in marginalised communities. Community radio is different. It can give listeners a chance to debate issues that affect their daily lives, tune in to the melodies of local artists and shape their opinions using local languages and idioms that reflect their reality.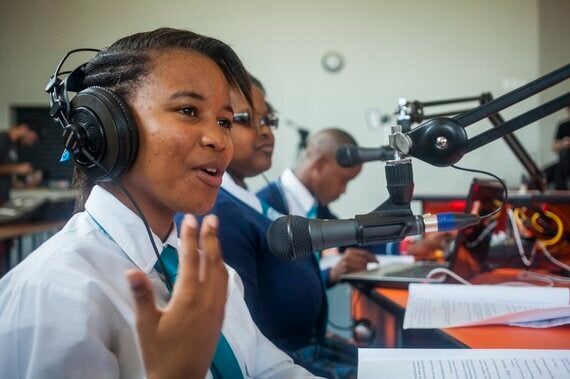 It's crucial that we amplify the voices of the younger generation. Their enthusiasm, energy and ideas can help positively shape our world. Hidden amongst them are our future leaders. So often the direction their lives are steered in is overwhelmingly shaped by the local communities in which they live, and their unequal access to civic institutions, healthcare, education and employment opportunities. Youth need local spaces in which to express themselves, where they can discuss their concerns, share opinions and devise solutions which address issues they can relate to.
Children's Radio Foundation wanted to support youth to become active forces for good and recognised the powerful role that radio could play in building communities. They've partnered with 70 stations across six countries in Africa to create youth-led initiatives which allow young people to speak and be heard and to contribute towards stimulating positive change right in their backyards.
This couldn't be more pertinent than in South Africa. When apartheid came crashing down in 1994, the firm grip of the state-run South African Broadcasting Authority loosened alongside it, giving birth to 165 community stations. Every week 8.6 million listeners tune into the airwaves in order to stay connected to what really matters locally.
In a country where the gap between rich and poor is one of the highest in the world, all too often youth can feel their future has already been stifled by the echelon of society they happen to have been born into. Children's Radio Foundation wanted to change this.
They recently launched a radio station at COSAT High School in the township of Khayelitsha, Cape Town. The average resident is just 24 here and only 36.8% of them have internet access. Sometimes it can feel as though the odds are stacked against the young people in this area. Locally, the average annual income is just R14,500 (around £640) and almost half the residents live in shacks.
Kuhle Speelman, age 16 and his peers are part of a team of optimistic youth reporters which host live, interactive broadcasts to students and teachers, exploring the issues that really matter to them. This has helped spark discussions about racism, gender-based violence and academic pressures as well as sharing inspiring stories of local change-makers and entrepreneurs who act as shining role models to young people, helping them to realise that they too can influence their destiny.
What excites Kuhle about his role is the way it allows young people to feel acknowledged for who they are and to learn from each other. He feels the station can help youth to be taken more seriously and he wants to help unleash their fresh ideas and energy to tackle the challenges they face every day. Phadiela Cooper, the school's principal couldn't agree more. She wants the world to see that young people aren't just sitting back and accepting their fate, but that they're actually doing something to improve their situation.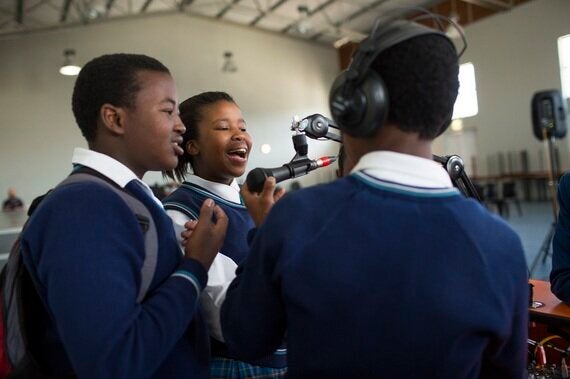 Another 16 year old radio host, Khanyisile Ngcolo facilitated a lively debate which asked young people whether it was fair that teenage pregnancies resulted in only mothers, rather than fathers being expelled from school. There were passionate disagreements among the two hundred strong audience of students and teachers. Khanyisile used her radio host skills to give her listeners a chance to express both viewpoints, helping them to recognise different perspectives and make balanced, informed choices.
Beyond igniting discussions about what really matters for young people, the radio stations are helping the reporters involved to build confidence, critical thinking skills and communication skills that will help them become leaders in their communities and support them in securing their futures in the long-run.
Other initiatives are experimenting with new ways to engage youth in tackling society's challenges and encourage civic engagement. Livity Africa and Parliamentary Monitoring Group's Live From Parliament campaign is placing youth reporters inside South Africa's parliament. It then generates content which is spread across social media and other channels, allowing youth to debate issues that matter to them like youth unemployment and to air their concerns to MPs.
In this global digital age, initiatives which give youth a chance to express their views and shape their futures are needed more than ever. Technology can help this information spread further and faster. Social media and other digital platforms have their role, but it's also important that we remember that for many, radio remains their main source of information and that its local relevance is key. We need to ensure that young lives don't get forgotten and that their opinions and ideas are able to contribute towards improving lives in their own communities, wherever they are.
Click on the interactive visual below to hear some of the radio programmes from COSAT High School, Khayelitsha, Cape Town and learn more about the area:
Related