Due to the overwhelming interest in Italian art from the 50s to the 80s, we are rediscovering less-known artists from such Golden Era that played a pivotal role in the cultural scene. Mazzoleni Gallery introduced us to Bonalumi's sculptural works. A game player that blurred the boundaries between sculpture and painting. Christie's held, and will hold again this year on the 16th of October, the very successful Italian Sale during Frieze Week with record sales of over £27 million that included Alighiero Boetti, Piero Manzoni, Alberto Burri and Lucio Fontana. Marco Lusini (Siena 1936-Florence 1989) , an influential artist and a poet, has just enjoyed a well-deserved retrospective titled: The Colours of the Human Soul at the Fiumano Fine Art Gallery in central London, curated by filmmaker Laura D'Asta in collaboration with New York based art historian Gerhard Gruitrooy.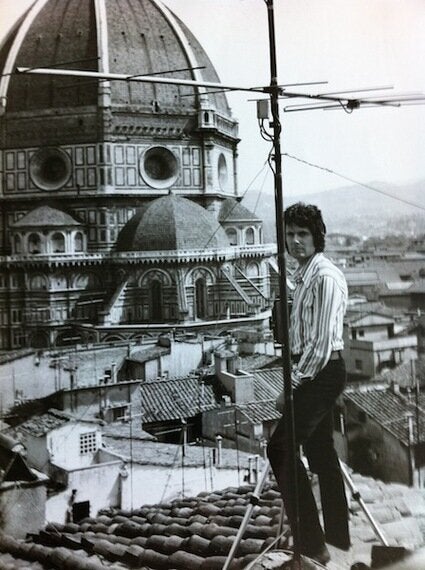 Marco Lusini as photographer on location - Florence 1960s. Private collection. Courtesy the Estate of Marco Lusini.
The Siena-born Lusini experimented through photography, lithography, illustration, drawing, sculpture and poetry, until settling in painting as his main medium. His more frequent themes were the human figure and emotions, landscapes and the Earth as a living organism. A visionary theory which claims that a planet regulates itself for the benefit of the whole through every creature being inter-connected. Lusini constantly portrayed these thoughts in his works while James Lovelock famously named it as the Gaia hypothesis in 1970. Over the years, it has gained wider acceptance in the scientific community, although still highly debatable.
Riccardo Belloni, a respected art critic based in the Emilia-Romagna region, described him as:
an astronaut of inner space
Always the human figure as the starting point and with a varied influences such as the German playwright Bertold Brecht, French poet Arthur Rimbaud, and the Sicilian countryside, Lusini embarked himself on a journey immersing genderless bodies into a primitive landscape at some point making impossible to differentiate which one is what and blending them into one entity. A thought-provoking statement with a deep philosophical message.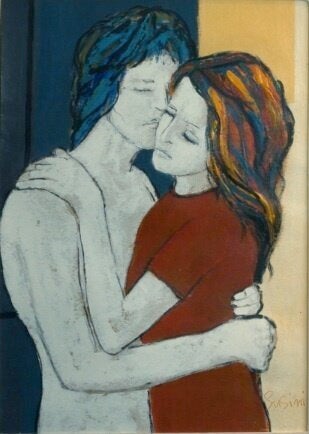 Untitled from Lovers series,1972. Private Collection. Courtesy the Estate of Marco Lusini.
Laura D'Asta, the curator, has kindly agreed to respond to the following questions:
Can you please tell us a bit about your background?
I am an Italian independent filmmaker, art director and creative producer as well as a TorinoFilmLab alumna working across award-winning UK and international independent productions from shorts and promos, through to features and cross-media, including dance. I am the curator of Marco Lusini: The Colours of the Human Soul, the first retrospective about the Italian artist Marco Lusini which is part of an international interdisciplinary project I'm developing about the artist.
You travelled through Siena, Florence and Sicily, researched across the EU and the USA, tracking down artists, friends and collectors who still remembered Lusini. What encouraged you to start such a journey? Can you tell us an example of a comment given by one of his colleagues that touched you deeply?
Lusini dedicated his life to art. As a friend and artist, I felt the urge to let him and his art speak and shine again, spread his message and be able, at the same time, to reunite his close friends, collaborators and collectors. He is a man and an artist who has inspired me, as an artistic father, through all my life and who is still part of my artistic and professional career. Lusini's style has been defined as 'moral realism' (Elvio Natali), a sincere, heartfelt commitment to the human condition today, a desire to be involved in the story of one's own time. Each moment spent with Marco's close friends, colleagues and collectors touches me deeply like their eyes, silences and smiles. My dad remembered when Marco was once at our place in Sicily prepping an exhibition and he passed onto me (I was still few years old) his paint brushes and colours, the colours of the soul. This is something that touches me deeply both personally and professionally.
Did you personally meet him? How was he like?
Yes, I did. I knew him very well as there was a very strong, deep connection with my parents to the point that he was like a member of my family. He treated me like his own daughter. So Marco used to visit my family often and also took inspiration for his work from the Sicilian landscape and its archaeological sites above all the necropolis of Pantalica in southeast Sicily with its prehistoric, rock-cut chamber tombs. He was a very humble, generous man with many cultural interests, strong knowledge of and passion for Italian and international fine art.
Where does the title The Colours of the Human Soul come from?
The title comes from the exploratory journey through Lusini's world of vivid, animated colours which recall the inner life of the human soul, allowing the visitor to confront the artist's recurrent themes of loneliness, freedom, a/sexuality, melancholy, desire, faith, intimacy and man's relationship with the environment. Marco once stated in an interview to a US newspaper that his paintings do not reflect just objects but moods and he hoped to convey to those observing his works a meaning to life.
How did you make the selection of the artworks for the show? Has it been challenging to organise such an ambitious exhibition in London?
This first retrospective has displayed a range of all the above different media the artist worked with from the early 60s to the late 80s. It has also been a unique opportunity to revisit a remarkably thought-provoking period of Italian art history seen through the eyes of a singular artist. Together with NY based art historian Gerhard Gruitrooy, we've carefully selected Marco's oeuvre from his various artistic phases, techniques and styles such as: Lovers, Mysterious figures, Homage to Brecht, Homage to Rimbaud, Object Woman and Oneiric Landscapes. And we wanted to show all of that.
Yes, it's been a very challenging, magical and rewarding journey. It has been very challenging from the very first stage of research and development through to self-funding and fundraising and as well as letting the light shine above an artist who has been unsung for a very long time. I'm still hoping I'll be able to bring a Marco Lusini exhibition to Italy one day.
How has been the reaction of the members of the public to the show?
The reaction of the public in London has been terrific. It has been a very special exhibition which has had a wide audience reuniting his closest friends and attracting British and Italian art lovers young and old, as well as an international general public.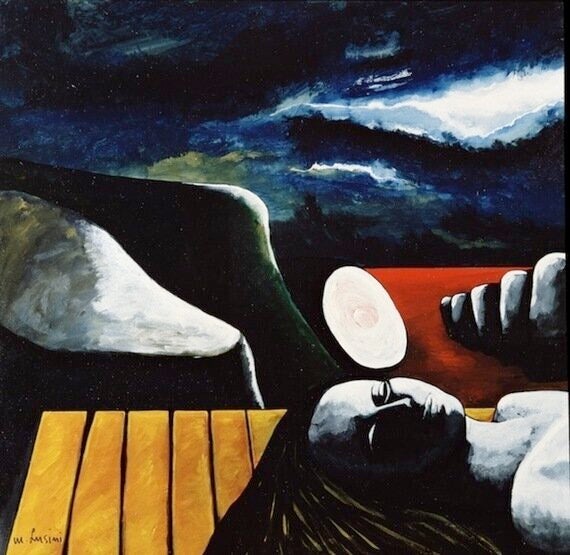 Untitled from Oneiric Landscapes series, 1980-1982. Private Collection. Courtesy the Estate of Marco Lusini.