Architects, graphic designers, textile designers, playwriters, illustrators, they all have something in common: they are all cosmopolitan visionaries. Debut Contemporary selects its artists with substance, with an edge, articulate and at the same time accessible. Every time you enter the space in Notting Hill, you immerse yourself in a cornucopia of colour, texture, light and ideas that makes the experience unique. As Samir Ceric, its founder and director, says:
"We believe in artists. Whether you are a UK-based artist, or an international artist, breaking into the London art market is no easy task. Debut provides one of the possible solutions to these challenges. We at Debut are addressing the real problem of far too many artists giving up on their passion, and ambition, because they lack the skill set and knowledge of practical tools in order for them to succeed and survive as professional artists within today's art industry".
This is a sample of five artists that represent that vision, but the reader is encouraged to explore other artists that might also find interesting.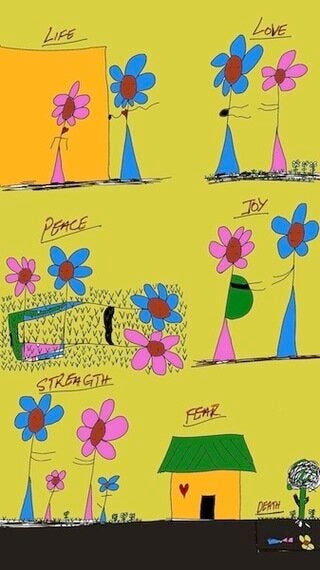 Life on Earth by Lucy Namayanja
Lucy Namayanja was born in the turbulent post-Amin Uganda of 1983, a time of brutal reprisals and regime change. Lucy found an escape in interior design magazines, nurturing a creative talent that blossomed into some of the most profound and original fine art seen at Debut.
In Lucy's work, nothing is wasted; objects are symbolic, distortions are symbolic, colours are symbolic, and rarely do we see such uniqueness, adventurousness and variety in a young artist's oeuvre. Rarer still is too see such a high success rate with clearly experimental pieces.
Michelle Holdwas born in Munich. She began studying Architecture in Innsbruck. She has participated in numerous group and solo exhibitions, in Italy and abroad (Venice, Turin, Milan, Palermo, Ferrara, Pisa, Ireland, Innsbruck, Colonia, Berlin, Shanghai, Lisbon, and London). In 2013, she was chosen by Saatchi Art for "A Spotlight on Italy", and just recently selected for 'Abstraction" by Rebecca Wilson, and she won 1st, 3rd and 4th Showcase on ARTSLANT in 2014 and 2nd, 3rd, 5th and 7th Showcase in 2013. She is presented in "La via Italiana all' informale" which was edited by Mondadori.
"Having studied and worked as textile designer, composition and colours are very important to me and the final result has to satisfy my concept of beauty and harmony. Like an architect I like to construct paintings layer by layer with high quality acrylics and pigments until obtaining the desired depth".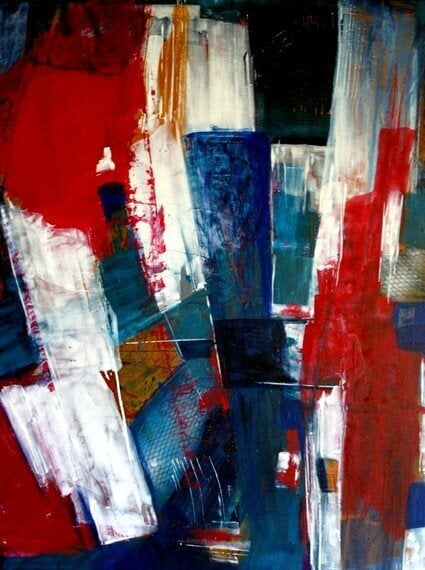 Which Way To Turn by Michelle Hold
Annie Terrazzo grew up in Breckenridge, Colorado, where she spent most of her time writing plays on a 1970's typewriter and watching old movies while dreaming of Paris. She grew up around art and a silversmith family who taught her how to make beautiful things.
After Annie graduated from the Academy of Art in San Francisco she began her career in trash portraiture, mostly focusing on using found objects, newspapers and magazines. She enjoys creating work that allows the viewer not only see it visually but read it as well.
Annie explained that her work has always been about trash. She said
"I don't think it started out of inspiration but a reaction to sheer poverty". Back in 2003, after moving to LA from a couple of other places, Annie didn't have the money to afford real materials. "It wasn't really my intention", but using these found objects and used materials from thrift shops collectively told a story within the work.
Hector Sandoval is a visual artist originally from Mexico City, who is currently living in London, UK. Hector graduated from the University of Iberoamericana with a Degree in Graphic Design.
In his paintings, Hector Sandoval finds a passion for colour and balance, technique and creativity. His work has assertiveness and reflects figures in enigmatic ways. Hector has had the honour of having the opportunity to exhibit his work over different countries such as UK, Spain and Germany.
Conflict, transformation and restoration are some of the words which best describe Mary Osinibi's works. Her aim is to create works which capture the transition from one moment or state to another; from anger to joy, from peace to war and so on. Mary's work is a form of storytelling, her art uses juxtaposition as the main vehicle to communicate these transitions.
Mary Osinibi wants her audiences to be awakened, revitalized, moved or provoked to consider the changes they can make to benefit themselves individually, as well as the wider society.
Last Wednesday's Summer Party was an excellent opportunity to meet the artists and ask them what it is behind their work in a very informal setting. And why not: having fun. It all ended in the glamorous London venue Mahiki until early hours of the morning...
Popular in the Community