Fashion is always hungry for the next big thing. New ideas to respond to a Society always on the move. Some of the best schools in the world are in London and never fail to demonstrate that many of the most talented designers are here.
However, due to high rents and costs is very difficult for these graduates to access the market. Jasio, a long experienced promoter in the creative industry, decided to open a space in Soho, Jasio's Boutique in Smith's Court, off Brewer street, to become a window for these creators to expose their latest collections and to blossom within an alternative to chains and repetitions.
The majority of the clothes and accessories for sale are unique.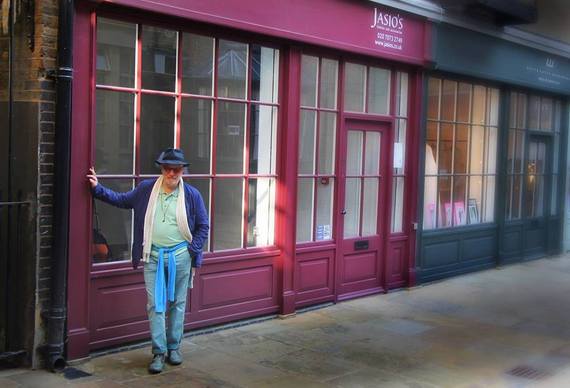 Jasio in front of the space. Courtesy Jasio.
As Jasio says:
"After 22 years in advertising and sponsorship sales, covering everything from Lifestyle to Oil and Gas, a period which included 14 years of organising art exhibitions and jazz and rock gigs, I have now decided to step into the weird and wonderful world of Fashion Retail. Some long-standing relations with fashion and accessories designers has led to a unique concept whereby emerging designers can give their creative juices a shop window."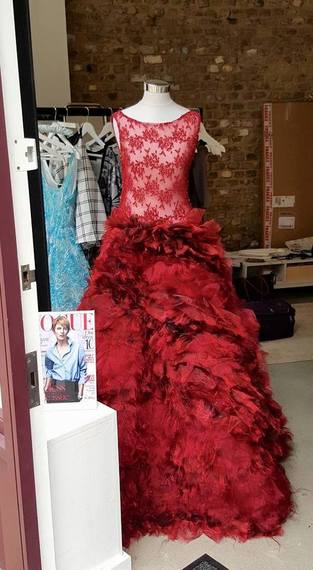 Womenswear by Diana Piatek. Courtesy the designer.
Passion, Creativity, Work and Talent... These are the very tools that help Diana Piatek to form the dream and to transform the vision into the reality. Since then, her passion for design and sewing has been paving her path toward uniqueness and very feminine style. As a woman herself she intuitively knows, that somewhere deep there, every woman is longing for beauty and appreciation, aesthetics and uniqueness, elegance and seduction.
Her friends describe her as
"... beautiful inside and out, a person who always has time for friends... unless the sewing machine gets her attention first".
As an achievement is part of the success, she measures it through the strenuous hours dedicated every day to the meticulously cut and shaped every last bit of the 'Haute Couture to be' fabric.
Piatek is one of the few selected to receive the L.E.D (London Emerging Designer) Award 2015 which will take place in a ceremony in South Kensington, London, on the 1st of August.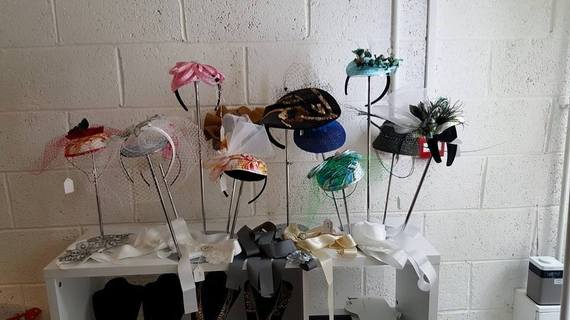 Headwear by LinmiR Millinery. Courtesy the designer.
LinmiR Millinery is a London-based award-winning maker of stunning, purely handmade, bespoke headwear.
LinmiR Millinery has showcased at the Young Designer and Crafts/Radical Awards, Fashion Finest during the London Fashion Week AW and Mahogany Bridal Show in London as well as Dublin's From Africa with Love and Maryland Fashion Week (USA). More than once, LinmiR has also featured in Vogue Magazine's Hat Stand and Bride Magazine.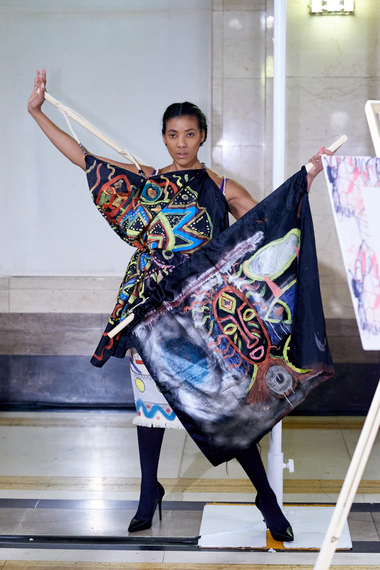 Womenswear by Erwin Michalec. Courtesy the designer.
Erwin Michalec's designs have a mixed media of ethnic influences. He is fascinated by Haitian voodoo and the strong connection between Polish and Haitian.
Inspired by the Caribbean and African culture has become a signature element throughout his collections.
Erwin does not use any digital processing throughout the development of his designs:
- The clothing is painted by hand
- Every design is different and as unique as possible
- There are not any printed works on any of his dresses
- It is real paint which is directly applied to the fabric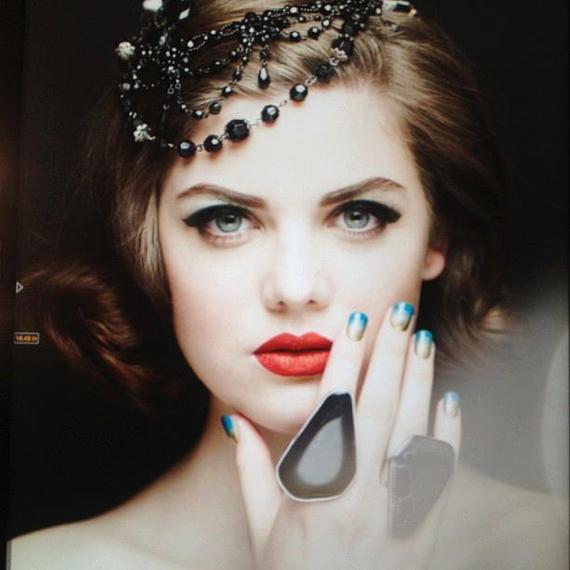 Jewellery and accessories by Marina Prokopiva. Model Victoria Golub, makeup by Valerie Vonprisk, hair by Yas Kosaka at Charlie Wan Studio. Courtesy the designers and the model.
Marina Prokopiva is an award-winning designer of exquisite jewellery, accessories and clothing. For a number of years she has lived and worked between Amsterdam, London,Moscow, Paris and NY. Marina Prokopiva's designs, using her unique technologies, were recognized by Editor's Choice Award of the International Jewellery London 2012 for the Best Visual Impact. Her innovative creations have appeared at the London Fashion Week, Art Basel Miami, Festivals and Awards Ceremonies, including Euro Vision Song Contest, Empire and TV Choice Awards.
Her designs are essentially an art of balance.
She greatly depends on her conviction from which she visualizes her "real woman-to-be". Marina believes that her concept of style with contemporary edge creates a wonderful combination of sensuous power and playful provocation, providing the exhilaration of fun, adventure and confidence.
Her pioneering shows have been taking place in the most unpredictable fashion and art set-ups (from a University Botanical Garden to a Japanese Casino) and have always attracted a lot of enthusiastic attention from the media and the public.
For more information about Jasio's Boutique or a specific designer, please click on the name.