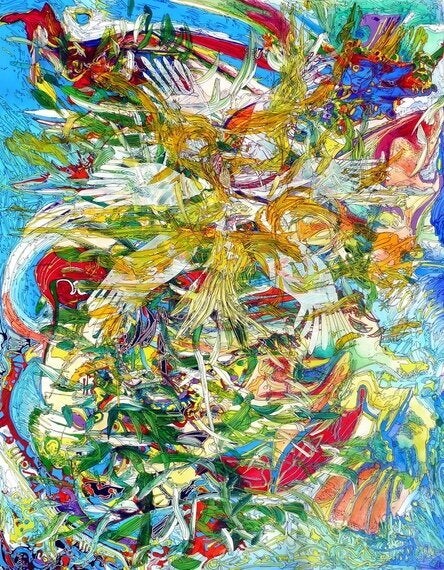 Resurrection by Igor Prokop. Mixed media on canvas. Courtesy the artist.
Venice Biennale is without a doubt the most important event in the arts calendar. Every two years the good and the fine descend to La Serenissima early May for an intensive week of networking, catching up and art. However, Italy enjoys other biennials which are worth mentioning. The Chianciano Biennale, in the beautiful setting of Tuscany and a spa founded by the Etruscans over 2,500 years ago, is the perfect example of an ambitious project run by a small municipality of 7,000 inhabitants and the local institution, the Chianciano Art Museum. In its fourth edition, it has established itself as the must see event in September with the showcase of an art exhibition of a selection of 130 international artists from 40 different nations. Music is also important with the addition of concerts, choirs, performances, al fresco dance parties and flag dancers taking place from the 5th to the 13th of September.
Within such a cornucopia of talent, Igor Prokop, an artist born in Budapest, stands out with a presentation of highly-elaborate and colourful paintings strongly influenced by nature and corals. Prokop has exhibited in more than ten different countries from Mongolia to Polynesia, where he developed his interest, and concern, in the preservation of corals, from Tunisia to New York; his career spans for over 20 years. The exuberant unlimited beauty of his works makes you stop and immerse yourself in a sea of corals and marine life. Prokop's paintings are an invitation to experience this magic world that still exists if we don't continue to destroy it by greed and nonsense. He generously shares with the viewer the privilege of witnessing some of the most majestic landscapes on Earth with a palette of greens, blues, yellows and reds. Beauty beyond belief.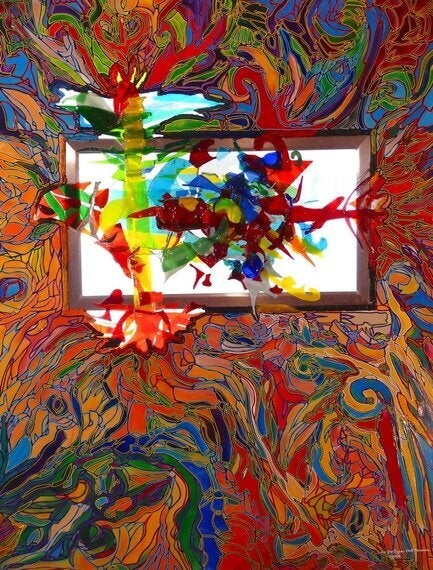 The last parrot in the jungle of Amazon by Igor Prokop. BGPP/Brass Glass Panel Painting. Courtesy the artist.
As Angela Di Bello, Director of the Agora Gallery in New York, says:
Igor Prokop creates sumptuously colored images created with an unusual pairing of mixed media and acrylic on glass or canvas. These are incredibly energetic works, grasping our awareness and plunging us into a spectacular, glittering cosmos. The flesh and bone of each image is color and line, but applied by the artist in a nearly psychedelic arrangement in high fidelity. Radiant variations of canary and crimson attract our eye and spin us into cool, mysterious areas dominated by violet and cerulean, the integrity of each hue maintained by a crisp outline. Cryptic titles lend a clue to the meaning behind each work, yet Prokop desires that we experience his work on an individual basis. "I am presenting some fragments from the endless world and giving them to the spectators with love."
Prokop has kindly agreed to respond to the following questions:
1. Can you tell us why you decided to become an artist?
My family background has definitely destined me towards sciences (2 doctors, teacher).

I love Nature, have travelled a lot, from Mongolia to New Zealand. I studied Biology at college and the world I have seen during my travels has become very complicated. I started to discover the layers of the seen and experienced world. To reflect it I found one way: Art. The development of the world for me is a complicated, labyrinthine system. That is why I could not use continuous reduction in my artistic way as the more I got to know about the world the more layers it was showing. My slogan is the evidence of "the more is not less" (opposed to the opinions of " the less would have been more").
2. Which artists are your main influences and why?
I adore the Renaissance type of man.Up till now I have been enchanted by Leonardo, Michelangelo and the other great masters. Paul Klee's playfulness and intellect have been an example for me for a long time. Also, I like Rothko's philosophy i.e. the viewer should get really close to the picture, identify himself with it and be absorbed by the piece of art. Despite the dissimilarity of imagery I see the need for getting close in the case of my pictures. I consider the prehistoric cave paintings magnificent.
3. Destruction of nature by Mankind, specially Corals, are a constant theme in your works. Can you please let us know why?
The responsibility of mankind is enormous, of the individual's and of the society's equally! The Hubble telescope has made it possible for us to see into milliards of light years. The Earth is a part of this complex and amazing Universe. It is UNIQUE and inimitable with its animate and inanimate Nature! That is why we must consciously protect it with all our means! We should! Art could be a most powerful force with the power of the greatest mind to protect the Earth.
4. What is your major achievement so far?
2009. Honourable Mention / Chianciano

2011. Leonardo Prize, ex equo I/2. / Chianciano

2011. ECAC Award/ European Confederation of Art Critics Prize/ 1./ Drawings

2013.Special Mention for excellence, Chianciano

2015. London / ECAC AWARD /3.
5. What is your next project?
I am preparing for an exhibition in Berlin and would like to get to the Miami Art Fair. I will join the next climate conference on-line focusing on "Global Warmth" and would like to exhibit my Luxembourg "Nature" pictures (12 pcs) simultaneously in "Print" and Online format. I have already started painting the Water and Migration material for the following London exhibition and, finally, a China-Taiwan and European exhibition is being negotiated.
For more information about the Chianciano Biennale, please visit the website:
For more information about Prokop and his works, please visit the website: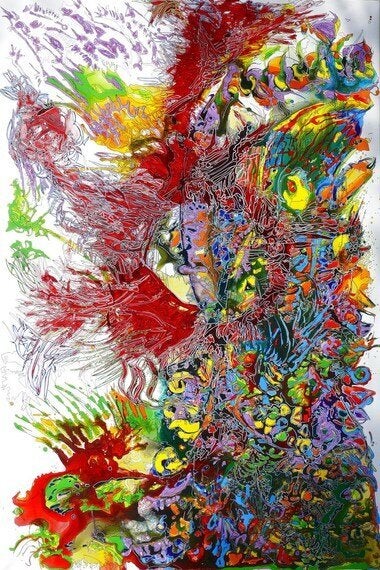 Nature's riot by Igor Prokop. Mixed media on canvas. Courtesy the artist.