Now in its fourth year, Masterpiece London, in Chelsea, has cemented its position as the principal event at the heart of London's summer art season. This year the fair will present the finest art, design, antique furniture, precious jewels and collectors' items from over 160 selected and internationally renowned galleries and workshops. There are many highlights at the fair this year, from the modern masters Pablo Picasso and Joan Miró through to contemporary giants Bill Viola and Marc Newson, to Tudor and Renaissance treasures including works by Albrecht Dürer, Nicholas Hilliard and the newly discovered Mary Tudor pearl.The Fair becomes a journey of discovery, enlightenment and, above all, exquisite beauty. Expect the unexpected.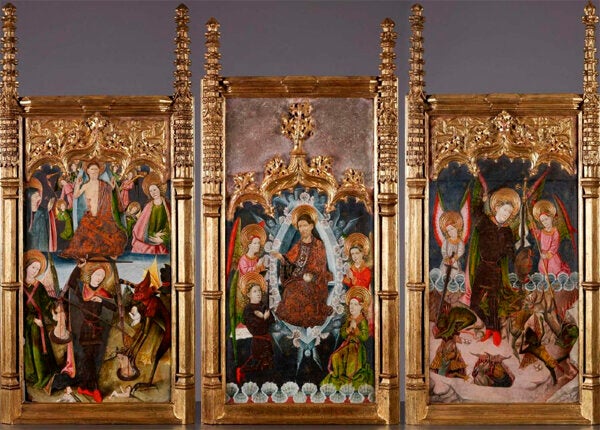 Three Panels of a Saint Michael Retable. Courtesy De Backker.
De Backker, from Belgium, has brought this very unusual representation of Christ in lotus position used by Hindus when meditating within a shell-shaped nimbus or "mandorla". It was painted in the 15th century in the School of Valencia style with strong Muzarabic influences in three panels. It is a proof that the dialogue, and influences, between West and East existed much before what we call "modern" era.
Ariadne Galleries, from New York, which is exhibiting in Masterpiece for the first time has made an impressive selection including a Greek amphora dating from the 6th century BC. One side is decorated with a bearded soldier attaching a greave to his left shin; his high-crested Corinthian helmet lies below on the ground. The other side, embellished with a departure scene, shows a warrior and charioteer driving a quadriga to the right. The warrior is wearing a high-crested Corinthian helmet and holding a circular shield. James Demirjian, co President, says:
"This the first time we have exhibited at Masterpiece and we are thrilled with the overwhelming response to ancient art amidst the broad selection of material offered. We are featuring a Greek Amphora, dated 6th century BC, depicting a warrior departing for battle. The fine details of the black figured vase are attributed to the Princeton Painter."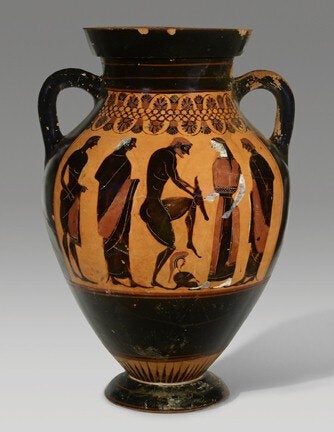 Greek Amphora 6th BC. Courtesy Ariadne Galleries.
An array of unpredictable objects keep showing up during the Fair. From cars, Jaguars and Maseratis; luxury champagne, Ruinart; highly respected restaurants, Caprice, the Ivy and Scott's; a Montblanc 315 stone Emerald Fountain Pen with a single diamond in the cap reportedly selling for about £940,000. This makes Masterpiece a unique experience.
No Art Fair can claim a star status without presenting Picassos. Simon Shore, from London, is exhibiting a still life by the Master titled Nature Morte au Compotier. Dating from 1943 during the occupation, it shows an austerity in composition and colouration that characterised many of the artist's war-time works. Sublime. Carpenters Workshop Gallery, from London, is a very edgy space blurring the boundaries between Crafts and Fine Arts with very thought-provoking pieces. Well worth a visit. Finally, Ochre, a designer company based in Clekerwell, London, has achieved a great subtle beauty in creating the Salon for Masterpiece.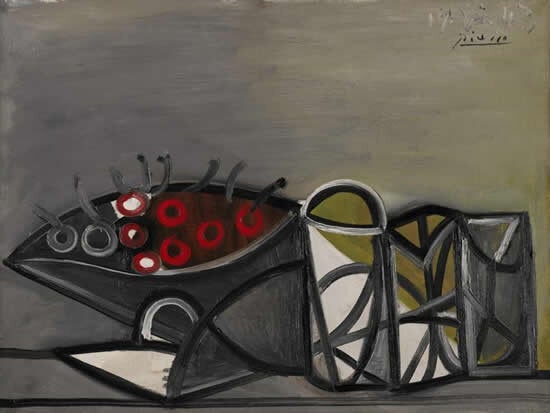 Nature Morte au Compotier by Picasso. Courtesy Simon Shore.
A new feature at the fair this year is the Sculpture Walk including works by a number of internationally acclaimed artists. They will be placed in the spectacular grounds of the Royal Hospital Chelsea immediately outside the fair and will include a towering Chillida sculpture, sold at Christie's for over 4 million pounds beating the world record, last seen in Britain at the Yorkshire Sculpture Park, a cement truck by Wim Delvoye and a linear sculpture by Xu Bing. Other artists to be featured are Joanna Vasconcelos, Richard Serra, Tony Cragg, David Adjaye and the design duo Barber Osgerby. Highly recommended. Go and see the best human creativity can offer.
Popular in the Community