For someone who grew up in Spain in the 80's, this type of kitsch comedy that became Almodovar's trademark, is a treat. However, this is a very mature comedy taken to a new level. Extremely witty like many of Billy Wilder's comedies and with a strong social and political critique. Fun is good, but with content. Almodovar's latest film: I'm so Excited, which launches in the UK on the 3rd of May, proves that at his age of 67, he feels invigorated and with lots to say with a sharp eye to what is going on in Spain now.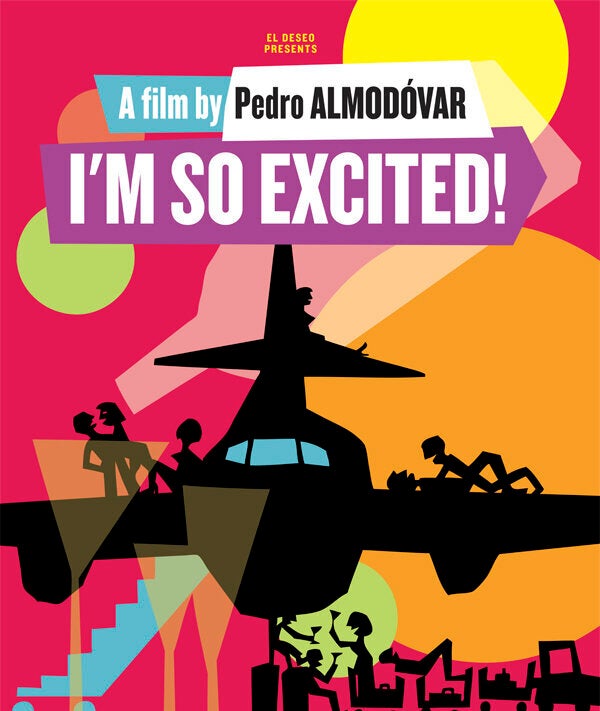 The chaos and the crisis that the passengers go through the flight is a metaphor for how Spaniards are currently finding their reality. Times of uncertainty are always an opportunity to change into more honest persons with ourselves and with the others. When I asked Pedro, if as a creative person he felt the duty to help, to show the light at the end of the tunnel; he agreed. He said:
Many people asked me to do a comedy as the ones I used to do and with the situation in Spain, and globally, so gloomy, one always felt to do something about it.
A comedy is a great tool to allow the public to have a bit of a break during difficult times.
I'm so Excited has a strong social and political content and it shows that always reality is much more bizarre than fiction. Brief references to an airport built for no passengers, or a bank which claimed a surplus when it had no money in its accounts, proves the point. Eventually, order is found within the chaos. Eventually, everything makes sense and everybody comes out of it calmed and serene reincarnated into a new self.
Lola Dueñas as Bruna and Javier Camara as Joserra, for whom Almodovar specifically wrote the roles in the script, filled the film with a well-crafted acting. Bruna playing the character of a virgin psychic who tells you so keeping a poker face is to good to miss. Lola Dueñas belongs to these great Spanish actresses such as Carmen Maura, Marisa Paredes, Victoria Abril, and many more, who when portraying a character it seems to transpire from each single cell of their body. Javier Camara, a flight attendant, is a very versatile actor, and talented. Camara always keeps a something for himself and holds the audience intrigued about that bit. Almodovar has also selected an impressive cast with: Antonio de la Torre, Hugo Silva, Miguel Ángel Silvestre, Laya Martí, Carlos Areces, Raúl Arévalo, José María Yazpik, Guillermo Toledo, José Luis Torrijo, Cecilia Roth and Blanca Suárez. And cameo appearances by: Antonio Banderas, Penélope Cruz and Paz Vega.
A very jazzy soundtrack, composed by Alberto Iglesias, blends it perfectly with the story. Mariscal, who created the mascot for the Games in Barcelona 1992, has designed the very psychedelic credits, posters and corporative image of the fictional Peninsula air company.
Due to the very open and unfiltered scenes of I'm so Excited, it might not get the box-office success of Volver or Broken Embraces. But I consider this film as a masterpiece. A film of many layers. A book of life. An act of solidarity. Highly recommended. Go, watch it and pick up some tips on how to enjoy life.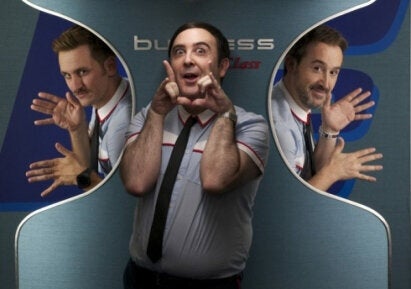 Related