Debut Contemporary, an Art Gallery based in Notting Hill, is always keen to invite artists from outside Europe. Sassan Behnam Bakhtiar, a multitalented Renaissance artist from Iran, is a clear example to the gallery's aim. His works portray a different Iran than the one been seen through the lens of the media. An interesting and necessary alternative view. Sassan appropriates images and transform them with the use of more familiar elements of Iranian culture strongly influenced by Pop Art.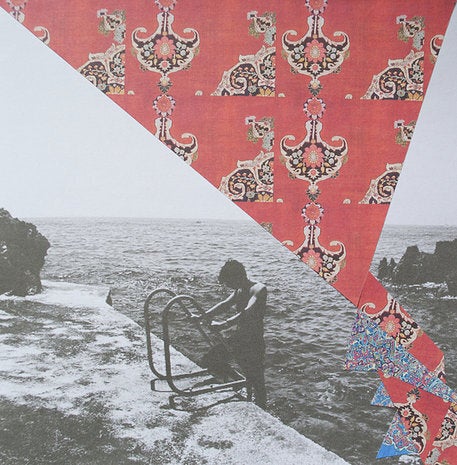 Cap-Ferrat. The Real Me series. Courtesy the artist.
Sassan has kindly agreed to respond to the following questions:
1. Artist, designer, curator... How would you define yourself and your professional practice?
As an artist, I see myself as a 'man on a mission' opening the eyes of the mass polluted and brainwashed by the current system we live in. As a Curator, the best way to put it is that I do my research very well, always get to know each artist on a personal level, look at the seriousness of the candidates, their works and its quality as well as medium & message. The designer part came later when I curated artworks in the houses of some of my clients, those clients started asking for my artistic opinion on certain aspects of their houses and that is how designing became let's say a practical outlet of my creativity.
2. The Real Me Series seems to be your latest and most intimate works, why are they so special to you?
These works come directly from my heart. Seeing these works will clarify many important factual truths for any audience about the realities of my country, Iran. Just watch the latest art animation piece done on The Real Me Part II series and all shall be revealed with my own words.
3. In the Internet and Social Media era where people can get first hand information about the realities of each country, Do you still think we have a distorted view of Iran? In which way?
Of course you do. Iran is home to one of the world's oldest continuous major civilizations, with historical and urban settlements dating back to 4000 BCE. I do agree that the internet and social media today has helped many of us who are trying our best to show our truth to the world via different forms of expression.
4. Iran, South of France, London... Which places do you get more inspired by? And Why?
Iran by far. The country has so much beauty, history, culture, values, hidden gems, stunning cities and villages, architectural wonders, beautiful mountains. Being born in Paris and having lived a great chunk of my life between Paris and the south of France, I must say both places inspire me but in different ways. The south of France is stunningly beautiful and the calmness present here specially where I am based. I also lived a few years in London, and must say the city always gave me a unique perspective towards art and was the start of it all for me back in 2008 in general and I highly respect that.
5. How was it like to exhibit alongside artist of the stature of Parviz Tanavoli and Shirin Neshat?
My first exhibition alongside Parviz Tanavoli, Farhad Moshiri, Shirin Neshat, Charles Hossein Zenderoudi and so many other great masters was in 2010 in Dubai, which was a mind-blowing experience. A great Christie's / Magic of Persia event. The second exhibition was actually in London, and I had my Portrait of Soraya Esfandiari Bakhtiar selected by Magic of Persia and Christie's to be auctioned. I was really excited and proud to be finally counted and amongst these masters who I always respected so much since a very young age.
6. Which artists and movements are your main influences?
Definitely the contemporary Iranian art movement as a whole. Personally I love Parviz Tanavoli's work, as well as Bahman Jalali, Charles Hossein Zenderoudi's, and Tokujin Yoshioka's vision.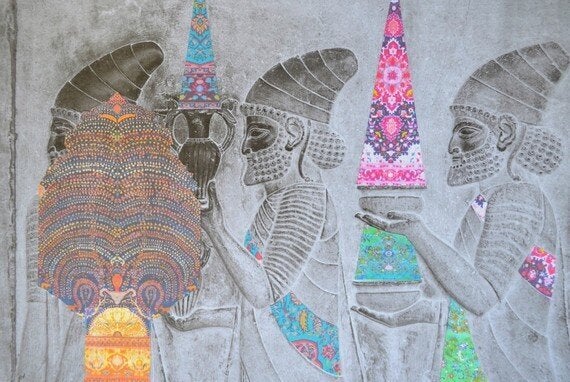 The Real Me Part II, My Brothers/Baradaraneh Man. Courtesy the artist.
7. How did the Sotheby's Art auction get started?
Two of my latest series of works catalogues were sent over to Sotheby's and they handpicked my work Cap-Ferrat from The Real Me Part I series. Since they had an amazing bank of artists to select from, I was truly honoured to have been selected by them and to take part during their exhibitions and auctions.
8. How has Debut Contemporary helped you in your career? Would you recommend it to other artists?
Debut contemporary is a very unique platform, which differs from traditional galleries. Debut has proved themselves to me with their work seriousness, the team quality and their amazing assistance at all stages, their extremely solid network, efforts and real support. I would recommend Debut to any artist who is serious about creating a career in London and who is willing to work extremely hard for it.
Related