Lady Gaga once sung "leather jeans garage glamorous" in her song Paparazzi and no such lyric could be more fitting for next season's mega trend, leather. Yep the chic biker look (without the bike) is what the cool kids will be wearing.
It's everywhere, from jackets to pants and I could not be happier considering my immense investment in leather leggings last year. It's proof that fashion is indeed cyclical. Though, getting to grips with a pair of leather pants is nothing to be laughed at. We all remember that scene from Friends with Ross in the bathroom, right? Even trying them on in a shop fitting room is pretty scary and runs the risk of falling out from the curtain onto the floor in front of many a sales assistant and the odd boyfriend .
Nonetheless, I am completely besotted with leather as a texture. I own multiple leather jackets which I have had for years. One in particular was a bit too "pretty" and needed some distressing. A stylist friend of mine suggested putting it in a pillow case and taking a hammer to it. Despite the violent attack on my innocent jacket, it worked and what's more, it looked better. Another one I have is an Armani short fitted jacket that I picked up at an auction for an utter bargain. It was worth the catty bidding process in which I had to engage with another buyer until it was officially mine.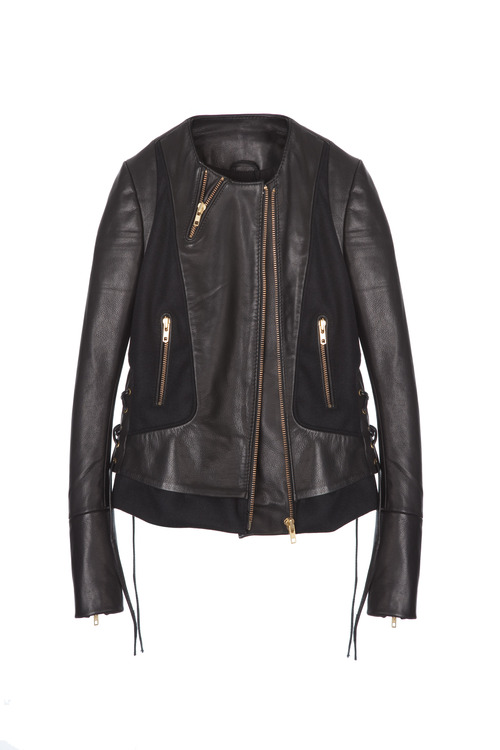 The fact of the matter is that leather lasts, so make it your investment for next season, whether your preference is for a jacket, trousers or a simple accessory. An abundance of designers have given a nod to leather, with McQueen, Victoria Beckham and Celine being some of my favourites, from full jackets to trimmings on wool coats. Whatever your fancy, the trend appears to be infectious on the catwalk. Balenciaga have really pushed the boat out with a red leather skirt; not so sure on the wear-ability of this but the introduction of colour adds fun to a season traditionally made up of dark shades.
I recently asked the fashion editor of TheOutnet.com, Eve Thomas (via a twitter Q&A) for her advice on what to buy next season, and she has jumped on the leather train too. "Coloured leather is a huge trend for Fall, opt for rich jewel tones or dusky pastel shades for a luxe layered look". Taking Eve's guidance, and if you are not a fan of the Balenciaga red, burgundy and emerald may be more your thing (I say as I peruse the internet for coloured leather).

Like its own long-lasting qualities, leather is here to stay for another season. Once more, an historic trend is re-invented in the circle of fashion. Nothing new there.
Images:
Black Leather Jacket by Maje at Brown Thomas Dublin.
Waxed Leather Trousers, Miu Miu at The Outnet.