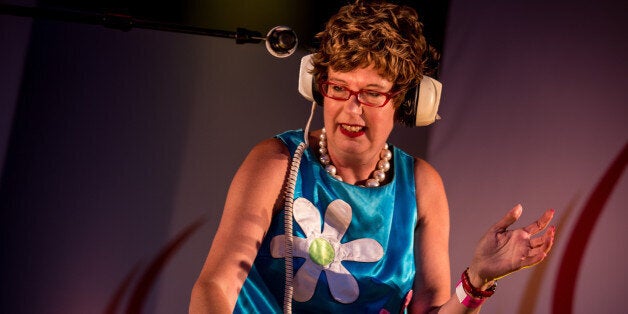 I can't be the only one wondering what Simon Cowell has in store for us this year for his Christmas Number One song. Has the track already been written? Do they just insert the X Factor winner's voice into the software? Have they already decided what kind of voice fits in the track? Do they weed out the contestants whose voices don't sound right for the song? Is the whole thing decided in a boardroom at Syco HQ back in March over tea and biscuits?
Why am I bothering talking about all this? Well, I'm interested in how The Machine works, when it all starts and how it's all processed. And the reason why - I've written a contender for the Number One Christmas spot!
I had a taste of how it all works from the inside when I reached the semi-finals of Britain's Got Talent this summer. So I thought I'd have a bash at the Christmas market and I've cooked up a seasonal version of my Crumble Song.
Whilst you lot were sunning yourselves in August I went up into the loft and got out my jingle bells. I listened to five albums of Christmas hits (yes pretty painful in August) and listed the ingredients for a classic Christmas number one. So just in case YOU fancy having a go before the 25th, here's my list. I think I've cracked the formula...
Most pop songs written these days are of the boom-cha boom-cha straight rhythm type. It's banging, it's bold, it's fierce and that's what people want on the dance floor. But for a Christmas hit it's mandatory to get into a gentler, more nostalgic dumpty, dumpty, dumpty mode. Think Slade and Wizzard who rub their hands with glee this time of the year when counting up all the royalties rolling in!
Surely it's a must! Yes, I'm not keen on the blighters spoiling my shopping experience in Aldi but gathering them en masse and teaching them a jaunty tune suddenly makes them sound like cherubs!
3) JINGLES AND CHIMING BELLS
Jingling bells are from trotting horses in a winter wonderland which we don't see much of on the high streets of Britain. And of course chiming bells remind us that Christmas is religious - but we only want a smattering of that! Just in the distance please!
Ok I'm going back to Slade and Wizzard again aren't I? But a good ol' stonking baritone sax gives a great boost and thickness down the bass end... a bit of Phil Spector never did anyone any harm (oh yes it did)!
Due to the number of repetitive choruses you'll need for your Christmas hit, I reckon about three key changes will keep it interesting and get everyone singing along.
Gone are the days when you needed to spend MILLIONS on your pop video like Wham's Last Christmas getting a whole film crew and cast in a cable car up to an exotic mountain lodge. Not necessary now. Mine cost £7. All filmed on a phone. A plea out on Facebook for fans' videos was very successful and I got entries from Middlesbrough to Melbourne in Australia. I used them all!
So that's it. Now you've learned my secrets you can have a go too! The only trouble is the marketing and that's where Simon Cowell scores. It was such a genius idea to form a TV production company, get contestants to compete for free, have millions of viewers investing their time and and money voting for a new pop star... and then selling them back the track that's simply been sitting there waiting to be filled in....
Happy Christmas, good luck with creating your own seasonal Number One and I look forward to seeing your videos when you dance the Christmas Crumble!
Lorraine Bowen is trying to get her Christmas Crumble to Number One, available now on iTunes, Amazon and other download sites.
YOUTUBE DANCE INSTRUCTIONS VIDEO