When the storms first hit southern Malawi in January, Edina Anyezi, a 44-year-old mother and well-respected Senior Chief Kawinga of Mwanyali Village, rushed home to rescue her family's few belongings from the rising floodwaters.
But her house, which like many others was made from mud, could not withstand the powerful waters and collapsed around her. She was killed instantly
Unable to prevent the tragedy, her husband and five children were among more than 230,000 people who managed to safely escape the floods, but have no home to return to. Whole villages have been completely swept away and large areas of land remain submerged.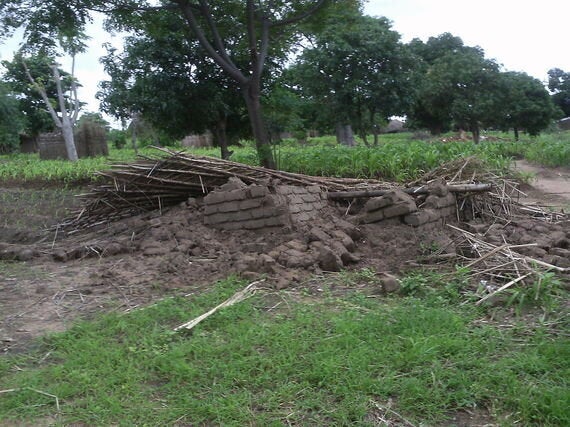 A house flattened by the floods
Not only were crops, livestock and infrastructure destroyed; the supply of safe water has also been disrupted. Boreholes and shallow wells have been flooded and contaminated, and in some areas, piped water supply systems have been washed away. Similarly, many latrines have been completely destroyed.
Camps have been set up for displaced people across the 15 districts affected in the country. Every week, more and more families arrive at these already crowded camps as storms continue to pound the region, putting a strain on relief efforts. The Government is overstretched, lacking the capacity to reach all those affected. We have to move quickly to avoid the situation deteriorating.
Water, sanitation and hygiene are crucial
Supporting the provision of safe water, sanitation and hygiene education is critical for survival in such disasters.
In the cramped conditions of the temporary camps, the risk of disease spreading is high. Diarrhoeal diseases, such as cholera, are one of the most common causes of death in emergencies and are closely linked to inadequate sanitation, unsafe water and poor hygiene. Nsanje district, which is among the hardest hit districts in Malawi, has recorded 21 cholera cases so far, including two deaths.
Surrounded by stagnant water, the camps have also become a breeding ground for mosquitoes. Most people don't have mosquito nets and I know of five children who are already suffering from malaria.
WaterAid's relief efforts
WaterAid is working to provide access to clean water, improved sanitation and hygiene education in 12 camps across the Machinga District, where schools and orphanages are providing temporary shelter to more than 2,000 people displaced by the floods, including children and pregnant women.
People are supporting each other in the camps, cooking together and sharing what they have, but there is an overwhelming sense of helplessness as relief efforts have not been sufficient up to now, and many people are suffering from malnutrition.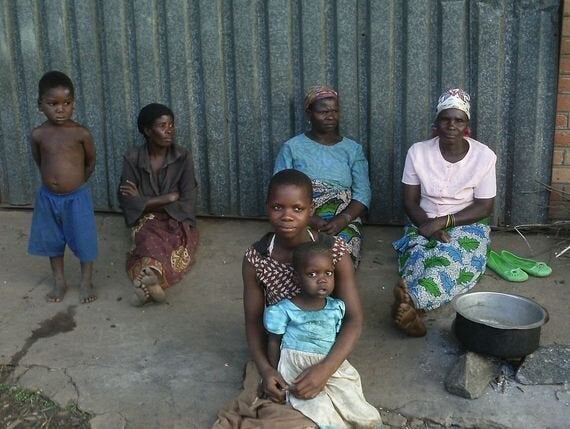 Women and children in one of the temporary camps
Thanks to a generous donation from players of People's Postcode Lottery, we are helping to prevent the spread of disease and give hope to those who have lost everything.
We are collaborating with the Government and other NGOs to distribute chlorine tablets to make safe the water that has been contaminated. In areas that are far from any water source, we are providing drinking water tanks and facilities.
We are also constructing private male and female toilets, distributing sanitary pads and working with hygiene promoters to raise awareness of good hygiene practices. This is being done through music and drama, including video shows and health talks.
We've already built 30 latrines in three camps, helping relieve the pressure. Before our intervention, there were just two latrines between more than 1,000 people in one of the camps, leaving many having to find other places to relieve themselves, resulting in unsanitary conditions that could have had a serious impact on health. However, there is still a lot to do. There are still more camps being formed every day as more people become displaced.
The end of this disaster is a long way off. It looks likely that people will have to stay in the camps until May and then they will need support to rebuild their lives. WaterAid is committed to supporting the longer term development of the communities to embed the water, sanitation and hygiene improvements that have been made, and taking steps to make them resistant to future flooding.