BBC 5 live reporter Lucy Grey spent twelve days on MV Aquarius with Médecins Sans Frontières and SOS Méditerranée as they searched for migrants in the Mediterranean 25 nautical miles from the coast of Libya
I have received quite a few sexually explicit messages on social media over the past couple of years, particularly when we live-stream one of the radio programmes I present, but I had never been trolled and I hadn't experienced such deep hatred and vitriol until this trip.
I join the Aquarius in Sicily. During the 36-hour journey to the 'Libyan search zone' we have first aid refreshers and safety drills because an MSF ship was recently shot at and boarded by armed men in the same area. Just after sunrise, once we reach our stopping point 25 nautical miles North East of Tripoli, a white dot is spotted on the horizon. 142 people crammed onto what looks to me like an oversized lilo with an engine on the back. 29 of them are under 18 and travelling alone. The rescuers say this flimsy rubber dinghy and the many like it leaving the Libyan coast every week have no chance of making the 300 mile crossing to Sicily.
Everyone is exhausted and anxious and the rescue crews work tirelessly to keep them all calm so they don't capsize the boat. After several hours everyone is brought safely on board the rescue ship. Later they're all transferred to the Italian coast guard who will take them to Italy. The Aquarius stays in the rescue zone to search for more dinghies. And so we wait. And while we wait I decide to broadcast a live Q&A with two of the rescuers for the BBC World Service, so we punt for questions on Facebook and twitter. And that's when the hatred comes pouring into my phone.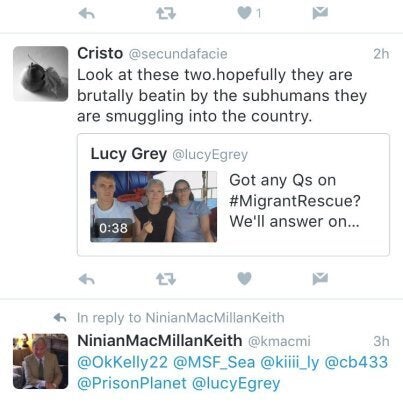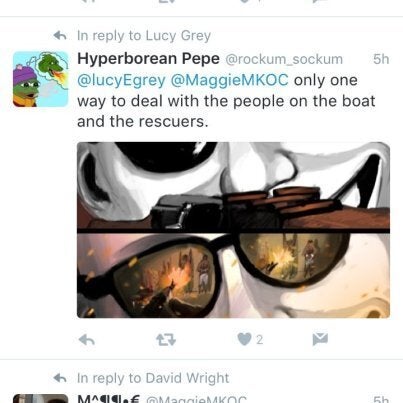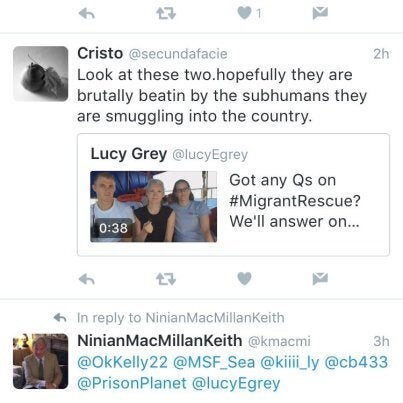 Another hopes that I, and the rescuers, are raped by those on board and sends me a picture of a blonde woman having sex with someone with darker skin.
And the messages keep coming.
But beyond the pure hatred there is an important discussion to be had about whether the existence of these rescue ships 25nm from shore is encouraging people to set off in the first place. Aren't they just acting as a taxi service for migrants? Why not take them back to Africa? In response to this Dr Sarah Giles the MSF doctor on board asks "where would you have us send them back to? To their burnt villages, places where they have enforced military conscription and aren't paid for years on end, to terrible situations all round? People come to the Mediterranean because they're pushed there, not necessarily because they're pulled by Europe. Are we a taxi service? If so we're a pretty poor taxi service because there's a one in 19 chance they'll drown... people only take to the boats when it's not safe on land."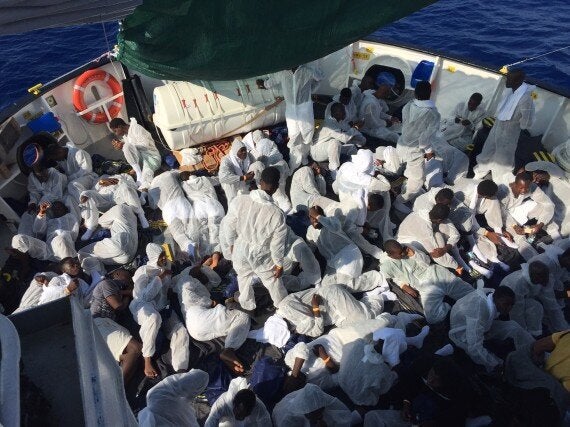 I meet a 30-year-old woman from Cameroon, I won't give her name, she tells me she fled Cameroon after she was raped by members of Islamist group Boko Haram who also killed many of her relatives. She made it to Nigeria where she was attacked again by Boko Haram militants. So she walked for three weeks through the desert. When she arrived in Libya she and a friend met a Libyan man who said he'd help them with food and lodging. Instead of looking after them, he forced them to have sex with him and soon he forced them to have sex with many other men. She says the men liked to beat her during sex. Her friend didn't survive the beatings. Finally when it was deemed that she had slept with enough men she was allowed onto one of the rubber dinghies on the beach. When she climbs on board the rescue ship Aquarius she looks deeply shattered, and along with many of the other women with equally harrowing stories, she falls asleep within minutes of being given a blanket. As we talk about her rescue her emptiness is palpable. I ask her how she feels about going to Europe, she says she has no morale and no hopes about the future. But then she says being in the hands of a humanitarian organisation is the most beautiful moment of her life.
There are a lot of people on board, however, who aren't fleeing persecution or war; like the two men I meet from Ghana who say they can't find work at home and want to get a job in Europe to send money to their family. The same answer comes from many of the Nigerians who tell me there's no money for them if they stay in Nigeria. But that doesn't change the fact that they are willing to risk everything to make the crossing. Many of those I meet have spent days in pits dug into the sand on a Libyan beach covered with tarpaulins, not even allowed out to go to the loo, this is where the people smugglers hold them until the weather clears. Then they send them off in unseaworthy dinghies with enough fuel to make it to international waters, but not much further. The rescue teams look for them and pick them up. Because if they don't they won't make it. It's not up to the crews from MSF or SOS Med to decide who deserves a life in Europe, the authorities they hand them over to can do that, they're there to try to stop people drowning at sea.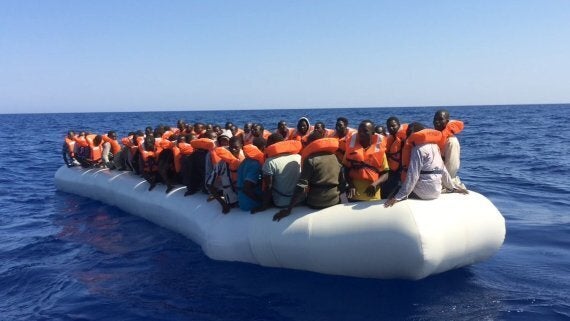 So far this year more than 3,000 people have died trying to make this crossing, it's the deadliest year on record in the central Mediterranean. As for whether the rescue ships' presence encourages people to take these risks, I ask the people whose only possessions are the pants and t-shirt they're wearing and they say they didn't know about any rescue ships, they thought the journey would take five hours (not three days). That's what the people smugglers told them. The smugglers don't care if they make it to Sicily or not, they only care that their bodies don't wash up on Libyan beaches and deter others paying them for the next dinghy.
And for now business is booming. It's estimated there are between 200,000 and 400,000 people in Libya right now waiting to make the crossing to Europe. And as the humanitarian organisations start preparing their ships for winter, it's clear they don't intend to stop the rescues any time soon.