Selfie sticks are banned at Wimbledon, but selfies abound. Photos are taken holding containers of strawberries, in courtside seats, in front of pitchers of watered-down pimms. But one of the biggest photographic-draws is a small plaque, on the brick-wall outside court 18, which commemorates the longest match in history: an 11 hr 5 minute battle between the American John Isner and the Frenchman Nicolas Mahut.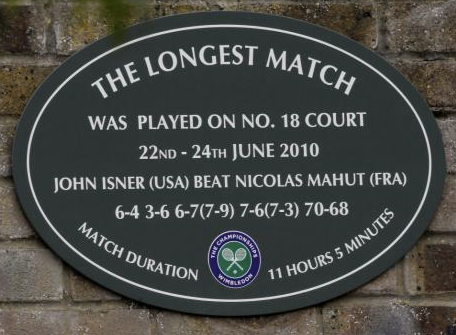 The match itself took place in 2010 over 3 days, and was ultimately won by Isner. The very possibility of its existence relies on the fact that, at Wimbledon, there is no tie-break in the last set. Rather, the match continues until one opponent has won by a margin of two games. As Andy Samberg puts it: "So theoretically a match there could go for eternity."
The Isner/ Mahut match has its own wikipedia page, a Wimbledon plaque and thousands of tourist-taken commemorative selfies, but it has not yet merited that most pertinent of tributes: a mockumentary. Which brings us neatly to 7 Days in Hell, a new HBO parody starring Andy Samberg and Kit Harrington, and written by Murray Miller. The clue is in the title, really: it covers a tennis match at Wimbledon that lasts for 7 days.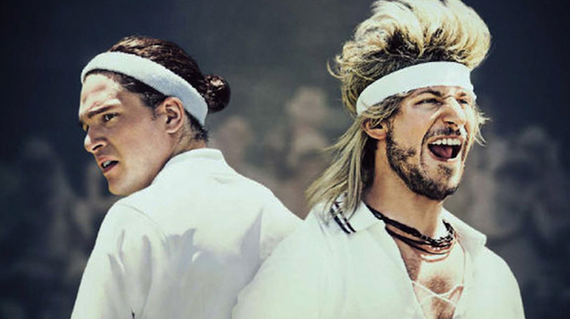 7 Days in Hell is a 45 minute delight, filled with the type of buoyant exuberance that Samberg is famous for. It is an ensemble piece - Will Forte, Fred Armisen, Lena Dunham and Mary Steenburgen all appear and it brings to mind that brief period, when Sarah Silverman, Matt Damon, Ben Affleck et al created 'I'm f**king Matt Damon', and Hollywood for a second looked like it might be kinda fun.
It takes as its basic premise the intensity of the first Bjorn/ McEnroe 1980 Wimbledon final, ramps up the timeline to surpass Isner/Mahut and adds a surfeit of penises. (Some human, some animated). "Well, look, you gotta utilize the fact that you're on HBO, that's how we looked at it," Andy Samberg states.
Andy Samberg and Murray Miller, who, sweetly, have been 'buddies since Summer camp', originally planned to write and produce a feature film, set in the world of tennis. Unable to get that project off the ground, they utilized Miller's HBO relationship (he is a writer on Girls) to pitch 7 Days in Hell: a 30 for 30-style parody. The constraints of the form turn out to be invaluable: there is a robust comedy to the piece that belies its simple conceit.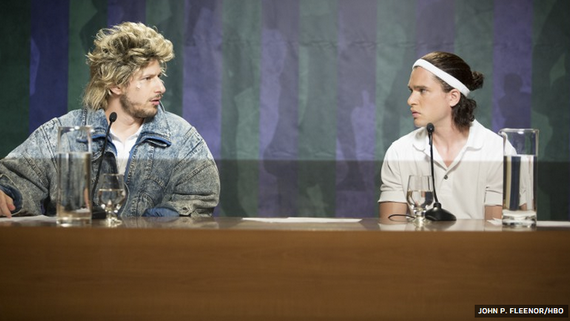 It is McEnroe/ Borg Fire and Ice married to the Isner/Mahut match, if Isner was an abandoned baby, adopted by the Williams' family, grown up to be the ex-world no.2 turned underwear designer turned felon, and Mahut was an indefatigablely stupid Englishman. It is an ESPN 30 for 30, if ESPN revelled in Taiwanese Swedish prison orgy animations. It is a generous, big-hearted wink to those who love tennis and those who don't, utilising world-famous personages both from within the tennis world and without it.
The excellence of the comedy lies, as always, with its attention to detail. Directed by former SNL writer Jake Szymanski, pains have been taken to replicate the look and feel of its genre - a verisimilitude created not only by employing some of the world's most famous tennis commentators (McEnroe and Evert give stand-out performances), but also by shooting several scenes using vintage cameras.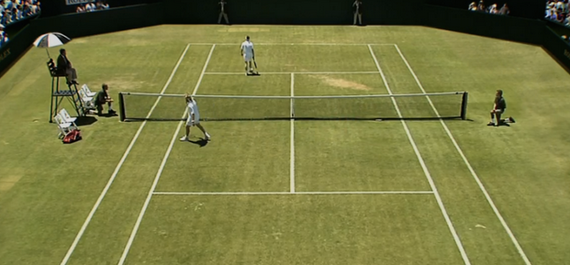 In the McEnroe/ Borg Fire and Ice ESPN documentary we see the great love and mutual respect between two men at the top of the game, and pains are taken to show McEnroe and Borg as two sides to the same coin. 7 Days in Hell flips this premise on its head, in as many ways as possible, yet it also pays homage to the fact that McEnroe and Borg never won a Major after turning 25 - and here this idea is taken to its preposterous, absurdist end.