In one of the most polluted cities in the region, cyclists are on the rise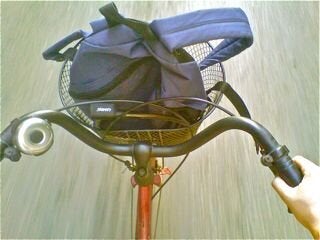 'Helmets? Who is in favour?' Sitting with a group of young cyclists in an Achrafieh apartment, this is a moot point. Surely helmets are always a must? Well, as the phrase here very often goes - 'this is Lebanon'. So, maybe questioning whether or not one should be taking such a safety precaution isn't that unusual.
I've somehow found myself at a meeting of the members of a newly formed cycle courier service. That's right, a business run on bikes, in Beirut. I came across them on Facebook, they were looking for cyclists to join up and that is how I met cyclist, courier and Briton, Matt Saunders. After he came to Beirut for a holiday, like so many others, he wanted to come back and seeing the high level of congestion, his returning mission was clear.
Dehgri Messengers (dehgri is Arabic for 'straight ahead' or 'forward') was launched last week and while they obviously want to provide a service that will ultimately make some money, the team also want to show how a fuel free service can operate quite amicably in a city known for its high congestion. 'When I saw the crazy traffic, the seed was sewn.'
Prior to meeting Matt and his, I should add, helmet wearing team, I had only once cycled in Beirut. It was actually with the courier service's co-founder Karim Sokhn, who himself runs a group called Cycling Circle. I had wanted to experience what he had to offer which was a bike ride, at night, around the city. Now, I was a cyclist in London but a break of a year can make one pretty shaky and while I only fell off the bike once, (embarrassing more than anything), the experience left me pretty tired and unenthusiastic to make it a regular activity. But, in the nearly three years I've hung around this city I have noticed more and more people cycling, and not just doing the Beirut By Bike up and down the Corniche, (inexperience cyclists mowing down walkers by the sea) but using the bikes as a form of transport.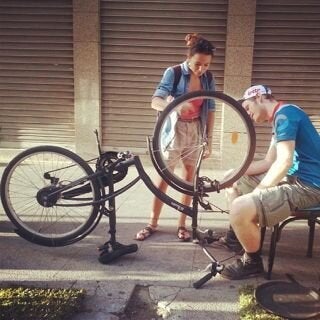 With a mixture of youngsters, beginners, and businessmen, there is no stereotypical cyclist in Beirut. Siwar Kraytem is a graphic design student and has been cycling for over a year now. 'My friend and I got our old bikes and gave it a go,' she told me. 'The first time wasn't easy, trying to find a good route.' Kraytem is optimistic about the bike movement that she sees around her and has herself signed up to be one of the part time couriers for Deghri Messengers. 'People are used to seeing people on bikes, but they're usually Syrian or Sudanese workers. It's an economical and easy form of transport we should all embrace.'
I actually once saw a man, in suit, on a hands free phone, with helmet, peddling up the hill on a foldaway bike. It was like Clapham had suddenly come to the Mediterranean. 'I have seen more than 700 people join our rides,' says the often Lycra clad Sokhn. So it's not just me imagining it.
Greater plans for how Beirut embraces the cyclist are on the horizon also. A partnership between Beirut Municipality and the Région Île-de-France has seen plans laid down for not only more accessible and pleasant walking spaces, but cycle paths to go along side them. Marc Geara, a man who cycles to work every day, campaigns for the acceptability of bikes through his group Green Wheels. Much like Cycling Circle they organise bike rides for any willing participant. 'The trend is definitely growing,' he told me, 'Of course there is a perceived security issue and people are nervous of no dedicated lanes and dangerous driving.' As they should be - just because a light is red here doesn't mean anyone actually stops. Organising what they call 'Mega Rides' a few times a year, distances that take people from Faqra to the Cedars, they've seen the numbers increase from just a handful to more than 30 at a time. The work between the French and the Lebanese hopes to soon see a route for walkers and cyclists go from the area of Horsh Beirut to Downtown - a distance that would traverse the city.
After meeting with the Deghri Messenger crew and cycling a little with them, I got my peddling mojo back and have since been biking around on a regular basis. At first glance Beirut does look like a terrifying place in which to cycle but in all seriousness, I don't think it is much different from London, except for the eyes as wide as pies as you peddle by.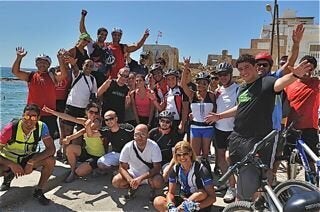 Photos courtesy of Cycling Circle, Deghri Messengers, Lucy Knight