Festival season is nearly upon us. My polka dotted wellies and stripy tights are waiting to be stuffed into an Ikea bag with an inconceivable amount of fancy dress, multiple cans of gin and tonic, and the trusty festival tent. Latitude and Wilderness are on my festy radar this year, one in July and one in August, both a smorgasbord of literature and art as well as music and general silliness.
In recent years my festival experience has changed, from being a regular camping punter to being allowed one of the shiny 'artist' wristbands. My hobby of swing dancing has allowed me to go and prance about in spangly costumes with some hint of legitimacy, whilst encouraging others to do the same. This got me interested in why we love festivals so much, and why in particular we love dancing at them.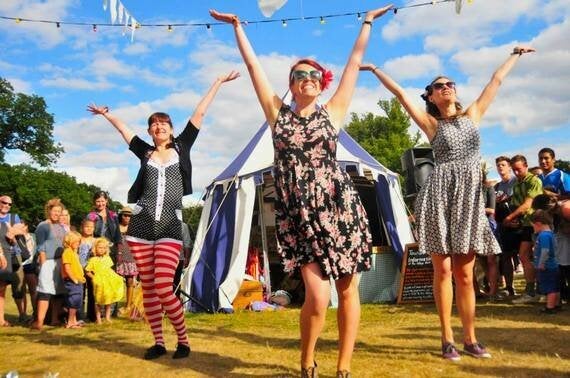 Photo at Wilderness 2013 by Rupert Sanford-Scutt
I began by asking George McKay, Professor of Cultural Studies at the University of Salford, and expert in festival attendance and behaviour. McKay thinks festivals are a compensation for our everyday routine: "A concentrated hit of social and cultural being, an immersive 24-7 blow-out that makes up for the stresses of city life, precarious employment, the drudge and atomisation of sitting at a screen all day." He thinks the British in particular have a penchant for festival-going: "Why do Brits love festivals? It's partly to do with an atavistic pleasure in the countryside, the attraction of the green and pleasant land, and the rural tradition, even when it's muddy. Maybe even especially when it's muddy! Then you get a lovely contradictory experience of being in the fresh open air but all down and dirty at the same time."
People usually behave differently at festivals than they do in their everyday lives. As McKay says: "It's generally a safe environment for some mild experimentation: being 'free' at Glastonbury, say, behind security fences and watchtowers and photo-ID online registration, is a moderate, even controlled, alternative space."
One of these forms of experimentation is learning new things: circus skills, crafting, hula hooping, yoga, or dancing, for example. Laura Cupit Knight, dance teacher and festival lynchpin of Swing Patrol, the swing dance school I dance with, sums it up: "Festivals tend to be places where you feel very free to let go and try something different. You also tend to be surrounded by other people who are of the same mindset and looking to have some fun. Swing dancing is partnered so it's really interactive. It's a fun, no pressure way to meet people, have some fun and share some joy. I am sure everyone loves a bit of that."
Professor Peter Lovatt, academic psychologist from University of Hertfordshire, aka 'Dr Dance', agrees it's all about happiness. "I believe we're born to dance," Lovatt said. "It's something innate to all of us. When we dance it fills us with joy." Lovatt thinks the reasons behind dancing are manifold, but include social connection: "some of the reasons for dancing are forming social groups, societies, generating our identity through shared movements. We communicate and come together through body movement. We used this before we could use verbal communication."
Lovatt thinks this is just as true in the festival environment as elsewhere: "Learning to dance at festivals is quite interesting," he said. "There's a whole load of research on how using movement patterns and dancing together is good for us. Subgroups of people at festivals define themselves differently by the way they move. They show their identity to another group member by the way they dance. Teaching them a movement gives them more of a shared identity and makes the group more cohesive."
Lovatt is currently looking into why people don't like to dance. "In studies asking why people do and don't dance, people over 30 said they felt inhibited because they didn't know what to do any more. They feel self-conscious and then their muscles tighten up and they can't get their groove on. When people know what they're meant to do they relax. People enjoy having a restrictive repertoire of movements. In a festival context teaching people some moves is a really nice thing."
Group dancing can be powerful. "Have you heard of the 1518 dancing plague?" asked Lovatt. "A woman started dancing by the riverbank and others joined in and wouldn't stop. Eventually people started dying from dehydration and all sorts. The Strassbourg court tried to stop it, they tried playing drums to break the people out of the rhythm, they took people who wouldn't stop dancing to try to exorcise the dancing demons out of them... none of it worked."
Festivals might not quite lead to a dancing plague, but there is a sense that anything can happen. Laura recalled the first year of Wilderness festival: "We ended up teaching hundreds of people the conga, on stage with a bunch of naked people. That has to be a professional first! But this is what we love about Wilderness, you never really know where the experience will take you."
The Huffington Post UK are proud media partners of Wilderness festival. Check back here for more exclusive blogs, competitions and stories soon. For tickets to the event click here: www.wildernessfestival.com
See the highlights from last year below...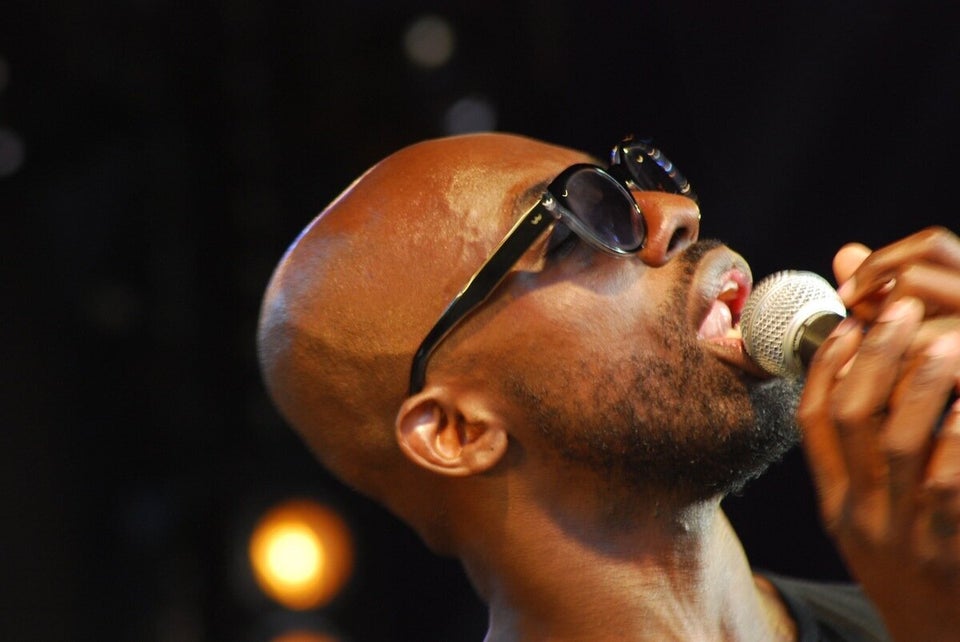 Wilderness Festival 2013
Related