The way we eat and drink out is getting wackier isn't it? Some would say a bit ridiculous. The restaurants that get column space aren't just the ones who have great chefs at the helm or who source the highest quality cuisine. It's also the cafes that do something unique. They create a concept, a talking point or do something down right weird or unexpected. Then, soon enough, if it's within Zone 1 or 2 of London, it becomes the next venue to reach hipster status.
Which is why, as I write this, I've just left a café that makes its money serving bowls of 'retro' breakfast cereal. This place is filled with rows of Frosties and Ricicles and the room is filled with toy trolls and Care Bears. People are snapping away on their iPhones of a Hannibal Lecter made out of Cheerios. Whatever next?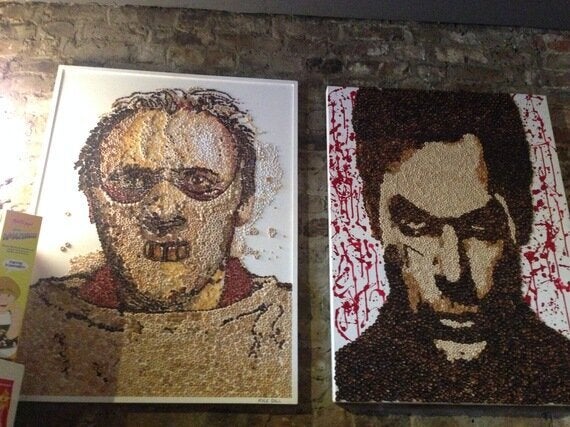 I've nothing against the Cereal Killer Café. I quite enjoy having a nostalgic moment with Nintendo posters and a bowl of Cinnamon Grahams. But this definitely falls into the category of hipster food trends that you love or loathe.
Take for example, the way cocktails now come with a serving of liquid nitrogen. Some chefs are taking on all sorts of hocus pocus characteristics. Food doesn't even look like food anymore.
And what about those crazy kids who queue for hours just to get a croissant that's confused itself with a donut. Is being the first in town to try the wonut (waffle crossed with a donut in case you're wondering) the key to being cool? It's all getting a bit bizarre, isn't it?
Which is why I've created the Laws for achieving hipster status on the 21st Century food scene.
1.Serve fast food or very ordinary fare that's been dressed up
We're talking chicken shops, hot dogs and burgers that cost five times more than the fast food version. Or serving cereal amidst 70s memorabilia (I'm talking to you Cereal Killers). Add a cool name and deck the place out in 'upcycled' furniture. Or add a weird twist to it like a hotdog covered in kimchi (see point six).
2.Create a hybrid hysteria
Take two desserts and combine them to create a hybrid version. Then sell them under a portmanteau and wait for people to spend hours queuing to get their hands on one. Cue, doissants, cronuts and wonuts.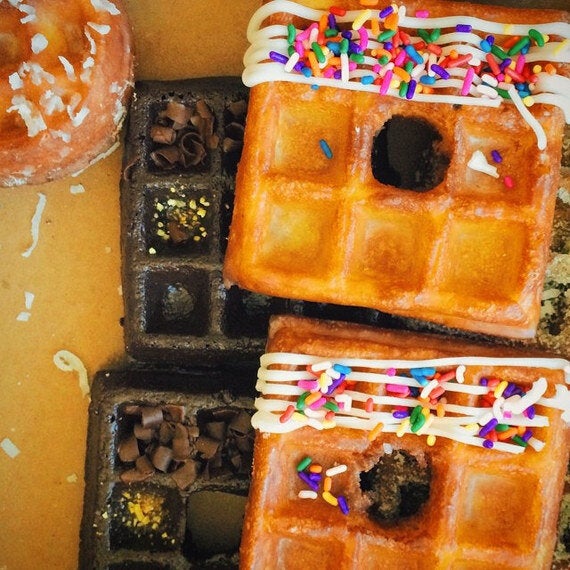 image credit: Jake Setlak/Flickr Creative Commons
3.Create a 'Secret' venue
Give your bar or restaurant an air of mystery by calling it 'secret' or speakeasy. If the front door is hidden, accessed through a Smeg fridge and clientele attracted through 'rumours', then it's definitely trendy.
4.Encourage novel dining etiquette
I'm talking about drinking your cocktails out of teapots and coupling champagne with hotdogs. Why do we do this?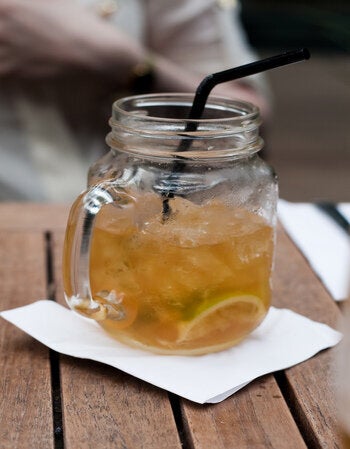 image credit: Kai Chon Vong/Flickr Creative Commons
Craft beers, farm-to-fork dining and imperfectly cut cakes piled high. They're all part of the 'rustic' artisan trend. If it's back to basics, wrapped in string or sold from mis-matched crockery, it's cool. So are gluten-free products, even if you're not a coeliac.
6.Invent a new fusion food or just combine food that shouldn't go together
The recently-launched ramen burrito falls into this category. So do things like the ramen burger and and putting kimchi on your hotdog. Weird.
7.Open a restaurant where customers have to prepare their own food/drink
Ever been to a bar where you pull your own pint, or a restaurant where you cook from the table? Bars and restaurants that put the food and drink prep in the hands of the customer are so in vogue right now. If they wanted the staff to do it for them, they'd go to a boring restaurant, right?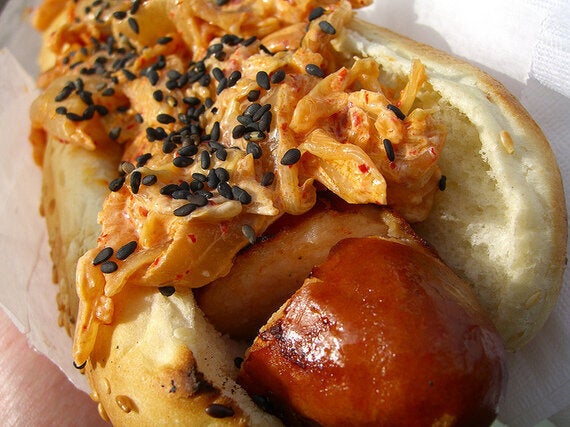 image credit: Ruocaled/Flickr Creative Commons
Obviously, the list of hipster food trends is endless. I can't go a day without hearing the word 'pop-up'. And if you haven't been to a supper club, well, you're not worth knowing.
But it's probably at this point that I should tell you that I'm as much of a sucker for these 'avant-garde' eating behaviours as anyone else.
I do occasionally drink from a jam jar and I do want to know about the next airport-themed 'secret' supper club. As for hybrid pastries, you'll probably find me instagramming / blogging about it with the rest of them. And going out to eat cereal? Why not. I quite like Cocopops.
In truth, our food scene is innovative and surprising and we should absolutely embrace the constant re-invention of concepts and flavours.
As long as I don't have to act like a pretentious loser while I'm doing it, I'm the one that gets tetchy if I'm not involved. I guess I must suffer from FOMO, or Fear Of Missing Out. If you were a hipster, you'd know that.
Related