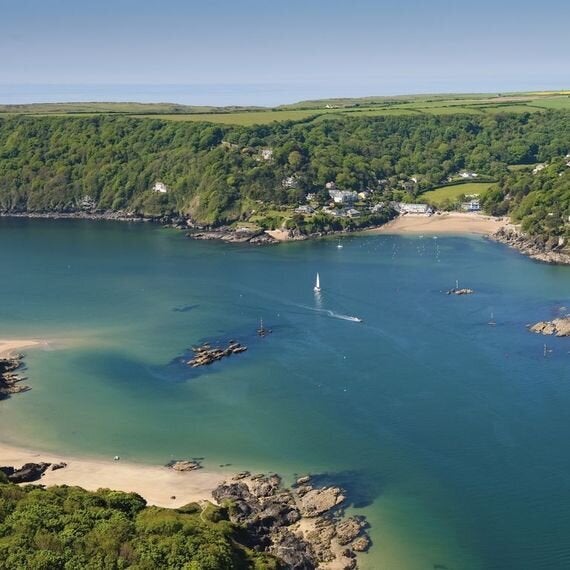 If there's anything I've learnt this year, it's that our country is bleedin' beautiful. Obvs I've always been aware of this on some level, but what really made that breaking news sink in was a late summer trip to South Devon. That craggy coastline! Those rolling green hills! The desolately haunting moors of Dartmoor National Park! The fish and chips!
Despite feeling very strongly about it (note the exclamation points!) - I'm not going to say it's the best place in the UK. Just thank it profusely for being my own personal spur to start exploring this brilliant land we live on. So before I exhaust my store of superlatives for South Devon, here's some things you should definitely take note of if you're planning a trip down there...
I've seen Doc Martin, so was well aware that villages built steeply up from the sea existed in the country, but it still didn't prepare me for the first glimpse of Dartmouth. Having spent an hour or so crossing Dartmoor National Park with the odd cottage springing out of its emerald humps, we climbed it a hill and there it was... a warren of tightly-packed, vertical streets leading down to a cove which looked like something out of a Du Maurier tome. Needless to say its stunning: chock full of the kind of pubs that still take pride in their hanging baskets, shops selling things you probably don't need but definitely want and plenty of pokey cafes and top class restaurants (don't leave without fish and chips at Mitch Tonks Rockfish). Dartmouth Castle is also worth a visit, mostly for coastal vantage point from the top of the tower.
Anyone who is particularly interested in a certain starred-restaurant rating system will probably know Gidleigh Park for its restaurant, which holds two of those Michelin high fives. With a tasting menu as finely tuned as Vanessa Mae's violin, Michael Caine's restaurant is certainly a compelling reason to visit, but by heck it's not the only one.
The five star country house hotel is heart-breakingly good looking and if that doesn't woo you, the staff will. Service, from the tea and homemade biscuits on arrival to the hamper of local honey thrust into your hands as you leave, is so flawless you forget to feel guilty about being waited on hand and foot. Then there's the rooms (his and her sinks, a bath AND shower and a decanter of fortified wine for pre-dinner fortification); and the surrounds (our autumnal amble across the nearby moor had such a positive effect on my usually-most-cynical-friend that he shouted "I feel so happy to be alive!" mid way round.)
If Gidleigh Park could be described in one word it would be 'retreat'. Both because it's what you'll likely do when the bill comes towards you (this kind of classy dame don't come cheap) but mostly because, once you stepped through the door, you'll never want to leave...
Look, you're in Devon by the SEA. So expect someone to try and flog you a fishing tour, let me see, every five minutes. Embrace this and do it via foodie events company Graze & Flavour run by Jennie Jarvis, which celebrates Devon's artisan producers. The F.I.S.H (Fish in Sutton Harbour) tour starts off at an ungodly hour under the famous Plymouth Prawn and takes you around the fish market, on a boat and to lunch - with plenty of characters in between to amuse and learn from. Highlights included the Harbour Master Pete who is as knowledgeable about the UK fishing industry as he is hilarious and fishing/filleting with Ben, owner of Plymouth Boat Trips. Without getting all gushy, Jenny and those she enlists, work hard to give you more than the average experience. And they totally succeed.
Southsands is a boutique hotel with a good restaurant (courtesy again of Mitch Tonks who is a consultant chef), smart rooms (with smarter balconies looking out to the sea) and a kind of surf chic vibe, which makes it feel totally welcoming. So far, so good. What really sets it apart is its location. Situated on the outskirts of Salcombe, it is quite literally on the sand. This means you can time your breakfast by the tide (they have clocks too but where's the fun in that?), take no more than five steps if you fancy a paddle and go to sleep with the sounds of the waves practically lapping your ears. It also means yon can join one of the surrounding coastal path walk ways, where you'll be cooing over views of jagged, jaw-dropping beauty within minutes.