It's not easy to find calm in London. The bustling, lively city can also be draining and stressful, often with little reprieve.
But escaping to the countryside to find sanctuary is easier said than done; long train journeys, hired cars or hailed cabs - not to mention picking somewhere to go - often seems more hassle than it's worth.
The above thoughts all ran through my head as I pondered where to celebrate my 25th birthday. I wanted some much-needed R&R, but I had limited time and didn't want to travel.
I wanted to find myself a slice of countryside peace without stepping foot outside Zone 1.
Instead of hauling my weekend bag to some country manor in Surrey, for less than 24 hours I could pretend to be on holiday, a mere five minutes from Oxford Street.
Somehow, the hotel has found the perfect balance of being at the epicentre of retail heaven, and offering a calm oasis for anyone wanting to magic themselves away to the countryside - but who doesn't quite have the time to do it.
The hotel's exterior is nothing spectacular, in fact, from the outside, you'd be forgiven for thinking it was just the setting for another businessman's pied-à-terre. In the reception, the concierges made every effort to see to my needs, which instantaneously helped to shrug off the burdens of London life.
However, it's stepping into one of the hotel's ground floor balcony suites which truly melts away any trace of hectic work schedules and frenzied tube cramming.
Champagne on ice, curtains billowing as a breeze wafts in from the private decked terrace overlooking a secret garden, it's an immediate transportation to paradise. Even if you stay for less than 24 hours - which I did - it's enough to make believe you're in a lofty manor hotel, set in acres of land, in an oasis of calm.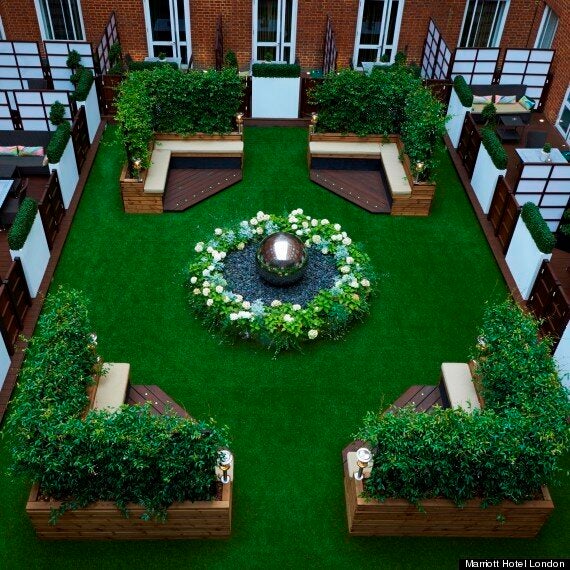 The secret garden offers a tranquil retreat from the noisy bustle of London life
From the marbled bath tub overlooking the room and the faux-fire features both inside the bedroom and on the terrace, to the macaroons and solid chocolate espresso cups, it's the detail which really sets this hotel from the rest.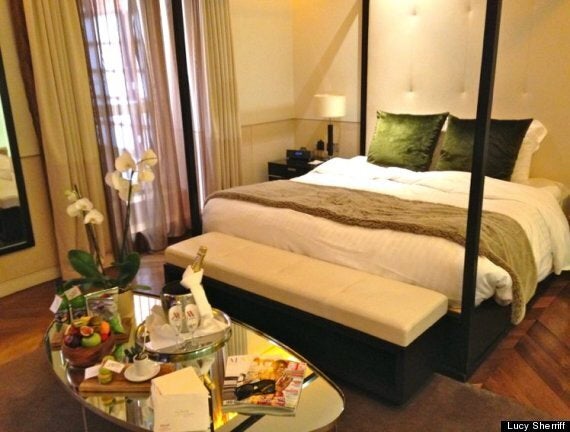 Champagne on ice, fresh fruit and London-sourced macaroons greeted us on arrival
In keeping with the escape from London theme, all electronic devices were switched off - after I snapped numerous panoramic pictures of the room, of course. And to truly feel like you've secreted yourself away for a relaxing country break, don't even set foot outside the hotel.
In fact, there's not really any need to. We sat on the decking, sipping champagne and eating fresh strawberries, and hearing not one peep out of the nearby busy Oxford Street road.

The gorgeous decked terrace, with a fire feature, and access to the secret garden
After we had sufficiently unwound, and ogled the four poster bed, rainforest shower and bath tub big enough for four, we dined in Gordon Ramsey's maze Grill, not forgetting to first sample the wares of the neighbouring bar.
For starters, we ate chicken sliders infused with gentle spices, a gorgeously-flavoured roasted tomato and red pepper soup, and from the specials board, a nectarine, watermelon and bacon salad extravaganza. Paired perfectly with a honey, soy and olive oil dressing, the dish stole the limelight - a mouthwateringly-delicious sensory explosion on the tastebuds.
Of course, being at a grill, the main attraction was the meaty main course. The Aberdeen Angus and USDA Prime steaks were our choice of meat. Cooked over charcoal in the kitchen's Josper grill, the latter's subtle charred crust was a beautiful contrast to the tender, rare beef, which melted in the mouth. The Aberdeen cut was chewier, but as a result had a wonderful texture, and was perfect coupled with the peppercorn sauce.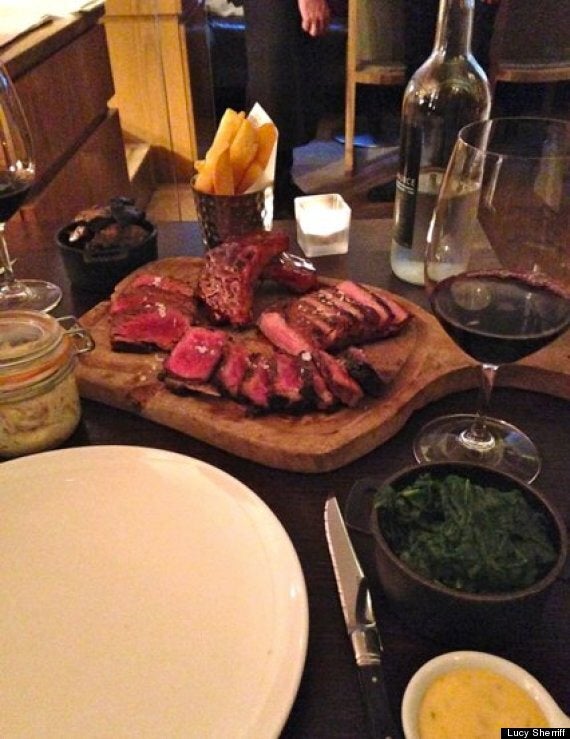 The steak, cooked to perfection and perfect for sharing
As is tradition, dessert had to be squeezed in - regardless of already being full to burst. We opted for the light and creamy Pannacotta, which slid down wonderfully, and just had to try the recommended cheesecake, which although was deliciously rich and infused with vanilla, was just too much to finish.
Being given a tour around the kitchen, which they offer to all patrons of the restaurant, was a delightfully personal touch, and made us feel nothing was too much to ask.
And, if you can still move after filling your stomach on the delicacies the Maze has to offer, retire to your room, run yourself a well-deserved bath and while the evening away.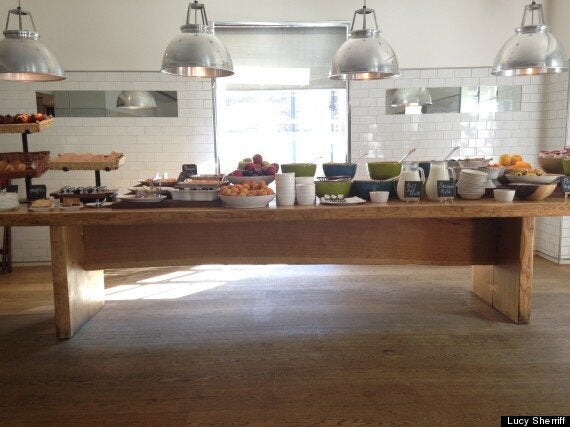 The breakfast spread. Naturally we gorged ourselves
Surprisingly, it was breakfast which provided the culinary highlight of the visit. The long trestle table laden with muffins, pastries, pastrami, cheese, fruits, nuts, yoghurts - I could go on - was greeted with wows and oh my goshes, despite having eaten numerous courses the night before. A full English was also on offer; the crispy bacon, perfectly-poached and scrumptiously-scrambled eggs were divine, not to mention the fantastically flavoured sausages.
As checkout wasn't until 12, we once again slouched back to the room for a final unwind and relax on the terrace. With the sky clear and the sun shining, I realised with a jolt I was still in London, and I hadn't once felt stressed, anxious or rushed - those unfortunately negative feelings I now associate with busy city life.
Of course, like most things, luxury comes at a price, but if you can afford it, kick back, relax and let yourself be whisked out of the capital and into the countryside by this hidden gem - without even stepping foot on the tube.