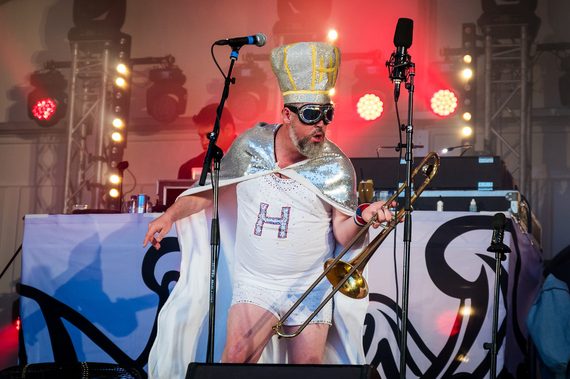 Photo Credit: Sarah Junker
I was going to write this article under the pretense of being a serious writer, but as I introduced myself to Iain Gordan (aka Kuku Blaze), Fat Freddy's Drop's lead keyboardist, he interrupted and said: "You're Simon's niece right?!"
Right. I'm here to talk to Fat Freddy's Drop, arguably one of New Zealand's most famous bands, as they play another sold out show in my adopted city of Amsterdam, and full-disclosure, I've been tasked to do so by my uncle, New Zealand's very own mad-hatter.
In the 1940s my great-grandfather started manufacturing in Wellington, taken over by my grandfather, who now, at 78, sits in reception, while my uncle, Simon Smuts-Kennedy has taken full reign. Making this connection seems appropriate. Fat Freddy's wouldn't mince words; they're straight talkers and after nearly two decades playing together, each now with families of their own, operate with a lot of heart.
It's this sense of whānau that ties the businesses together. Fat Freddy's started in 1992 as friends jamming in New Zealand's shaky little capital, and they did it, as the hit line in their now infamous track Roady says "for the love of music." They did it alongside jobs, other bands, and officially formed at the mature age of, around 30, and have stayed together ever since. "We're now all between 40 and 50," says Blaze. "I think if we'd started any earlier, we would have killed each other fighting."
The legacy of Fat Freddy's Drop is truly impressive. This year they sold out to their largest audience in New Zealand, played to a crowd of 10,000 earlier this month in the United Kingdom, and are touring the world twice, sometimes three times a year. Their European Tour Manager Alex Bienkov says, "we just can't seem to tour enough!"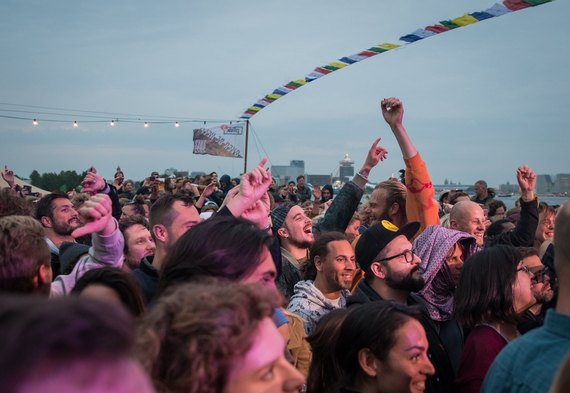 Photo Credit: Sarah Junker
The show I've scored tickets to sold out in eight minutes. Apparently, this is normal across Europe. What's the secret? "It's a party," says Alex. "I work full time touring with bands, and with these boys, it's pure entertainment; it's a winner!" Blaze agrees. "Many bands wear the clothing they arrive in, but we like to dress up," he says. "We're old school in that way; we know that for our audience, it's a real night out too."
He then brags the band has set the record for the most amount of "piss drunk" at various locations such as The Brixton Academy and The Sydney Opera House, to name a few. "These are huge venues! It's a real record!" he emphasises as the look on my face falls flat. "This tells me people are here to let loose, it's more than just going to see a band."
Later that night, I see he's right. I've never seen so much crowd-surfing in my life. Perhaps, inspired by the passionate hip-thrusts of Joe Lindsay (aka Hopepa) who, mid-act comes out wearing sparkly underwear, a cape, and you guessed it, an enormous hat, many people, well over 50, threw themselves fearlessly into the crowd. This is the kind of music people go wild to, feel connected to, fall in love listening to, and all the more intensely when seeing the seven-piece play live.
But back to hats. This is what I've been tasked to write about after all. Blaze tells me that "discovering Hills Hats has been a great gem." He goes further. "I just love going to the Factory. If I didn't have this, I'd probably go and get a job with them." I'm stumped. Don't get me wrong, I've been grateful for my ongoing, sporadic employment at Hills Hats, trimming loose threads during school holidays and selling seconds in the flagship store throughout University, but I've been pretty darn committed to not working in my family business.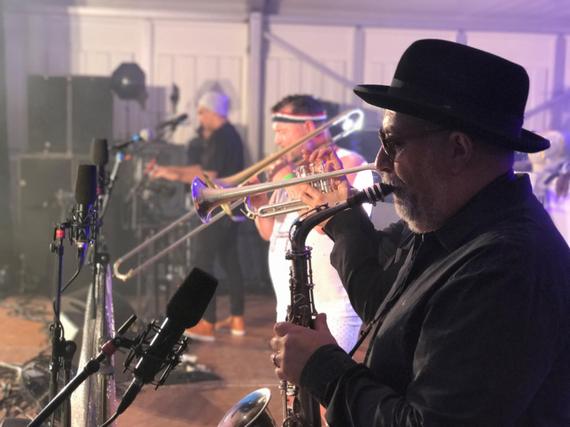 Photo Credit: Sarah Junker
His enthusiasm continues. "What they're doing is pretty unique because local manufacturing is dying." Don't I know it. I've seen this company go through many manifestations. My grandfather still has an amazing roll of Liberty fabric he bought 20 years ago in London, and which was so precious to him, only when I turned 21 could I have two meters to sew a dress. Today, the competition brought by cheaper markets in terms of both sourcing and manufacturing has turned much of the industry on its head.
"It's amazing to see the factory, the sewing machines, and so many skilled labourers from all sorts of nationalities," he says. "These are they kinds of jobs many New Zealanders used to have, and they're disappearing." Thanks to Simon, and his quirky (super) hatman personality, which he's developed alongside the band, new life has been brought to the business.
"That's where the alliance with us goes hand-in-hand I guess," says Blaze. "We've gone global." It's true, as Fat Freddy's Drop have become increasingly celebrated by an international audience, hailed as a class act from New Zealand, so too have Hills Hats. However, he reveals, it hasn't always been smooth sailing. "I'm pretty sure your Grandpa wasn't too happy when Simon started flicking us free hats. I'm pretty sure he was thinking: this is not good! But now, I think he gets it."
While the relationship started with a few individual hats, they've now become part of the main act. And on this tour, they've truly gone mad. "Simon's got a bit of creative license," Blaze admits. "But I also go in there; I consider myself a hat designer too!" He then proceeds to explain his philosophy to me about how the hat finds the man.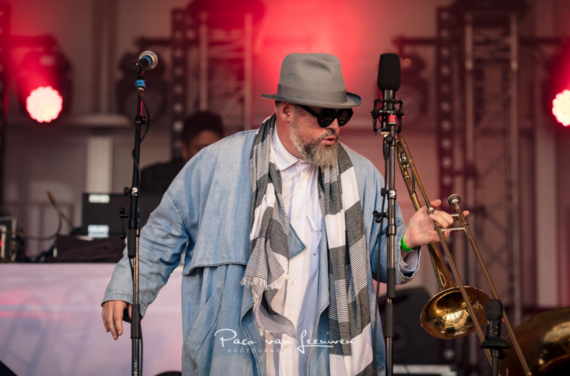 Photo credit: Paco van Leeuwen
"For example, on this tour, I saw a hat and said "I want that one!" But as it happened, it's the wrong size. How we fucked that up, I don't know! Anyway, it fits Scott perfectly, and it actually looks better on him!" He continues. "This happens quite often. I made another hat for Scott, it had this awesome design and of course he goes "awesome bro!," but he left it in the car and it shrunk down to the perfect size for Toby to wear. And toby wore that hat to death!"
From where I'm sitting, this is a match made in heaven. As Blaze talks, I realise he should really be part of our mad-hatter family after all. I was planning on asking about the direction for the band from here, but his enthusiasm prompts me to ask: "Where are you going to next, with hats?" "I don't know," he says. "We'll have to see what the hatman comes up with!"
There's a certain compelling laid-back quality about our Kiwi culture that sets us apart on the global stage. Our tell-it-like-it-is, no-fuss attitude resonates. Flight of the Conchords brought this quirky, self-deprecating sensibility to the world, and Taika Waititi's unique brand of films, from What We Did in the Shadows to Boy, have taken this further.
On stage, it's this playful attitude that Fat Freddy's embody and that the audience love so much. They remind people to have fun and not take life too seriously. And it's this sentiment, as a family of nutters, we know only all too well.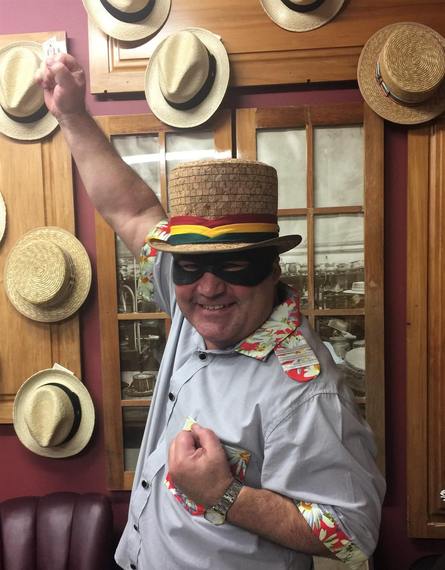 Photo credit: Hills Hats