Technically, driving from LA to San Francisco on the Pacific Coast Highway can be done in a day. Travel guides recommend investing two days into the trip.
But, with some planning, it can be turned into a whole holiday on its own. Weave in hikes, lazing on the beach, wine tasting and sampling local cuisine, and you'll experience some of the best California has to offer.
Hire a convertible - you'll get your money's worth
Car hire tips:
Try price comparison websites to make sure you're getting the best deal. Sixt or Enteprise normally offer good deals. If you can afford to, bite the bullet and get a convertible - you absolutely won't regret it.
Start point:
Los Angeles
Stay:
At the Luxe on Sunset Boulevard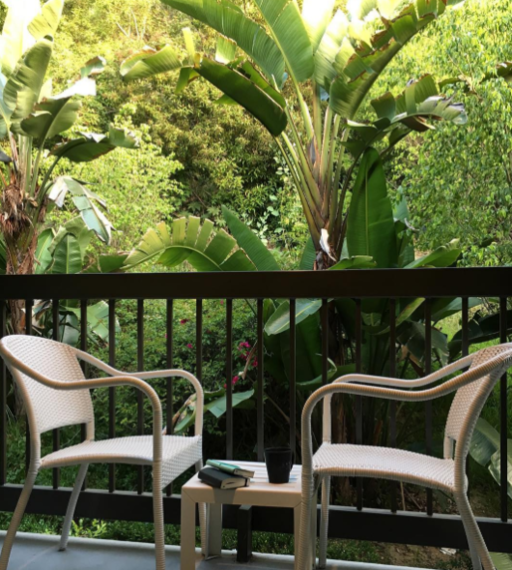 Spacious, secluded and just five miles off the PCH, The Luxe is a great location to base yourself during your LA arm of the trip.
Despite being on a crazy-busy road, you'd be forgiven for thinking you weren't in a tropical jungle. The Luxe has managed to create an oasis of calm in a city where the traffic rarely stops. Balconies either face the pool, city skyline or the dense foliage - with the latter providing a lush setting for your morning coffee.
The rooms are huge, and the pillows delightfully fluffy, although the shower could use with being updated.
Unlike other LA hotels, food and drink is very reasonably priced, meaning you can enjoy breakfast - I'd recommend the huge stack of lemon and ricotta pancakes - out on the terrace, which has a cascading water feature providing the soundtrack, without worrying about breaking the bank.
Go:
Venice Beach: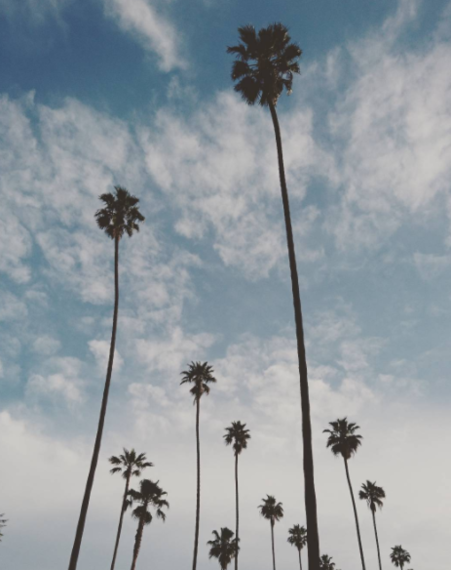 Stop off at Alana's Coffee Roasters for your morning fix of fancy coffee. Locally roasted, organic and, if you like it - which you probably will - you can buy a batch to take home. Pair with one of their baked treats - I opted for the rosemary and butternut squash muffin and it was bloody delicious.
Canela Cocina Latina - If you fancy a more hearty breakfast, head over to this unassuming Mexican joint, where the grub is just as Mexican grub should be - dirty, unapologetically messy, and packing a spicy punch.
Hop on down to the Boardwalk and watch the entertainers try to amuse the crowds - or ogle at the gym goers pumping iron on Muscle Beach, before heading on over to the thrift stores to find some bargains.
Santa Monica: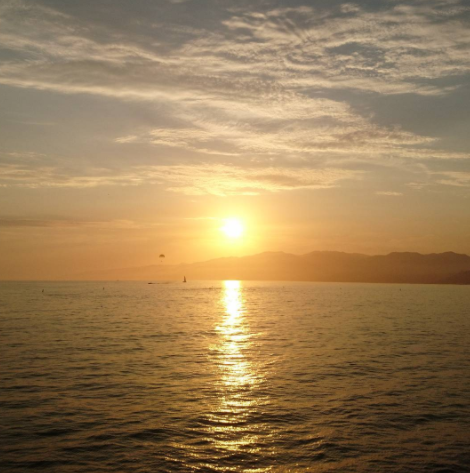 Sunset from the pier
An amusement park pier, live music and craft beer is all on offer in LA's west coastal city. You can shop til you drop on 3rd street, or you can park up and cycle along the paved roads, stopping off for a bite to eat in one of the beach front cafes. Del Frisco's Grille may be touristy, but the brioche bun burgers are darn good, and it's a great spot for people watching.
If you need another coffee fix, or you're after a more nutritious lunch, Dogtown Coffee on Main St has a great chilled, surfer vibe and serves up vegan food and local coffee blends. Try the DTC ice coffee: 24-hour cold brewed, sweetened with caramel and finished off with sea salt foam. Starbucks who?
The Getty Villa:
This is your dose of culture. The parking's $15, but it covers entry - just make sure you book ahead as it can get super busy. The stunning villa has beautiful Pacific views, as well as an admirable collection of Grecian and Roman antiquities. The villa is designed in traditional Roman style, and offers a cool respite from the LA heat, as well as some great picture opportunities.
Stop off:
Malibu:
Stay: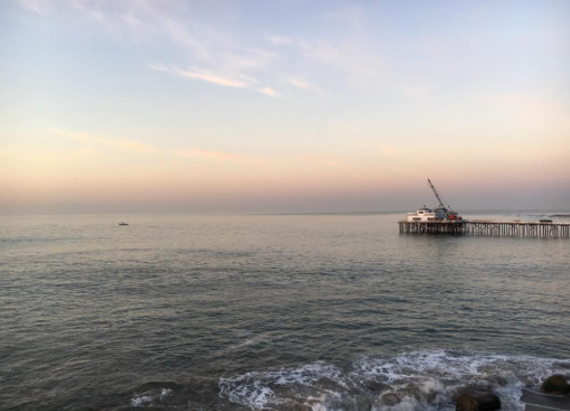 Sunrise over Malibu Pier: the from a room at the Inn
Breakfast, brunch, lunch and dinner - it's hard to find an excuse to leave the Inn, situated bang on the PCH, with its views of Malibu Pier to your right, LA's beaches to your left, and the vast expanse of the ocean straight ahead.
If you're going to do Malibu, you've got to do it properly. Every room at the hotel has an oceanfront balcony overlooking the hotel's private Carbon Beach, so there's absolutely nothing between you and the ocean. The balconies are wonderfully private, so you could easily while away the day reading or watching the sea crash against the rocks below.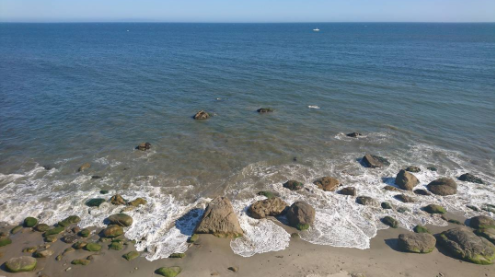 Carbon Beach
Everything about the hotel whispers "relax"; from the bedrooms decked out in neutral tones and the rosemary fragranced toiletries, to the inbuilt gas log fire and dressing gown laid on your bed by housekeeping. In fact, it's difficult to find a reason to even get changed. Guests can easily schlep from room to balcony to terrace to beach, all in their dressing gowns and swimwear.
Be soothed to sleep by the waves and wake up to the most stunning sunrise - make sure to check the Daily Wave - the hotel's newsletter which housekeeping will leave in your room every day for sunrise and sunset time.
It's a perfect refuge for rest and reflection after the hustle and bustle of LA, and you'd be hard pressed to find a better view.
Photo op: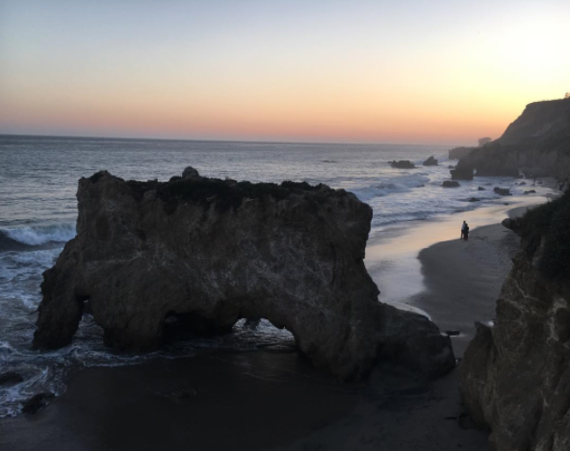 Sunset at El Matador beach. Doesn't get better than this.
Go:
Surfing. You have to.
And if you've never been before, or you don't feel comfortable going out alone, Surfer's Ed offers one to one lessons at an incredibly reasonable price. Surf instructor Jonathan is the perfect guy to put beginners at ease, and tailors the session to your needs.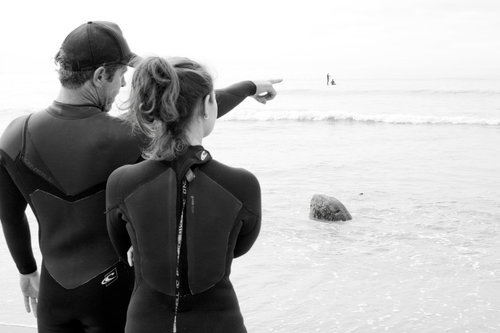 Not only will he teach you how to surf - or help you improve your technique - but he'll explain surfing etiquette (something I was totally clueless about) and wave patterns (ditto, clueless). After each wave he'll fill you in on what you did right - or wrong - so you'll come on in leaps and bounds even in the first hour. He's also not afraid to cancel the lesson if the conditions aren't right - even though that means a loss of business for him.
Post-surf lunch at Malibu Farm Pier Cafe - it's pricey, but it's local, organic and very LA. You're also paying for the most stunning views over the Pacific Ocean, and it's well worth the cost.
Pit stops:
Cambria:
Join the 101 and head inland until you can rejoin Hwy 1, taking you towards Morro Bay, and drive until you reach Cambria.
The Latin name for Wales, it's unsurprising the coastal town has a slight British feel to it. It's a quaint village with a stunning, rugged beach reminiscent of the Cornish coast. Stop off for a light lunch or coffee and a cake at Lily's Coffee House, and dine out on the deck or take it to the beach and soak up that fresh sea air.
If you've got time, Hearst Castle, set on a 250,000 acre estate is worth a detour. The plush pad-turned museum was home to newspaper magnate William Randolph Hearst and has breathtaking views of the coast, as well as the stunning outdoor Neptune Pool and an indoor Roman Pool, similar to the traditional baths of old.
Stop off:
Big Sur
Stay:
This retro-inspired motel is the perfect choice for those who love nature but who aren't so keen on the tent part (me). You can opt to stay in the main Adobe Motor Lodge, or you can snag one of the delightful little cabins. I stayed in the Sycamore cabin, which is built from recycled plywood and furnished with a microwave, coffee maker and fridge. There aren't any televisions - which is a refreshing respite from the outside world. And, to be honest, if you miss it you're doing something wrong. The cabin comes with a smores kit, which you can toast over the outdoor fire pit beneath the Sycamore trees, while gazing up at the stars.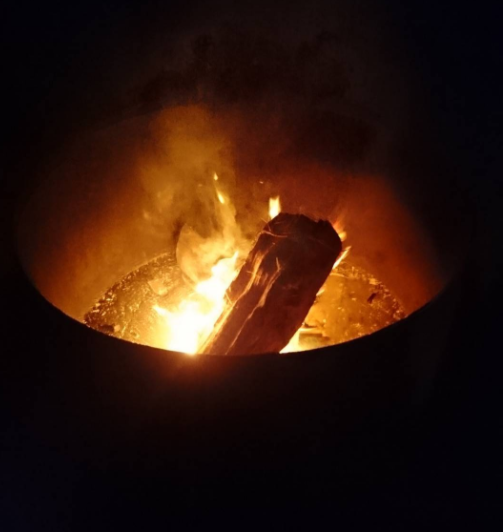 You can start your morning with yoga in the woods - not only are mats provided, but a deck of cards with yoga poses is supplied too, so you can be mindful even before breakfast. After you've had a bite to eat - which you can get from popping across Highway 1 to the Big Sur Roadhouse and claiming your free coffee and doughnuts, you can head straight to the Big Sur River, or get started on one of the many hikes in the area. Reception will provide you with a handy list of where to go and what to eat. For dinner, I'd recommend the rustic Big Sur River Inn, where all the locals hang out. If you can, I'd spend at least three nights here - there is so much to do and see, and it's a great base for exploring further.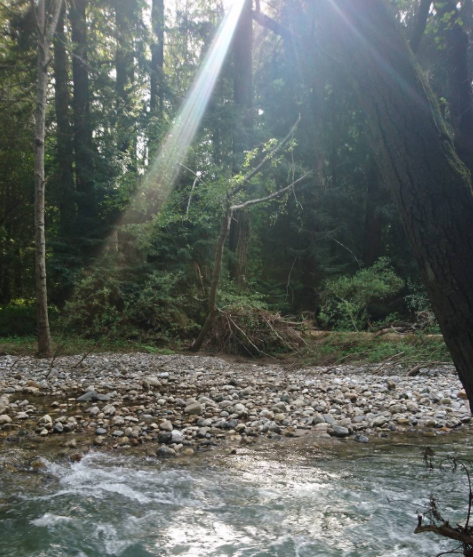 The roaring Big Sur River
Glen Oaks is exactly what hideaway cabins should be; secluded but not remote, cosy but not cramped, and dreamily romantic. Good luck trying to tear yourself away.
Photo op: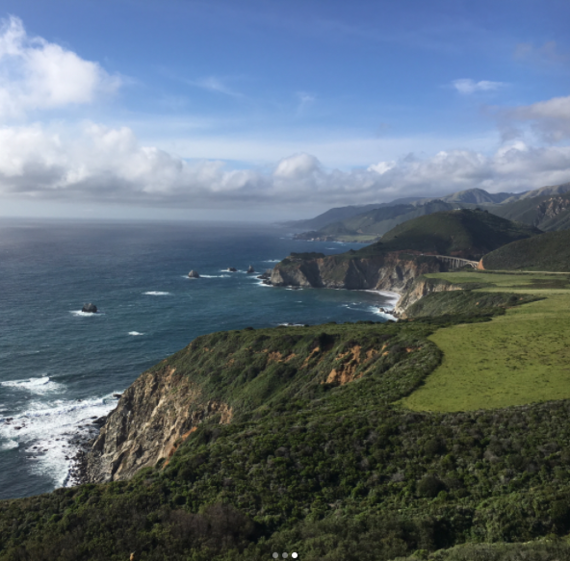 Well, everything, but in particular, Bixby Bridge
Pit stops:
Carmel-by-the-Sea:
A beautiful little story-book village, which feels like a place time forgot. Cutesy houses and art galleries galore - you'd be forgiven for thinking you were in Europe. Stroll along the stunning Carmel Beach and try catch a glimpse of dolphins, and then head to try out some of the local seafood at AW Shucks Oyster Bar.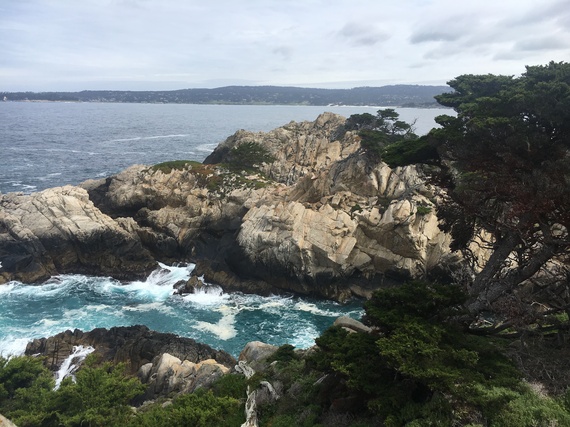 Point Lobos: nope, it's not an oil painting
If you want to squeeze in another hike, Point Lobos State Reserve has a great loop trail offering breathtaking scenery of rugged cliffs meeting the wild sea. It's also a great spot for basking seals. Just remember your camera.
Monterey Bay:
It's very close to Carmel, so you may just want to pick one. But whatever you do, you should take a slow detour on the "17 Mile Drive". It costs $10, but it's stunningly beautiful. There are 21 stops, and if you don't want to do all of them, the most notable are Restless Sea, Spyglass Hill Golf Course, the spectacular and iconic Lone Cypress, the Ghost Tree and Pescadaro Point.
Half Moon Bay:
If you want one last stop before you hit San Fran, this is the perfect place to hop out and stretch your legs. Or, if you're a keen surfer, to catch some insane waves on Mavericks Beach.
Final destination:
San Francisco
Stay: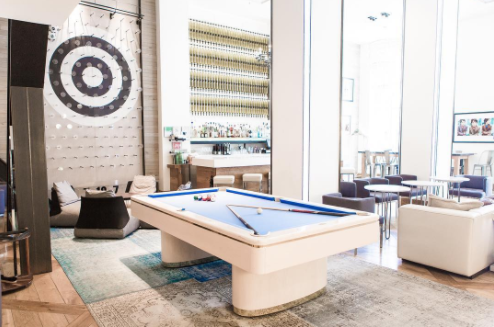 As soon as you step into the lobby, you're whisked miles away from the jostling 5th street and into a trendy, hip open space, complete with an incredibly well-stocked bar. Upstairs, there's a huge chillout area, with a pool table, tennis table, games, seating area and more. It really is an urban hipster's playground. By night, the lobby comes alive with hotel regulars and locals, and the bar serves up a mouth-watering butter-infused bourbon old fashioned.
The rooms are surprisingly huge for a boutique hotel, the dark wooden floors, hanging lights and office chairs make for a chic living space. The whole hotel is finished to perfection by nifty little touches; local chocolate in the rooms normal-sized shampoo and conditioner to save on the miniatures and help the environment, and, the icing on the cake: the bend-over-backwards-to-help-you staff.
Go:
Chinatown
The city's Chinatown, the largest outside Asia, is a far cry from London's tourist-trap. Yes, there is the tourist entrance, but access the area through Stockton St tunnel instead. Plunged into temporary darkness, it's almost as if you are taking a shortcut to China itself when you emerge the other side. The sights, smells and hustle and bustle of the area is an unmissable experience.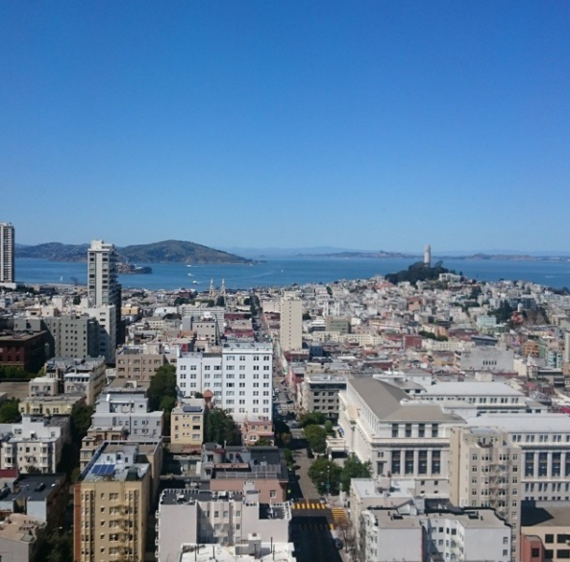 Coigt Tower in the far right distance
Keep strolling through Chinatown and you'll end up in the "Little Italy" of San Francisco. Kick back and relax in the Washington Square to mentally prepare yourself for the hike up to Coigt Tower - wear comfy shoes, that thing is steep.
Haight District
Head to The Haight district to immerse yourself in the city's 60s hippie scene. It's basically Camden, but nicer, cleaner and all-round better. Spend the day poking around old bookstores, lazing in cafes or just soaking up the flower-power vibes.
To a Giants game:
The die-hard sports community is also something which you've got to dip a toe into. Head to possibly the most beautiful ballpark in Major League Baseball: AT&T. Whether you're a baseball fan or not, you can't fail to appreciate the stunning architecture of the stadium and the friendly, relaxed atmosphere (not to mention the ballpark food!).
And finally, to round off your trip: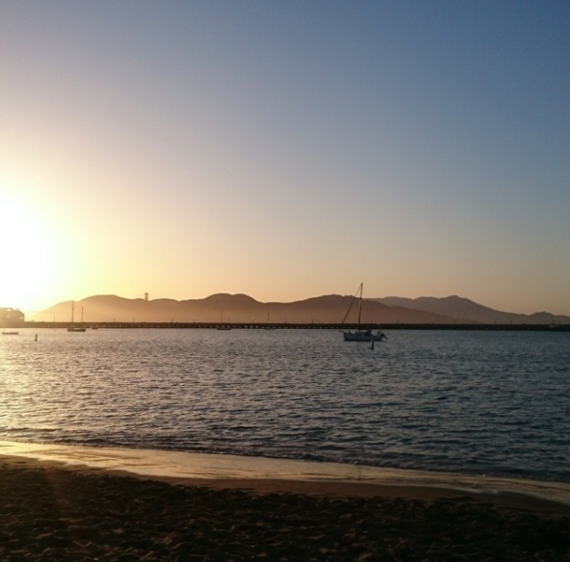 Watch the sun set over the Golden Gate Bridge. Head over to Aquatic Cove where you'll find an unexpected little beach, perfect for dipping your toes into the chilly water. Then walk down to the Aquatic Park Pier and soak up the gorgeous view of the sun going down over the water.
*Note: The PCH has been subject to closures due to recent landslides and storms (you can thank climate change for that). So double check your route before you head off.