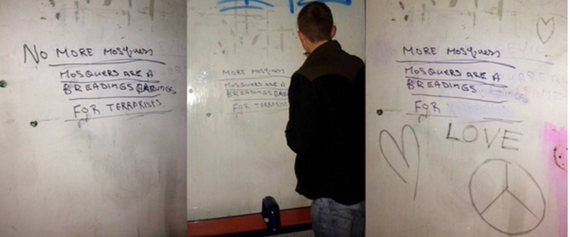 It all started 2 years ago, at a bus stop on Kings Heath High Street, Birmingham. Someone had written a whole load of anti-Muslim rubbish on a bus stop, I couldn't just walk past. Not in my City, I wasn't going to just leave it.
After that one incident went viral, the whirlwind of Islamophobia became an everyday part of my life.
"Your that P**i loving f****t from the news, aren't you?!" followed by a punch to my stomach. Both Islamophobia and Homophobia in one sentence, pretty impressive. This guy was a passionate Homophobe and a racist, he spent the next 5 minutes of his life telling me how I shouldn't be alive and how "all f****s should be dead". He then chased me down the street shouting "Kill all f****s". Nice.
I hate calling it Homophobia, it's not a phobia, you aren't scared of me, you are just silly.
For the past 2 years, I have been fighting Islamophobia in Birmingham. I've worked with Mosques in holding events to open their doors to the community, I've worked with Mosques in getting out the peaceful message of Islam through litter picks with their young people and I've worked with Birmingham Central Mosque to open up a Christmas Homeless Soup Kitchen which is now a permanent food bank. I've worked hard to show Birmingham that Islam is a peaceful religion and that Omar their next door neighbour doesn't want to bomb them and he won't be off to Syria next week. It's not been easy, my own community have questioned me and I get asked all the time "why do you help them!?" My friends from Solihull (where I was born) are still perplexed as to why I fight Islamophobia and the majority don't understand how much it means to me, regardless I fight on.
Last week I signed a contract for my dream job. I was offered a massive opportunity to work for Tell MAMA. Tell MAMA is an organisation that supports victims of anti-Muslim hate and is a public service which also measures and monitors anti-Muslim incidents. I have been appointed as their West Midlands Organiser, my dream job.
But as expected a young gay man fighting Islamophobia won't please all. One day after I signed my contract I received a message on Twitter telling me "You can't cherry pick parts of Islam that you like/don't like! You neo nazi vile f**k." Followed by another message telling me they had written to my boss asking for him to sack me because I was gay. In 2016 I actually have a guy telling me they are getting me sacked because I'm gay. Thankfully Tell MAMA fights all injustices, we work hard to tackle homophobia, anti-semitism etc but that's beside the point.
We have come so far over the past 30 years but we still have so far to go. Homophobia isn't just restricted to one community or religion and picking on one community causes more divide. We must tackle homophobia and all discrimination as a collective.
HuffPost UK LGBT+ Living covers the full spectrum of life in the LGBTQIA community through a mixture of features, blogs and video.
It looks at a range of topics including relationships, parenthood, wellbeing, health, and inspiring stories of people who have created happy, balanced lives for themselves. It provides a platform for people to tell their stories and talk about their journeys and identities.
If you'd like to blog for our LGBT+ Living section, please email ukblogteam@huffingtonpost.com with the subject headline 'LGBT+ Living Blogs'