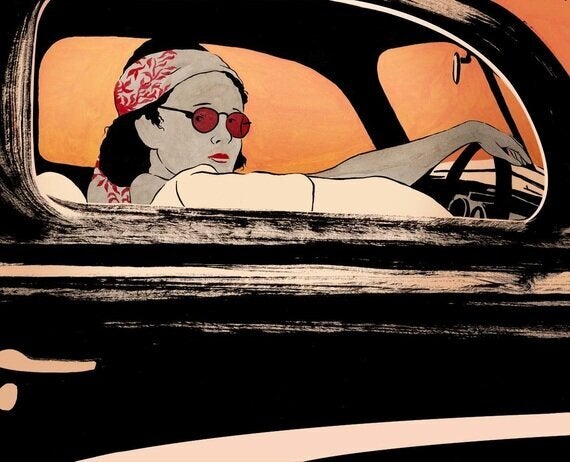 I'm a commercial artist, I've had some decent clients - Folio Society, Sony, Universal Pictures to name a few -, I've won a prestigious award and last year I completed an MA in Illustration with distinction. I realise this may seem like boasting, but bear with me; I have a point and it's not about how great I am.
I didn't study art at foundation or undergraduate level, in fact my A level art teacher specifically advised me against it. He did this not on the basis of my ability [clearly beyond question! Ahem, sorry, I'll stop now] but based on the fact that he considered it to be a very difficult field to make a living in. As a result of his advice I did an English Literature degree instead and for a few years went on to have a career in a totally unrelated area of work.
I often looked back on this advice with a tinge of resentment; at my art teacher who, of all people, had tried to stop me doing what I loved, and at my younger self for heeding it. More and more, however, I am beginning to think that teacher might have (perhaps unwittingly) done me a favour.
As people often do when it comes to the things they are passionate about, I found my way back to art and I also found that the life experience and broad education I'd received in the interim was an asset to my work. I'd read widely, developed real interests in film, history, politics, even science and maths.
When I went back to University to study illustration at postgraduate level, I found that there was a whole group of people who, like me, had come from a non-visual arts background. Far from being behind the curve, as might be expected, these individuals were often up there with the best of them (that's not to say, of course, that there weren't some fantastically talented graduates of visual art degrees). This makes sense in today's world, in which the boundaries between art, technology, science and business are rapidly collapsing. In the future, it will be those people who can most naturally take art and design out of its traditional homes and apply it in new and exciting ways who will be most successful. Perhaps too, having a time in your working life when art doesn't carry the burden of having to make you a living, allows it to flourish.
I would never try to dissuade anyone with a real interest in the subject from studying visual arts at BA level; it's hugely worthwhile and a thriving undergraduate scene is the lifeblood of the industry. What I would say, though, is that if you have a passion for art and design, but you also have interests and ambitions elsewhere, then don't be afraid to follow those other interests; you might be surprised at how those they come to drive your eventual artistic practice.
A few tips, though, for keeping focussed on the scenic route:
1. Never stop drawing and taking photographs. Keep observing and taking note of how things look, how light works, what makes for an attractive composition.
2. Keep an eye on the industry, think about where you might like to take your art. Who are the key people? Which organisations / galleries / individuals are producing work that you love?
3. Learn some new skills. If you have the opportunity to take some short courses then do, but everything is available online - there are an infinity of youtube tutorials on every medium under the sun and there are a number of free open source equivalents to the popular graphics software.
4. Don't be afraid to make bad work. Keep a sketchbook and fill it with mistakes and accidents. It's just for you, so try to train yourself to be unselfconscious when using it. Your work will be better for it in the long run.