Scrape. Thud. Silence. Scraaaape. Thud. Silence.
I'm listening very carefully to an elephant moving. Though the sounds are amplified due to anxiety, it doesn't sound like a three tonne animal ambling along. I am on a girly safari in South Africa and am just about to find out how unnerving it is to be in the open bush around very large mammals.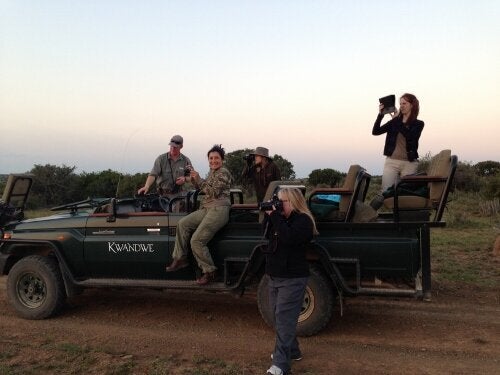 Shooting the Sunset ©Lucinda Lacon
Night on the Kwandwe Private Game Reserve. Our location is not far from the Indian Ocean Coast in South Africa. The sky overhead is filled with stars. A group of five of us is traveling back to the lodge in an open jeep after imbibing several Sundowners (champagne, wine, coffee spiked with local spirits) and snacking on some lovely goodies post our late afternoon game drive. The one-lane dirt road is surrounded by scrub endemic to the region and dust billows up behind our vehicle as we speed along. Other than the light from headlamps, it is completely dark.
Making a quick turn, suddenly, looming in front of us, is an enormous bull elephant in musth (heat), the acrid smell of his testosterone tainted urine filling the air. Our vehicle quickly stops but the elephant keeps lumbering towards us. Ryan, our driver and game ranger, reverses the land rover quickly as is possible to the nearest T junction. Backing into the intersecting road, he then reverses around another corner and hides our Land Rover behind a large thicket. "No one talk. The elephant should pass by us and continue down the main dirt road," whispers Ryan. "Then we will continue on". We didn't want to disturb the elephant's routine and it would be impossible to go around him. This was the best option to get us back as quickly as possible to the delicious warm fire of the Great Fish River Lodge.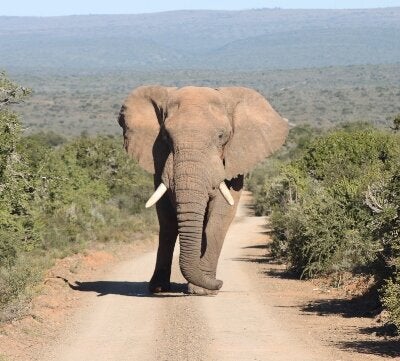 But the elephant has other ideas.
Doing as we are told everyone sits in silence, secure in our belief that our game warden knows what he's doing. I can hear the animal padding slowly along the road. Then the beast stops. It is eerily silent. I can barely make out an elephant sized shape on the other side of the thicket. Our tracker, Andy, flicks a high power torch on ... the elephant is directly in front of us! Standing only 6 ft. away and extending his ears as far as he can, he does his best to look threatening. It works! "He's still coming towards us, Ryan," I hiss. Pulses are racing. We reverse again, this time at top speed. The elephant is still moving towards us. But then, luckily, something distracts him, he turns off our slip road and moves down another path. Ryan revs the engine, puts it in second gear and we go tearing past our large friend to collective sighs of relief.
Don't think for a minute us girls are squeamish or cowards. We are a pretty hardy bunch, all of us journalists of some description. But this is a wake-up call to the realities of life in the bush!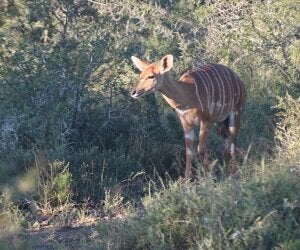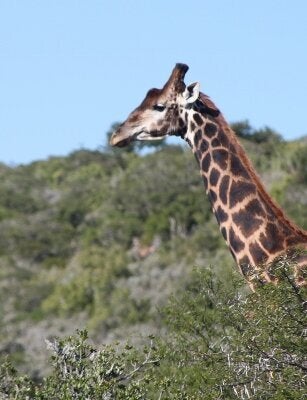 The Kwandwe Private Game Reserve has plenty more of the Big Five to view: Black and White Rhino, Lion, Leopard and Water Buffalo and also many other wonderful animals. Zebra, Giraffe, Impala, Oryx, Aardwolf, Caracal, Wart hogs, Porcupine, Jackals are here as well ... and the list goes on.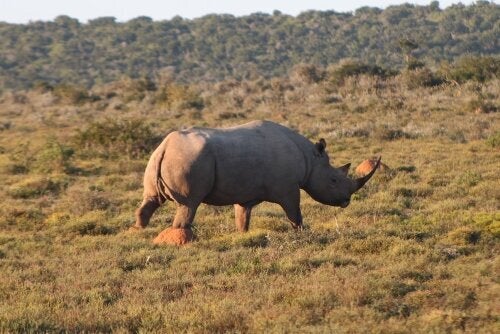 For those of us new to going on safari, this is all a bit overwhelming. But it is also incredibly rewarding. Kwandwe also offers an Animal Conservation Safari where guests can get involved in rhino darting for the purpose of monitoring and administration of medicines. This is becoming more and more popular with visitors. Conservation of rhinos is vitally important in South Africa and globally. Especially with the poaching problem worsening at a terrific rate.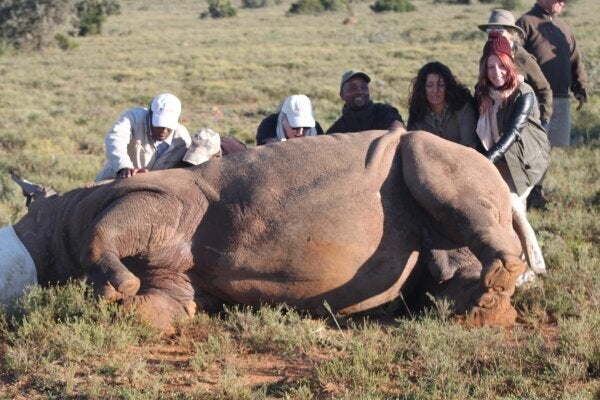 While here we discovered that animals are most active in the cool temperatures at dawn, which means that game drives often entail early morning starts. But this is exciting too as on one dawn safari we are able to view a pride of lions enjoying their recent kill.
With just a cup of tea or coffee to start off, it's great to then return to a scrumptious brunch waiting and ready after a busy safari morning! Delicious tasting food, laid out in beautiful arrangements is part and parcel of what our lodge offers for every meal. The breakfast muesli is gorgeous and there are tarts (lemon meringue was my favourite) and small sandwiches laid out on stone tiles as well as loads of other tempting treats.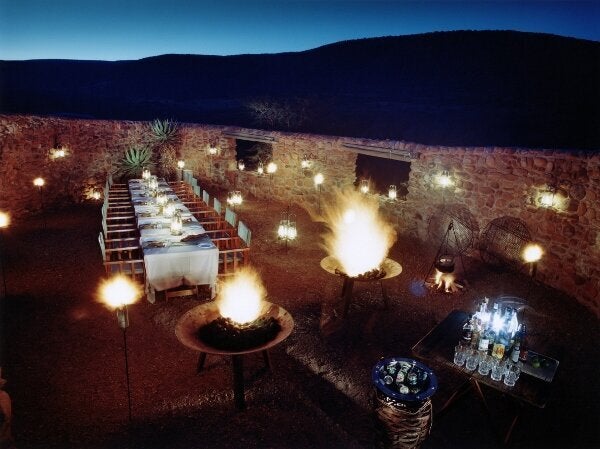 But the Boma BBQ at the end of our trip offered the best food by far. Boma is the name given to a traditional stone or wood enclosure in this part of South Africa. We enter to find a roaring fire in the pit and a formal table laid out with tablecloth and linen napkins. After everyone is served a fizzy drink, we got down to the business of tucking in! This is self-service and I choose the melt-in-your mouth chicken curry with potato gnocchi, venison skewers and roasted veg. The dessert of Cardamom and Yoghurt Panacotta, with berry consommé and a black pepper tulle is stunning.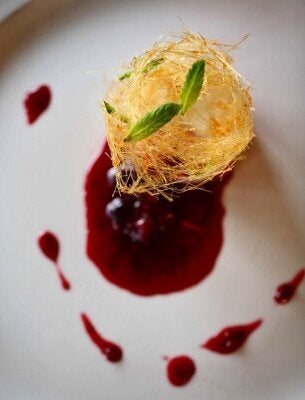 Many of the indigenous people living on the reserve still farm, as they have since time immemorial, but now nearly 100 rural workers are employed on the Kwandwe Reserve by the Angus Gillis Foundation. Some are working in the animal conservation programme, others in hospitality and many others are working at the Mgcambele Community Centre. The newly built community centre offers classes and aftercare for children of staff where there is structured play for the youngsters as well as a place for the women's Doll Making Co-operative to meet and sew.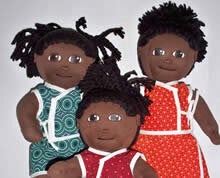 Any guests staying on the reserve can come and help out by volunteering or donating items.
Images ©roamingscribe unless otherwise stated
Prices at Great Fish River Lodge start from RAND4110 (approx £300) per person per night based on two adults sharing on full board basis, including drinks and safari activities.
South African Airways offers return flights to Port Elizabeth from London Heathrow via Johannesburg from £875pp including taxes and charges. Telephone: 0844 375 9680.