On the banks of the Rhône River, French screen actress and star Catherine Deneuve christens her namesake; the SS Catherine.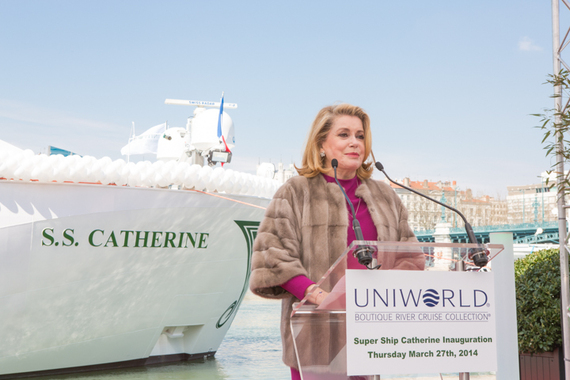 Catherine Deneuve ©Uniworld
You know someone is a definitive legend when, after she has snipped the ribbon and smashed the champagne bottle on the hull of the ship, she can light up a cigarette and no one even blinks. As soon as screen siren and film star, Catherine Deneuve, had completed her christening duties she was mingling with the assorted guests and raising a glass with all those in attendance to toast the SS Catherine.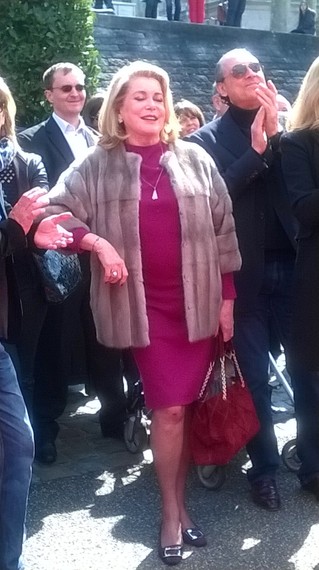 Catherine Deneuve, godmother of the SS Catherine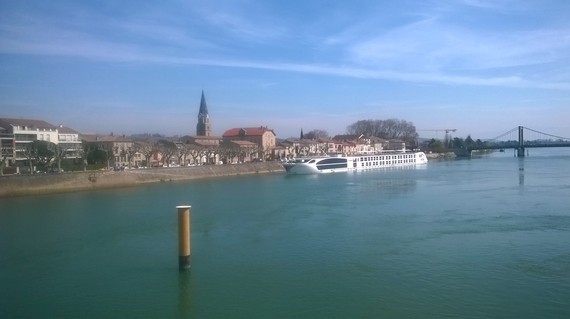 SS Catherine on the Rhône
In an outdoor ceremony in Lyon on the Rhône River, Uniworld's new super ship was launched. The event was attended by travel agency owners, local dignitaries, Guy Young, President of Uniworld and many others who came to join in the festivities.
Passers-by lined the banks to get a glimpse and a photo of the eponymous actress as she and Captain Pascal snipped the blue ribbon. Mrs Beatrice Tollman, President and Founder of The Red Carnation Hotel Group and godmother to Uniworld, spoke to the assembled audience about her 60 years in hospitality as three generations of her family looked on. She, and daughter Tony, personally oversaw the design of the SS Catherine.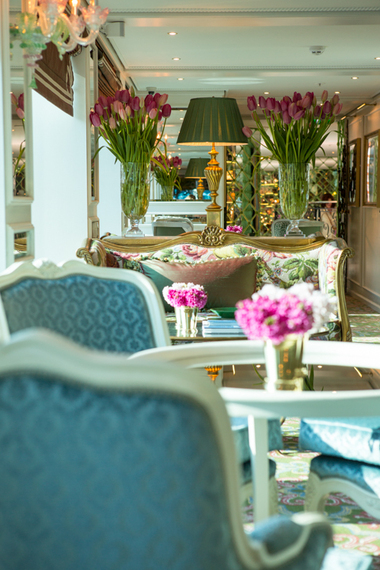 Lounge on SS Catherine ©Uniworld
From the green Murano glass chandelier in the lobby, which is alongside a glass elevator with a cascading waterfall, to the intricate ceramic mural behind the reception area and wonderful framed pieces of modern art, the ship is full of individual expression. The cabins, and particularly the owner's suite, are beautifully detailed, while the impeccable serving staff ensure that every one is taken care of in six star fashion.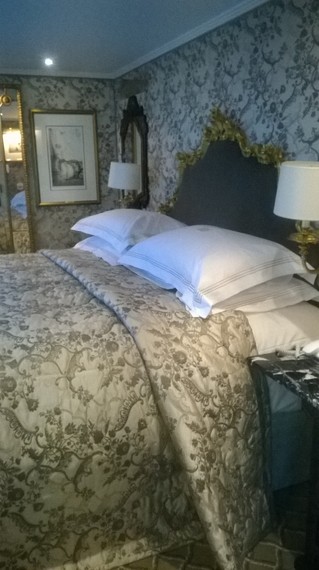 Bedroom in Owner's Suite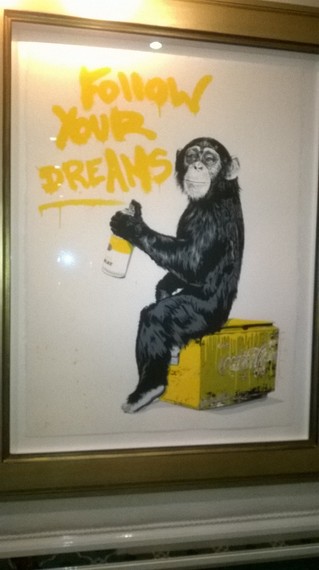 Art on SS Catherine
The SS Catherine's deployment will be to take guests on cruises down the Rhône and Soane Rivers and there will be no holds barred when it comes to service and food and drink on this six star luxury operator. A cruise on SS Catherine will include door to door private transfers, top wines included with guest's meals plus superb cuisine much of which is made from produce locally sourced from farmer's markets. Even the excursions are special experiences, using only the best tour guides and always including something bespoke created just for Uniworld's guests. My only minor complaints were that the Cezanne Restaurant was particularly noisy once meal service commenced and also my shower leaked a significant amount of water onto the floor. I don't think much can be done about noise levels at meal times, but the leaky shower issue was attended to and repaired immediately.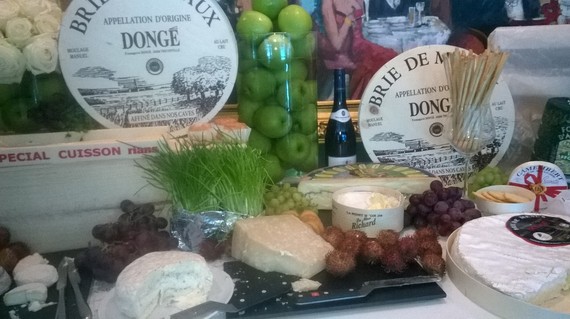 A selection of cheese during a meal on SS Catherine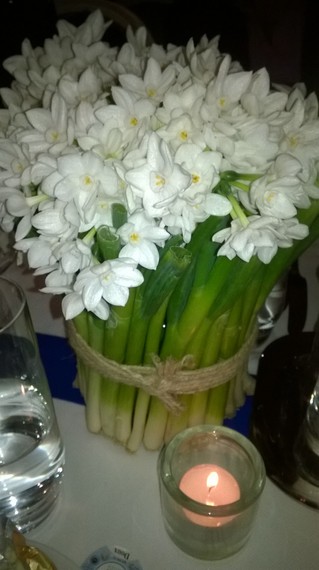 Flowers on every dining table
Our itinerary for the inaugural cruise included ports of call in historic cities such as Tain-l'Hermitage and Touron-sur-Rhône famous for vineyards that produce several of the famous Cotes-du-Rhône wines. Tain-l'Hermitage was our first stop and I was personally looking forward to visiting the town's new Chocolate Museum and School, Valrhona's École du Grand Chocolat. There was oodles of chocolate to be tasted at the chocolate demonstration and also in the extensive shop annexed to the museum. It was a very popular tour by all accounts. Of course, the town is also famous for its Hermitage wine that was once the favourite of the Russian tsars.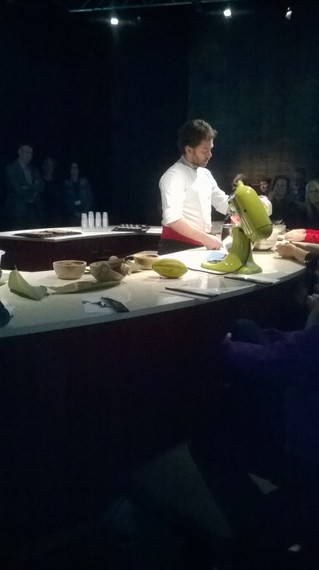 Valrhona's École du Grand Chocolat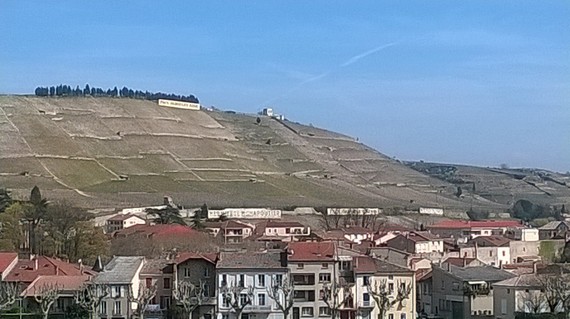 Vineyards of Tain l'Hermitage
Directly across the river, connected by one of the first cable bridges ever made, is Touron-sur-Rhône. The village here is dominated by a medieval castle that has been turned into a museum and attraction. It also has vineyards but the terroir is completely different. The Tain-l'Hermitage side is limestone soil and has a softer more feminine taste (as described by the locals) while the Touron-sur-Rhône side is grown quite literally on the granite hillsides and is hardy and masculine.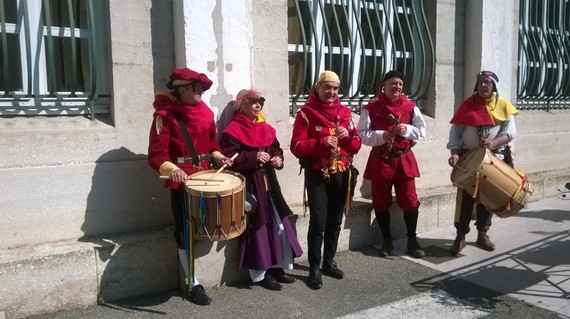 Troubadours Touron-sur-Rhône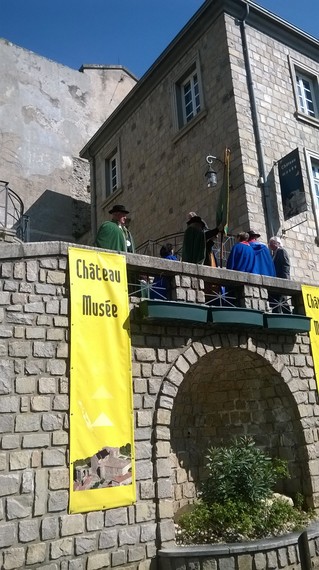 Castle Touron-sur-Rhône
Back on board SS Catherine, we have an oyster and caviar tasting session presented by Aurélie Ancelin Louis of the Ancelin family. The family business, Huîtres Ancelin, has been growing and harvesting oysters for five generations. I had never tasted this delightful crustacean with shallots and am overwhelmed with how delicious it is. There is also caviar to try out with all the accruements you could want including crumbled egg yolk and egg white. The whole session, where we not only tried out the lovely oysters but learned about this French family business, was a delight. I was eating size three oysters but discovered that day that there are monster oysters as large as a size six!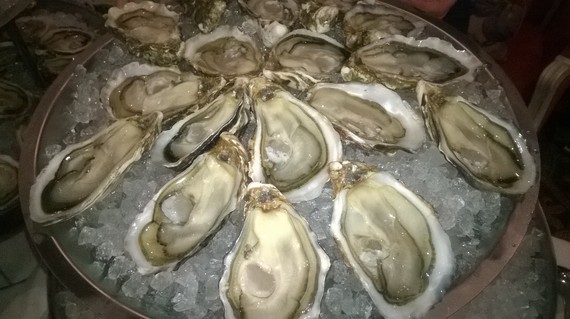 Oysters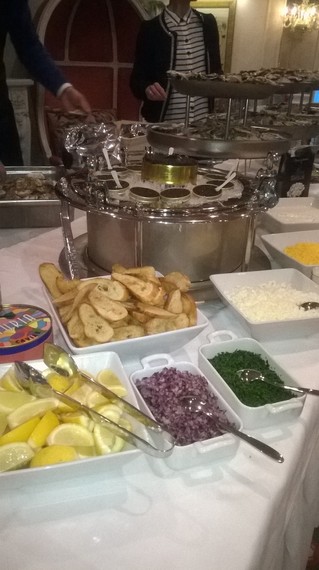 Oyster and caviar tasting
Night time entertainment in the Leopard Bar was a highlight as the Wilburns (a father and two sons), who normally perform at Hotel D'Angleterre in Geneva, gave us cool renditions of blues and modern classics with even a bit of rap thrown in.
All images ©roamingscribe unless stated.
The S.S. Catherine will sail the rivers of southern France on 8-day Burgundy and Provence itinerary. Prices start from £2,749pp (based on 17 August 2014) including flights, full board accommodation, transfers, unlimited beverages on board, gratuities on board and ashore, excursions & complimentary Wi-Fi and Titan's VIP Home Departure Service.
For details or to book call Titan on 0800 988 5858.