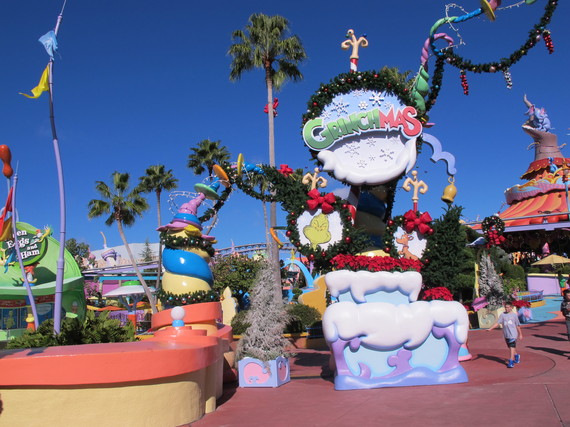 Grinchmas at Universal Studios, Orlando® / Photo Lynn Houghton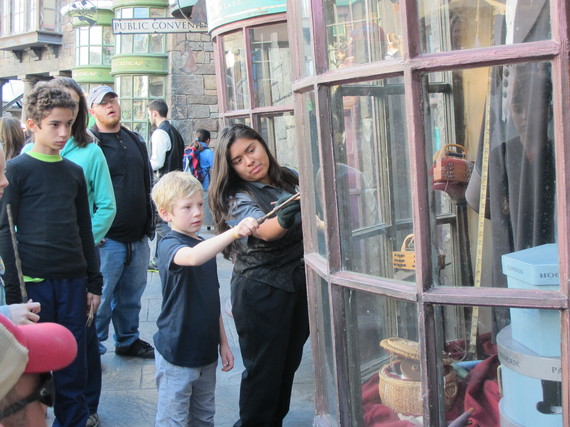 Wizards in training at Daigon Alley® Photo Lynn Houghton
What brings visitors in droves to Orlando, Florida in winter? Well, the attractions are a big draw but also the weather is nearly always sunny, even if it is a bit chilly. Florida's incredible sub-tropical climate means there can be storms, but those are usually in the summer. So I visit Florida during the holidays. It might be fresh but there is likely to be blazing sunshine, too.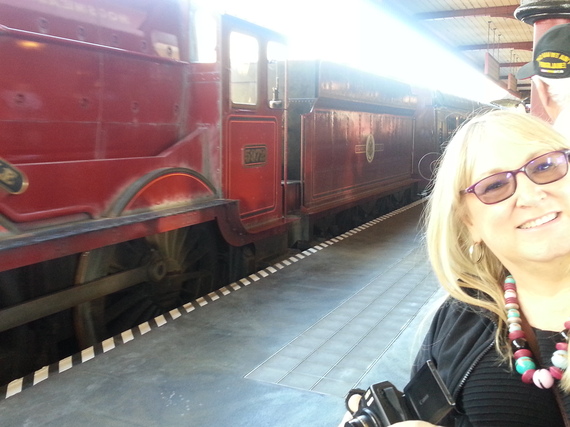 Hogmeade Train Station / Photo Karen Kuisel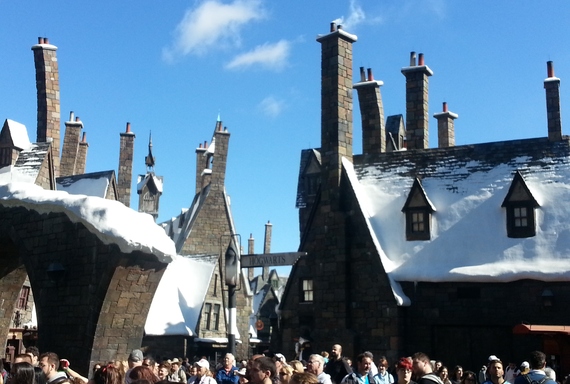 THE WIZARDING WORLD OF HARRY POTTER® AND DIAGON ALLEY®
This will be my first experience of Universal Studios, Orlando's® two new attractions based on J.K. Rowling's Harry Potter books and films. The Islands of Adventure theme park is the site of the first and original Wizarding World of Harry Potter® and this is where I am headed.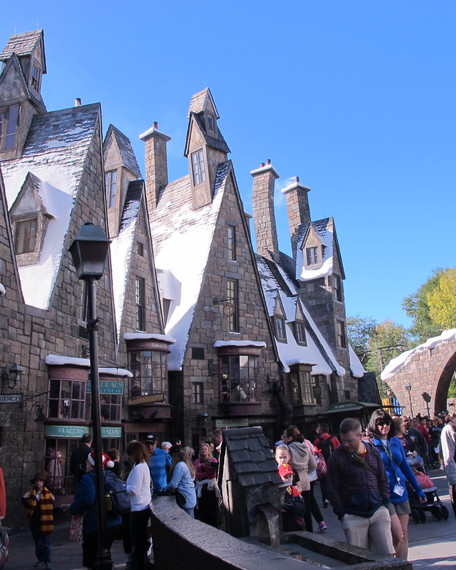 Photo by Lynn Houghton
I enter Hogmeade Village and am immediately taken by the incredible detail and similarity to the village in the film. In Hogmeade, snow fall is abundant and it is forever winter. The Three Broomsticks Pub makes an appearance as does butterbeer and a sweets shoppe, too.
Hogwarts Castle / Photo Lynn Houghton
Hogwarts Castle, which uses optical illusion to appear larger and higher than it actually is, truly captures the imagination and, within the castle, the Forbidden Journey roller coaster ride turns me upside down and twirls me all about. I encounter all the Harry Potter characters on the 'journey' and take part in a quidditch tournament with Harry Potter in the lead and a dragon hot on my tail.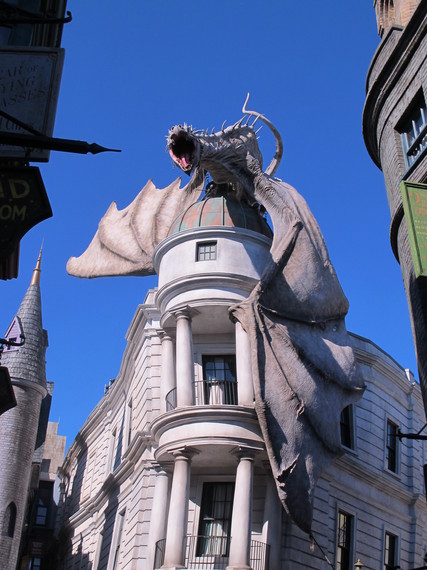 Dragon on top of Gringotts Bank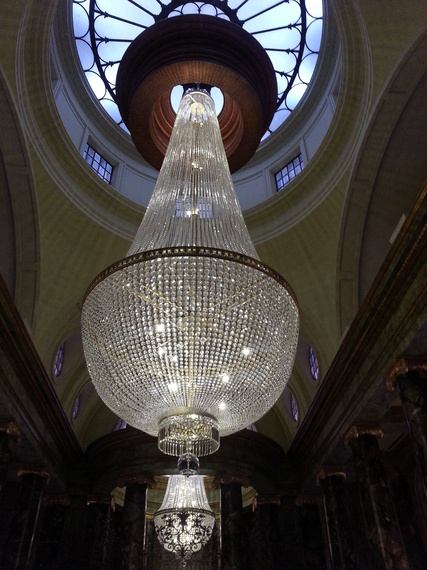 Chandelier in Escape from Gringotts / Photo Karen Kuisel
The new Daigon Alley® is all about wizards, magic and has a frightening, fire breathing dragon (real fire) atop the Gringotts bank. The Escape from Gringotts ride is not quite as stomach churning as the Forbidden Journey. Harry Potter and the Weasley twins are out to steal back a horcrux on this adventure. But what I enjoyed the most about Daigon Alley® is watching the children with their wands trying out spells.
Wand display / Photo Lynn Houghton
Photo Lynn Houghton
The triple decker purple night bus is parked just outside the entrance to Daigon Alley® next to the imitation Kings Cross Station. This is where the Hogsmeade Train arrives from Islands of Adventure. The steam train is very authentic and a fun ride in itself but, don't forget, you must purchase tickets for both parks to use the train as it links Islands of Adventure and Universal Studios.
Speaking of tickets, be sure to plan ahead and buy your park tickets in advance to save dosh. It is well worth the time spent.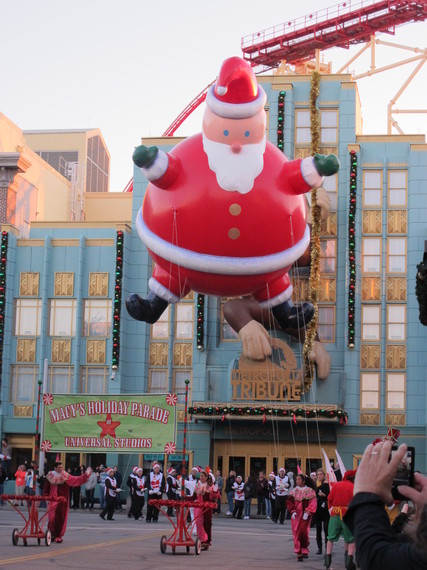 Santa at Universal Studios, Orlando Holiday Parade / Photo Lynn Houghton
I thoroughly enjoyed the holiday parade which features the balloon floats brought straight from NYC and the Macy's Thanksgiving Day Parade. I grew up in the States but had never seen these iconic floats. Fantastic.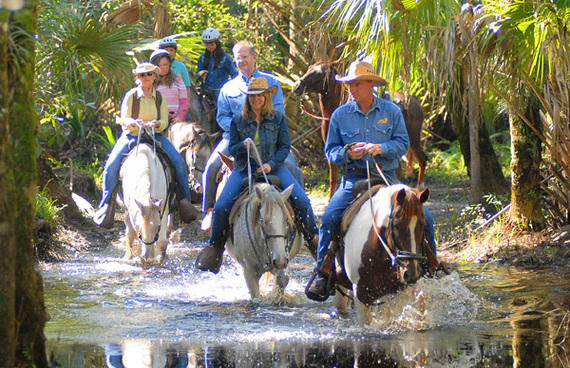 Exploring the wilderness on horseback / Photo Forever Florida
FOREVER FLORIDA FOR CAMPING AND ECO-SAFARIS
For those looking for an authentic experience and are keen to try camping, Forever Florida fits the bill and is only 45 minutes south-east of Downtown Orlando. I went for a two hour horse ride safari through this protected and historic terrain of swampland, creeks and forests. I absolutely loved trotting through this natural landscape. Our group stumbled upon small animals and incredible birds and, apparently, alligators and bears are also known to wander this wilderness. For this reason, wearing a riding helmet, no matter what the cow hunters or tour guides recommend, is vital. Spooked horses can do unpredictable things, such as throwing their riders.
The campgrounds are very well looked after and offer toilets, showers and a variety of amenities.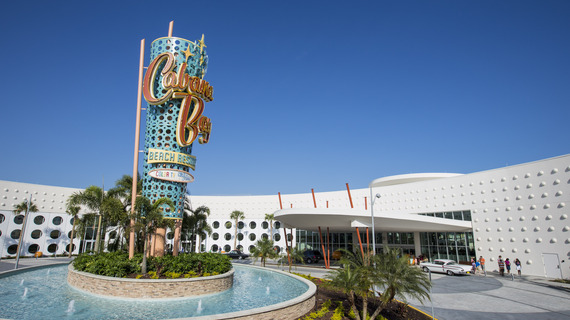 SELF-CATERING
The self-catering properties located at the theme parks are convenient and an excellent way to save money. You can even park the car and take a free shuttle to the parks. And if you don't mind cooking, then buy supplies from a local grocery store and prepare your own meals. There's a Whole Foods outlet just around the corner from Universal Studios, Orlando.
If staying at park hotels do check for extra costs such as parking, coffees from coffee shops, tips that might not be obvious nor advertised.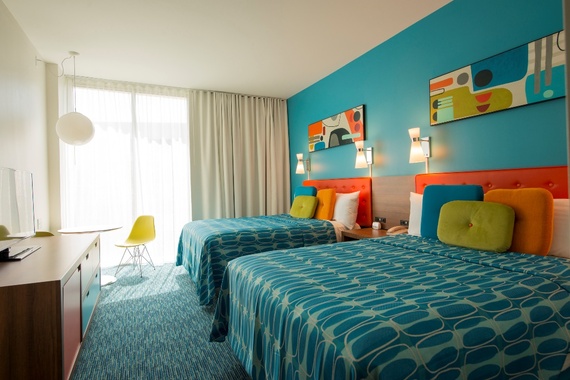 Cabana Bay Beach Resort guest room
Our room at the Cabana Bay Beach Resort had a small kitchen, living room with TV plus sofa bed, separate bedroom (also with TV) and two queen size beds plus a very large bathroom with separate toilet and another room with bath and shower. I found it ample sized and comfortable, decorated in a retro style and quite fun. The Bayliner Diner is similar to a food court and a bit too pricey for families. But the pools and lazy river are excellent for children and grown-ups alike. There is also a bowling alley and pizza parlour. What more could you ask for?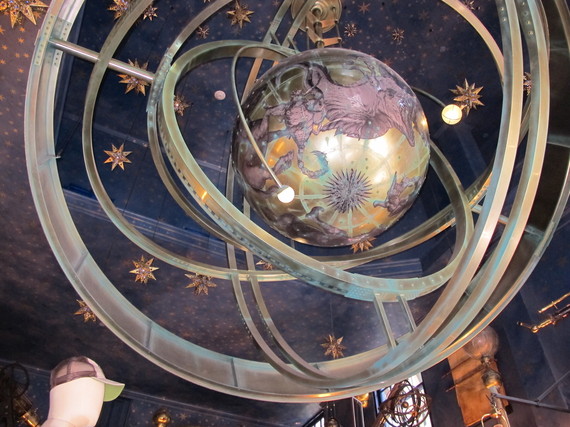 Ollivanders wand shop Daigon Alley® / Photo Lynn Houghton
SHOPPING
The Premium Outlets, shopping malls and multitude of souvenir shops are packed full of fantastic bargains. If you factor in the low sales tax and favourable exchange rate, the savings are immense. I particularly like the shops on International Drive as they have slashed prices on theme park merchandise simply because it is last season.
There are great shopping malls, too. The Florida Mall near Orlando International Airport has affordable department stores such as Macy's and Sears and less pricey outlets. The Millennia Mall, closer to downtown, has top end shops like Gucci, Chanel, Prada, Bloomingdales and Neiman Marcus and also Macy's®. There are excellent restaurants such as Brio Tuscan Grille. We shopped and sipped in Prada (champagne!) and enjoyed looking for unusual gifts. The Orlando Premium Outlets (one located on Vineland St. and the other on International Drive) are best for low prices on brand names with many favourites such as Coach and Tommy Hilfiger represented.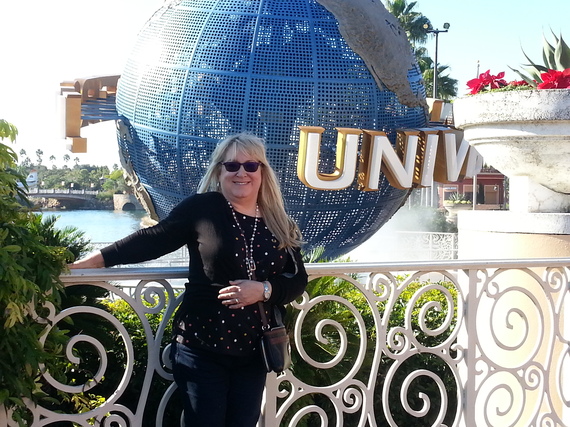 Universal Studios, Florida / Photo Karen Kuisel
Attraction Tickets Direct have Universal 2-Park Bonus Tickets from £120 per adult and £110 per child based on 2014 departures (2015 prices £127 / £117). Includes unlimited park-to-park access to Universal Studios® and Universal's Islands of Adventure® for up to 14 consecutive days. Call 0808 271 4453.
Dollar Rental Cars offer excellent prices.