Copenhagen may seem like a quiet city only for the cultured, but once you scratch under the surface you'll quickly learn there's more to it than meets the eye.
Even though Copenhagen can easily been seen in 24 hours, it's best to spend a long weekend there to really get to know the city.
With sights such as Tivoli, the world's second oldest theme park, and the Carlsberg Brewery, a very different kind of theme park but only for adults, you won't be short of things to see. And with more cafés, canals and castles than you'll know what to do with, all of a sudden you'll wish you had longer in the city.
However, Copenhagen is a city to be experienced as much as seen.
I wouldn't blame you for heading off to Nørrebro, one of the coolest districts in Copenhagen, and kicking back for the afternoon. Walk through Assistens Cemetery and you'll find the final resting place of two of the city's most famous sons, Søren Kierkegaard and Hans Christian Andersen.
The whole area is quiet and easy-going awash with trendy shops and delicious restaurants. It's the perfect place to grab a coffee in a local café (the Coffee Collective gets a special mention here) and watch the world go by.
The Dronning Louises Bro, the bridge that leads into Nørrebro, is a perfect example of how cool the area is. As soon as the sun is out expect it to be lined with people having a beer or two and just relaxing; nothing more, nothing less.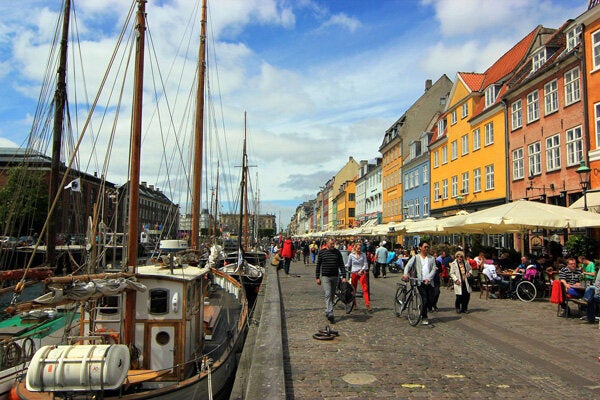 Another district that's really popular is Vesterbro to the west of the city. The best time to visit the area is in the evening; that's when it really gets busy.
One area in Vesterbro to see is the Meat Packing district. This is where all the cool kids on the block hangout. Bakken is a great outdoor space that's rammed with young people and a couple of really popular bars; if you're looking for a party then look no further. It's just like being 17 again!
And finally, for an alternative experience, head to Christianshavns. Home to Christiania, you'll be lost in a new world that doesn't feel connected to Copenhagen in any way shape or form. There are about 850 people living there and it's a commune that is exempt from all laws and regulations. Anything goes here. Literally. Even if you're not into smoking, it's a place you have to see to believe.
All in all, if you're looking for history, culture and activities then you can't go wrong with Copenhagen. And on the other hand, if you're looking for a city full of different experiences, then you certainly won't be disappointed.