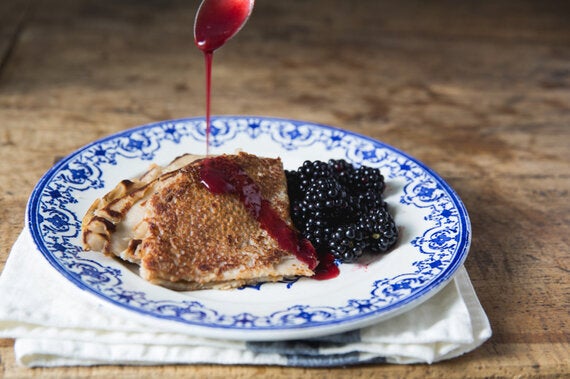 These crêpes are fluffy and light, they balance well with the compote and slip down like heaven. You can prep the batter and compote in advance and make these mid-week as well as having them on a lazy Sunday.
This compote works with other seasonal fruit too so feel free to change it up with some apples and blackberries or rhubarb.
The main base is the quinoa flour; this acts as a great gluten free flour made from ground quinoa, however you can use other gluten free flours like buckwheat, rice or millet.
The almond milk provides a great nutty taste and a nice dose of vitamin E to help you get the glow. You can swap the almond milk for rice milk if you have allergies!
150g of blackberries (plus extra for decorating)
120g of quinoa flour (or rice flour)
1 tbsp of melted coconut oil
1. De-stone the plums and cut them into quarters.
2. Place the plums, berries and honey in a pan on a medium heat and let this caramelise for 5 minutes (add in 100ml of water gradually as you go so nothing burns).
3. When all the water has been added, place a lid over the top and let this simmer for 10 minutes.
4. Place the crepe mix ingredients in a bowl, whisk well and let this sit in the fridge for half an hour.
5. Heat a large pan with coconut oil on a medium heat, poor out a scoop of the batter and let it cook for few minutes until golden brown then flip.
6. Start small then make your crepes bigger as you feel more confident. I often fold them in half like an omelette as they don't fall apart, this makes them still taste divine.
7. Serve with the compote and a scoop of yoghurt!
Be sure to keep me posted if you try and test this recipe by posting on Twitter: @madeleine_shaw_ Facebook: here, or Instagram @madeleine_shaw #gettheglow