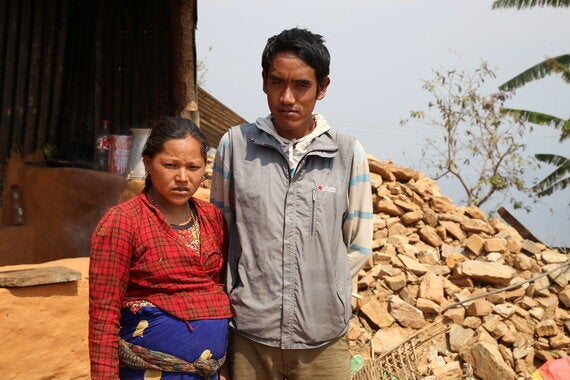 Tok and his wife Sanu lost their two children in the earthquake. Photo credit: Jo Harrison/ActionAid
25 April is a date I will never forget. It is the day that our two sons aged one and six, were buried under the rubble of our home.
It's hard to describe how an earthquake feels or sounds. It's like a big wind, with its own special kind of heartbeat. When the earthquake struck, there was a small moment where we didn't know what was happening. It was only when we heard a mother and daughter screaming "Earthquake", from one of the houses nearby, that we understood. It took just a minute or so for all of the buildings in our village to collapse, but when they did, they broke open like a cracked egg.
My wife was at our home, preparing lunch with our boys. When I saw the houses collapsing in the village, I ran as fast as I could through the debris, and back to my family. As I ran, the ground was shaking and I kept falling down. For those five minutes between the earthquake and reaching home, I still had hope.
That hope was taken away when I pulled the bodies of my two sons from the rubble.
I wrapped up the boys in cloth and buried them next to the debris where our house once stood. Miraculously, I managed to dig my wife out of the ruins and she survived. We built the house only a year before it collapsed; it took just a second for my house, my sons and everything I owned to disappear.
In the days after the earthquake, the Nepalese army and international aid agencies made the treacherous drive into the hills; bringing with them food and cooking utensils; the basics for us to stay alive. The mud road up to our village was cracked, and landslides were frequent due to the unstable ground. The water supply nearest to our community had been damaged and so there was a scramble to find drinkable water elsewhere.
As days turned into weeks, people in the village began to build temporary shelters. At first, we couldn't bear the thought of sleeping where our home had once stood and where our only children had died. We stayed with friends for six months.
However, there comes a point in your life when you realise you have to move on. We couldn't remain trapped in this terrible memory for the rest of lives and so we decided to build our new, yet still temporary, home.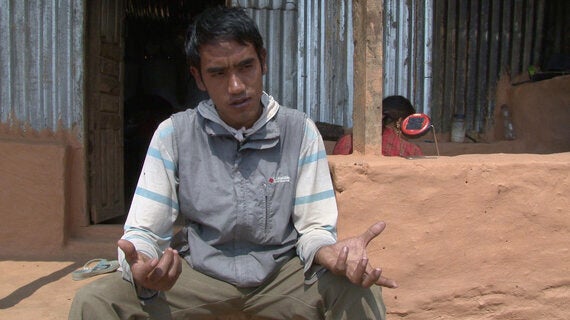 Photo credit: Jo Harrison/ActionAid
After the earthquake, I was volunteered as a 'community coordinator' for the relief process. I worked really closely with ActionAid, who have ensured that the community are the ones who decide what relief is needed, and where. They worked with us to form a committee group, including people from all sectors of the community; men, women old and young. Our committee designed a package for what the community needs; from the types of livestock we want to rear, to building a safe space for women.
Taking the lead in the reconstruction process and knowing that the community believed in me, has given me the strength to keep going. We haven't felt like poor people asking for handouts, we have felt like we are making a difference; not only helping to repair the damage from the earthquake, but also in trying to make things even better than they were before.
But there's still so much more to do.
Nepal is a male dominated society. Local women and were never previously considered as 'decision makers'. But things are changing. Now women are part of the reconstruction committee and attitudes towards them are starting to change
I think back to where we were just after the earthquake a year ago, and where we are today and so much has changed. Through ActionAid's support, everyone in the community now has a decent temporary shelter, a means of livelihood and has started to change their attitudes. In future, we plan to get new water infrastructure to the village that is closer to us and means that we do not have to walk for hours each day.
But if we really want to change things for the better, we have to think bigger. If we work together, we can make change happen; we need to convince the government to include the community in national and local level decision making, we need to build decent roads and infrastructure that can help our economy grow and we need to change our country's attitudes and make sure each and every woman has a decent education.
My wife is now pregnant with our third child. We have to turn the negatives of what we lost in the earthquake into a positive. We must work together to build a better future, not only for ourselves, but for the generations that will come after us.
Popular in the Community