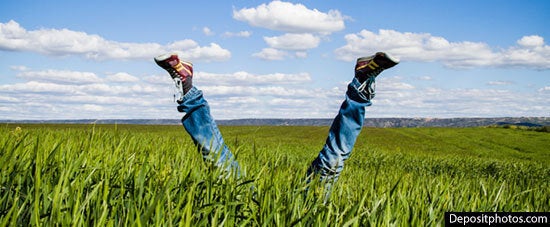 Now we have all settled into the new year, I thought its time to take a slightly different look at business, and reflects a little of the fun side ... something and which I hope will make you laugh.
Now most of us tend to turn a blind and cynical eye to the advertising that we see on television, at the cinema and online. That's because the vast majority of it is trite, weak and smacks of corporatism, with what might once have been a good creative idea, crushed and pulped by committees and corporate sensitivities into something that's as bland, unexciting and no more satisfying than cheap vanilla ice cream pumped full of air.
However, contrast that with advertising that comes from businesses built on passion and you have a real insight in their heart and soul.
When you see such 'works of art', they fill you with joy and inspiration and the sense that these are companies that you actually would like to work for, rather than the cold and long-dead corporate organisation you currently do, from which all light and life has been squeezed out.
But in the two examples of advertising I'm about to show you, you know that it's the SUPER+ Generation (plus) who are the masters. They don't see life as a box-ticking exercise, or believe that doing the least and taking the most is preferable to making the best contribution they can.
No, in these two companies, being creative and enjoying what you do are right out at the front.
So let me introduce you to these two shining SUPER+ beacons of good business. The first is The Dollar Shave Company (they sell good quality razor blades cheaply through subscription to their service). The second is Poo Pourri whose innovative product prevents embarrassing smells in the loo after it's been used!
And should you think that these are no more than novelty companies, both have grown into multi-million-dollar enterprises - Poo-Pourri, which was founded by a regular American mum, is expected to post projected revenues of $20 million for 2013, while The Dollar Shave Company, a £20,000 start up in 2011 has since landed over $10 million in funding, with more investors queuing up at the door.
You'll soon see why both videos went viral, generating millions of clicks. After watching them, I'm sure you'll see that business doesn't have to be done the SUPER- Generation way, and that fun can be part of your everyday life when you are doing what you love.
The same applies if you are looking to escape the rat race and start up on your own, because as you can see from these two great examples, there's no excuse for not creating a high energy business, whatever your idea. So, whether your start point's a hobby or is a solution to a problem you and others have experienced, as you can see from Dollar Shave and Poo Pourri by doing something different you can fill your market with enthusiastic customers.
What could you do that reflects your personality and makes you happy? It's probably time you answered that question.
ATTRIBUTION©2014 Maite Barón. All rights reserved.If you'd like to use this blog for your ezine, newsletter or website feel free. Please do include a live link to my website and the following attribution:The Corporate Escape prepares 40+ professionals and executives to succeed in the future of work. Through our coaching and training programmes we develop their entrepreneurial skills and expand their professional options so they can accelerate their careers, improve their work/life balance, and make the transition from employee to self-employed most effectively. We also support corporate couples wanting to create a lifestyle business together, and ex-corporate professionals now self-employed and looking to grow their business further and faster. We are here to help you succeed on your terms.You can find useful resources, sign up for free reports and read more articles at http://www.TheCorporateEscape.com