Parenting and worry seem to go hand in hand. But what happens when your incessant worry results in arguments, discord and tension between you and your child? You obviously mean well, you care and love your child and want the best but your child does not see that, resulting in frustration, anger and guilt.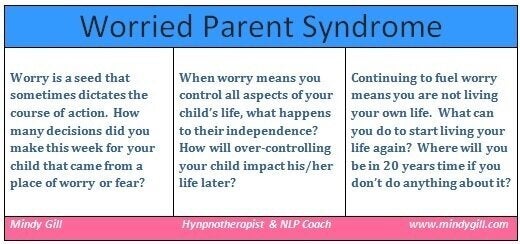 Learn to understand your worries and concerns at a deeper level, introduce a sense of calmness in your relationship with your child and start to build the blocks for a healthier relationship. I have used the steps below with many parents battling the Worried Parent Syndrome and when completed in full it has changed their outlook, behaviours and restored a sense of peace.
You will need a piece of paper and a pen to jot down your answers and I recommend allowing yourself about 30 minutes to really delve into each step.
5 Steps to Stop Worried Parent Syndrome
Step 1. What is your vision?
Think about your life in 20 years time. Note down your age and your child's age.
When you think about life in 20 years time, what kind of relationship would you have wanted to have built with your adult child? Write down your answer and state it in the positive - remember how would you like it to be in 20 years time?
How do the actions and behaviours of your worries or concerns right now help or hinder that future relationship? Write down your answer and be really honest.
Step 2. Introduce small changes
What behaviours and actions can you demonstrate more of in the next week that introduces this vision? Write down your answer and state it in the positive - remember this is just one small step to change. What you choose here should have a positive impact and be easy for you to do.
Step 3. Notice your triggers
Be a 'fly on the wall' within your own mind, notice your worry triggers and cross check their validity with questions like:
'Where is this pattern of worry really coming from?'
'What am I doing that is fuelling the continuation of worry'
'What is making this worry valid?'
Step 4. A different perspective
Stand up, imagine a circle on the ground a few feet in front of you.
Imagine the circle represents your child.
Step into that circle, be your child from head to toe
As the child, turn around and look back at you (the parent). From the child's point of view, how does the parent's worry effect your life experience? What behaviours as a child are you learning from the parent? What advice would you give the parent from this point of view?
Step out of the circle and write down your answers.
This step is particularly useful when you feel guilty for being worried, you have had an argument with your child or when tensions are high.
Step 5. Look after yourself
Start to make more time for yourself, even if it is an hour a week. Schedule an activity, hobby or a meeting with a friend. Taking time out will help to bring more balance into your life and will help in re-creating your personal identity which can have a powerful effect on you and your family.
In this post I have outlined 5 simple steps to help you in your way to overcome Worried Parent Syndrome. You may find it useful to repeat these steps in the coming weeks and months and to review your answers from time to time.