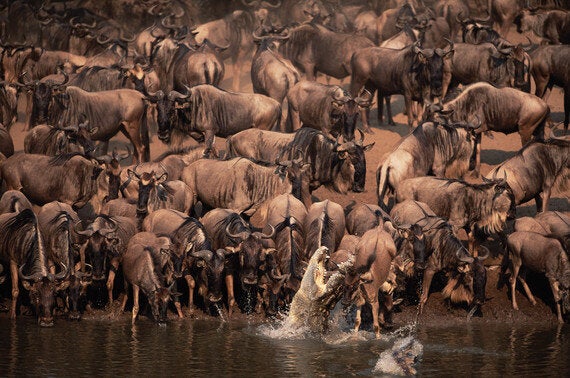 Most would agree that Africa is the godfather of the nature holiday. Whether lions on the hunt, the social hierarchy of ants or the maturing process of a slow-growth fungus, we have all been captivated by its amazing diversity at one point or another.
When David Attenborough first appeared on our screens, the far flung corners of the continent from which he presented were strange and exotic dots on an impossible map. Fast forward seventy years and not only can you visit the edge of nowhere, but you have a choice of airlines to get there. Competition is a great thing but it brings with it an important question - where is best to take your safari? To make the choice easier, we think each country has carved out its own niche.
The king of the safari-beach holiday, Tanzania is blessed with great game viewing and white coral sand beaches. You've heard of the Serengeti, you've heard of Zanzibar and, guess what, they happen to be just three hours apart. For honeymooners in particular, this combination is too good to resist. With six world class game viewing areas, Tanzania can also be used as a pure safari destination. The great migration, the annual movement of 2 million wildebeest around the Serengeti, guarantees good game viewing year-round while the south of the country offers an amazing all-round experience, chiefly due to a lack of other tourists. It is undoubtedly the top all-rounder.
Africa's most exclusive safari destination, Botswana is home to the world's most expensive safari camp. The price of these camps can be traced directly to the government's "less is more" style of tourism management. Presumably after looking at the over-crowdedness of certain parts of Kenya, Botswana opted to keep things small scale and expensive. Several hundred miles from the nearest beach, the country is best suited to pure safaris and the game viewing is spectacularly good. The Okavango Delta provides excellent game viewing year-round. Its famous wet and dry camps offer the best of both worlds with relaxing cruises down the river in a Mokoro complimenting big game vehicles drives.
South Africa is often referred to as the "Disney" of the safari world. Safari connoisseurs will turn their noses up at the idea of taking a safari here due to the supposedly unnatural and overly managed nature of the parks. The Kruger National Park, South Africa's main attraction, is entirely fenced off guaranteeing that animals are never too far away. Tags, noticeable behind the ears of most of the big game, ensure the animals' safety. Both of these measures are undoubtedly sensible in an age of unparalleled poaching but they do somewhat detract from the sense of being out in the wild - an important aspect of any safari. Ultra-luxurious, competitively priced thanks to the weak rand and with undeniably good game viewing, South Africa has its advantages. For us, though, it's just not the real deal.
How many times have you been on safari? If the answer is three or more then Zambia must be your next destination. You've probably been told by more than one salesman in your life that "X is like Y was 30 years ago". Well Zambia is actually like Safari Africa was 30 years ago. Genuinely. Incredible game viewing from small, safari-focused camps with brilliant guiding makes Zambia the place to go. There are some pretty basic camps here but over the last few years a few more luxurious lodges have opened the market up to the less hardcore. What's more, these high quality camps are yet to charge the astronomical prices seen elsewhere in Africa. Don't worry, although Zambia is opening up to the world, it would still not be a surprise to go a whole day without seeing another soul. With new direct flights to the beaches of Tanzania and the increasing popularity of Lake Malawi, Zambia is one to consider for safari-beach goers. Get there now before everyone else does.
Much maligned for its mass-market approach to tourism, Kenya is the first country to overlook unless you're really on a budget. Although the game viewing in the Masai Mara can only be described as incredible, there are roughly 5,999 other beds in the park meaning you can expect to see a fairly incredible other number of tourists as well. Combined with security concerns at Kenya's beaches, this has resulted in many looking elsewhere for their safari. That said, head off the beaten track to areas like Laikipia and Lewa for some breathtaking scenery and beautiful lodges without the crowds. Lodges here also offer a wide range of activities within their private reserves including horse riding, walking and quad biking. Kenya's saving grace is that a mass market approach ensures prices stay low.
Namibia is a strange one. Famous for some of the most stunning scenery in Africa, it is the subject of many a coffee table photo album in the lodges of Africa. But beyond the incredible scenery, game viewing is relatively sparse outside of the very busy and commercialised Etosha. Self-drives here are very popular, as is travelling up the breathtaking Skeleton Coast by air. The sand dunes, coupled with the incredible sense of isolation, is a special experience but be prepared to long waits between animal sightings outside of Etosha.