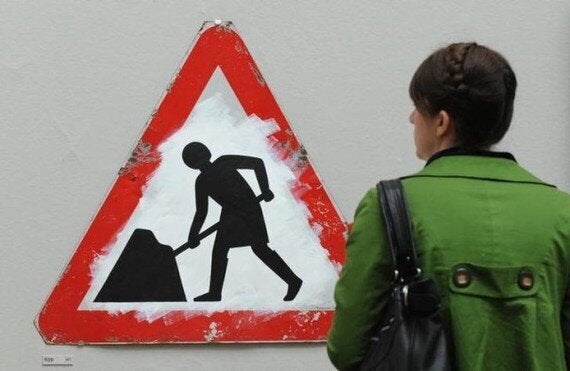 A visitor views the art piece "Woman at Work" by artist Margaret Calvert at the Royal Academy Summer Exhibition in London June 4, 2008. REUTERS/Toby Melville
Men and women are equal nowadays, right? Not so much, according to Laura Bates, founder of the popular Everyday Sexism Project.
Bates and her team of volunteers have collected over 10,000 women's daily experiences of gender inequality since the project kicked off about 18 months ago, after Bates was harassed three times in just one week and decided to do something about it.
"Again and again people would tell me: "Stop making a fuss", or "Maybe you're a bit frigid" or "You don't know how to take a compliment"," she said at an event in London this week.
Bates said that such comments stem from the widespread belief that men and women are equal in our society and that episodes such as catcalls, groping and harassment in the workplace are often attributed to women "overreacting".
There is no shortage of facts for Bates to illustrate her point that parity between the genders may exist on paper, but that in real life we're far away from having achieved it.
Around 45 percent of women in the UK have experienced some form of domestic violence, sexual assault or stalking, according to the Everyday Sexism Project, or that the UK comes 57th in the world for gender equality and political representation.
One may also not know that around 1 in 5 UK architects is a woman and that 63 percent of them have experienced sexual harassment during their careers. Or that 84 percent of newspaper articles are dominated by male subjects, and that less than one in four member of the British Parliament is female, as Bates pointed out.
THE POLITICS OF GENDER EQUALITY
Whether we like it or not, getting politicians to publicly support your cause is quite important.
However, that's easier said than done.
At one point last night, when talking about politicians in this country, Bates said there are three kinds of them: Those who don't acknowledge the problem of sexism being deeply ingrained in our society at all; those who want to be photographed next to you to show they care but in fact they don't. And, finally, those who do care for real - and they're not the vast majority.
It so happens that a politician was present the night of the event, which was, in my opinion, quite remarkable given that it was a small gathering attended mostly by young women and very few men.
The politician - a member of the House of Lords - later told Bates during a Q+A session that there were far more of her peers - many of them men, hear hear - who deeply cared about the issue but who perhaps struggled to express their support.
So, how do we change all of this?
Bates firmly believes that to end sexism now there has to be a "cultural shift."
"It has to be about changing attitudes. It is no longer about changing the laws- the laws are brilliant, the laws are in place," she said.
An example? Some men - who, according to Bates, have been great supporters of the project from its onset - are now actively helping out. Not only by volunteering for the project but also by trying to change other men's attitudes. Like the one guy who heard a woman being asked to show her breasts in the street and who promptly lifted his own shirt to flash out his chest.
Or the one who, when he heard a man shouting nasty comments at a woman, went up to him and simply asked him why he was behaving like that. The guy had no answer, and Bates said it was because he'd never asked himself that same question.
When I asked her if she thinks it's possible that some women are, in fact, overreacting - that they interpret some remarks as sexist when maybe they aren't - she said that there definitely is a "grey area", situations in which you're not sure if a comment was really offensive or maybe innocuous.
But, she said, she'd rather risk ignoring that grey area in order to expose - and hopefully root out - the deeply sexist attitudes against which the vast majority of women still battles every day.
Laura Bates, founder of Everyday Sexism Project, will be a speaker at the forthcoming Trust Women conference, to take place in London 3-4 December. Organised by the Thomson Reuters Foundation and the International New York Times, Trust Women will tackle issues such as slavery in the supply chain and the impact of the Arab Spring on women's rights. Don't miss a chance to be a part of this incredible conversation - register now and save up to 20% off the ticket price at www.trustwomenconf.com