It is time to know the winner of this year's X-Factor. One week is left. Will it be Matt Terry, Five After Midnight or Saara Aalto?
Until yesterday, I reckoned that Matt Terry will certainly be the winner, since he had never been a candidate to leave and had offered really startling performances. Yet he had to go through the sing-off to progress to the final and this brought me doubts of whether he can win the show. Five After Midnight were at the bottom two in the preceding weekend, but they are capable of winning as much as Matt Terry is. So is Saara Aalto, who had been close to the exit several times in the first live shows.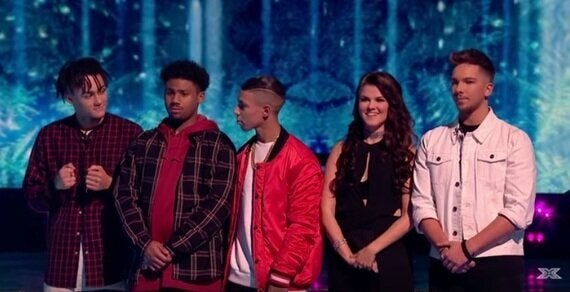 All three acts deserve to win; one can be the winner though. Matt Terry looked as the ultimate favourite up to last Sunday. Many could assume that the fact that in the latest live show he received few votes comparing to the others might be an indication that he will not win. In my opinion, it doesn't mean anything and he still has the most chances to be the winner. In fact, his voters might have neglected to vote for him this time with the thought that since he had never been in danger of elimination, he would be safe without their vote. The final is another story. Besides, all the finalists have been on the edge to be axed, so the sure thing is that a survivor of the sing-off will win.
However, right now, the momentum is with Saara Aalto, who the last few weeks is permanently in the most voted contestants. But can she win the X-Factor? It seems she can, as she has a unique voice and a delightful personality. Apart from that, the secret to her success is also her relationship story, which in my opinion is progressive and honest, and also her appearance; The Finn pop star is an attractive girl.
Five After Midnight are a group that can have a remarkable career in the music industry. They have great potential. What they do is impressive and appealing. If they work hard, they can improve to such an extent that they can reach the level which will enable them to establish themselves as a top league boy band. They can sing and dance beautifully and they represent their music spectacularly.
Matt Terry has a distinctive voice and obviously many amorous conquests among the female fans of the X-Factor. He was introduced as the Louis Tomlinson doppelganger, but he proved that he is much more than that. He has a pleasant character and sees life with positivity. He joined the X-Factor after the split-up with his girlfriend, a difficult moment he didn't let affect him negatively. This shows a very strong person that has the gift of going very far.
My prediction is that Matt Terry will be first, Five After Midnight will be second and Saara Aalto will be third. Nevertheless, I believe that all of them will have a career in music, as well as singers that left the X-Factor before them. Winning a music competition secures a high prestige, but what matters most for an artist is his establishment for many years in the industry. This is the real winner.